After much rumors and speculations in the past few months, iQiyi finally announced Huang Xuan (黄轩), Wang Yibo (王一博), and Victoria Song Qian (宋茜) as the leads of a new costume drama, "Fengqi Luoyang" (风起洛阳). The literal translation of the series name is "Wind rising from Luoyang". The series is based off of the novel, "Luoyang" (洛阳), by famed novelist, Ma Boyong (马伯庸), who also wrote the novel, "The Longest Day In Chang'an" (长安十二时辰). However, "Luoyang" hasn't even come out yet. It's reported the novel will be released the same time as the series.
Zanilia Zhao Liying and Wang Yibo are the Viewers' Favorites at the 30th Golden Eagle Awards
According to Ma Boyong, the story takes place in Luoyang, the ancient capital during the era of the 13 dynasties. It will talk about the conspiracy to overthrow Empress Wu Zetian, the only female empress in Chinese history to take reign of a dynasty.
Victoria Song Posts Swimsuit Pictures After Getting Criticisms for Her Ensemble at the 13th China Golden Eagle TV Art Festival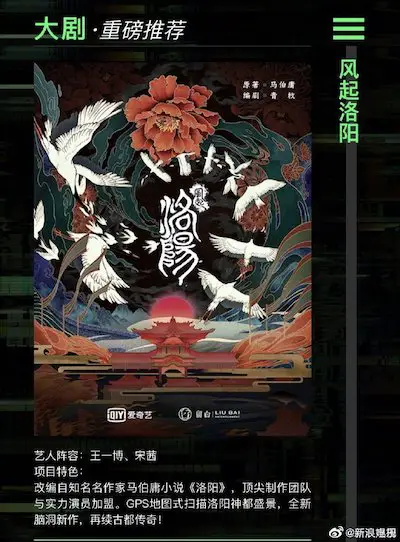 How Wang Yibo "Versace-ing on the Floor" Disrupted E-Commerce Influencers Selling Their Products During Livestream
There is a character description circulating for Wang Yibo's character, "Baili Hongyi" (百里弘毅). The character is said to be 22 years old and the second son of an influential aristocratic family. "Baili Hongyi" is described to be very smart and wise, but has a heart of stone and is a heartless person. He is only interested about the unknown in the world and hard to solve problems. He is said to have strong logical thinking abilities, which allow him to use tiny details that normal people cannot see and evidence to assess the situation and uncover the truth. He also finds a lot of joy in this.
Wang Yibo Responds to Crashing Accident at the 2020 Zhuhai International Circuit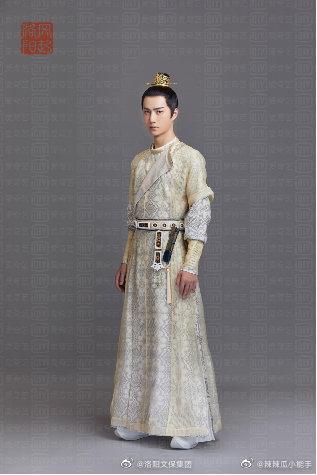 Zhao Lusi Apologizes to Victoria Song for Accidentally Liking Post Complaining about Her Outfit
"Baili Hongyi" keeps to himself and says what's on his mind. He can be quiet and gentle, but can also hurt people with his words. His only principal is, "Only do the right thing." His older brother forces him to go into politics, but he finds the scheming and alliances among the court officials an interesting challenge. He also has a renewed hate/grudge with teammate, "Gao Bingzhu", but he is also the person who understands him the most.
Huang Xuan plays "Gao Bingzhu" (高秉烛), a bad deputy marshal who hangs out in the lower rungs of society in Luoyang. He gets entangled in the murder of a secret informant and eventually gets framed as the murderer.
Song Weilong Asked if He is Dating Victoria Song in Real Life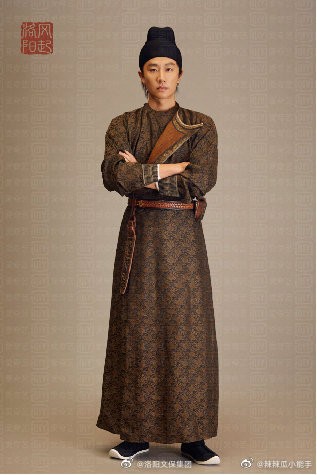 Emily Qi's Older Brother Seemingly Addresses New Dating Rumors with Wang Yibo
Huang Xuan and Wang Yibo worked together before when the latter guested on the variety show, "Let's Sacalaca!" (夏日冲浪店). Upon Wang Yibo's departure, the two said they would like to work together again if there was an opportunity.
Li Bingbing, Zhu Yilong and Zhou Xun, Wang Yibo Pair Up in VOGUE Film's Autumn/Winter Issue and Micro Movie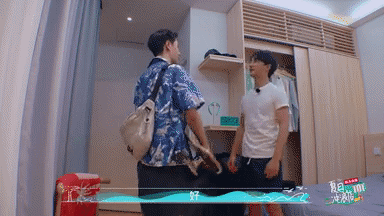 Wang Yibo Says He's Not an "Impressive Dancer" in Farewell Post to "Street Dance of China 3"
Victoria Song plays "Wu Siyue" (武思月) who also comes from an influential family. She is a palace guard and in order to carry out her duties, she gets close to "Gao Bingzhu". However, she realizes the murder case is not as it seems. The two of them can't stand the sight of each other, but must stay together to uncover the truth. They join forces with "Baili Hongyi" as he is investigating the death of his father, who was poisoned.
Chen Xiao and Wang Yibo Team Up to Infiltrate Drug Ring in Police Drama, "Being A Hero"
Wang Han Reacts to Jin Xing Saying She Wouldn't Know Wang Yibo Had it Not Been for "Day Day Up"
Fans have already created trailers and graphics in anticipation of the series. The series will reportedly start filming on October 25 and be 40 episodes long.