VOGUE Film's Autumn/Winter issue came out with a special featuring celebrities like Li Bingbing (李冰冰), Zhu Yilong (朱一龙), Zhou Xun (周迅), Wang Yibo (王一博), Tilda Swinton, Song Jia (宋佳), Bai Jingting (白敬亭), Ding Yuxi (丁禹兮), and more. On November 4, VOGUE Film released the cover for two pairings, Li Bingbing and Zhu Yilong, and Zhou Xun and Wang Yibo. The two pairs also filmed a micro movie that will be released soon.
Emily Qi's Older Brother Seemingly Addresses New Dating Rumors with Wang Yibo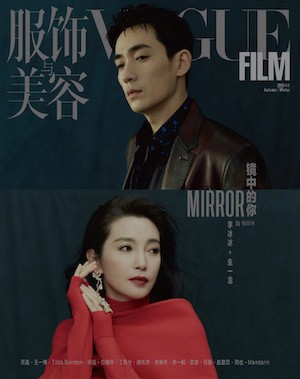 Zhou Xun and Wang Yibo Close Out Angelica Cheung's Last VOGUEfilm Project, "Le Vrai Où"
The theme of Li Bingbing and Zhu Yilong's cover is "Mirror". The Chinese name is "You in the Mirror" (lit. 镜中的你). Li Bingbing and Zhu Yilong portray a pair of friends who have been separated from each other for 10 years. Li Bingbing portrays a beautiful and free Curator, "L", while Zhu Yilong is an artist named "Z". They reunite 10 years later because of an art exhibition called "Mirror". The mirror reveals different conditions and indicates infinite possibilities of life encounters.
How Wang Yibo "Versace-ing on the Floor" Disrupted E-Commerce Influencers Selling Their Products During Livestream
Zhu Yilong's Studio Shuts Down Rumors He's Secretly Married with a Child
As for Zhou Xun and Wang Yibo, their theme is "Le Vrai Où", which is French for "The truth or", while the Chinese name translates to "A Flower's Chant". (lit. 花的游吟). Zhou Xun portrays a mature and elegant singer who is immersed in her own world of music. Wang Yibo portrays a bright and handsome bartender who is accustomed to watching her every move. They are at different parts of their life. The things they want are different, things they are pursuing for are different. The way he loves is very direct and she chooses to "complete", help complete him, and complete herself. "In this tiny bar, they seem to have emotions that are naturally flowing like music. When an opportunity knocks in the future, how will she and he choose?"
Zhou Xun Admits She Has a Lot of Insecurities about Love
Zhu Yilong's Team Denies Dating Rumors with actress, Zhao Yasi
Zhou Xun and Wang Yibo's micro movie will be released on November 19. Angelica Cheung (张宇), the Editior-in-Chief at VOGUE China magazine revealed, "Yibo doesn't talk much, he's young, but he wasn't shy at all facing a Best Actress. He was confident and calm."
Wang Yibo Reveals Having Wild Ambitions Towards Performing