The "Street Dance of China 3" (这!就是街舞3) finale took place on October, which lasted for a little over 8 hours. The show was quite controversial with many netizens saying it was rigged when they didn't spin the bottle in the final 4 to 2 battle. Many netizens also criticized the show runners for playing Wang Yibo's (王一博) song, "No Sense"/ "No Feelings", during Bouboo (布布) and Keven Yang Kai's (杨凯) elimination battle, who are both on his team.
"Street Dance of China 3" Crowns New Champion, Keven Yang Kai, from Wang Yibo's Team "Yibo Wang Zha Boom!"
Wang Yibo was full of emotions at both of his teammates facing each other, but he was also full of excitement when Keven Yang was announced as the winner of "Street Dance of China 3". At the closing speech, Wang Yibo said, "I'm really touched. Kai-ge has been persisting so long as a b-boy. I love street dance culture too much. I hope street dance will keep getting better and better in the future. China Street Dance is awesome!!!".
Wallace Chung Talks about Working with the Other Leaders on "Street Dance of China 3"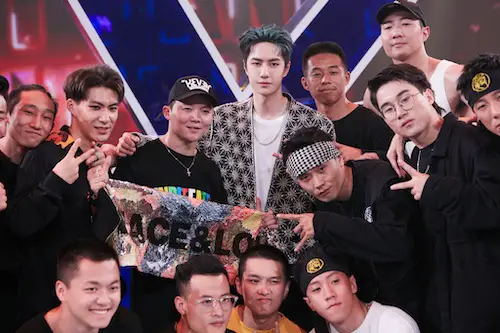 Zhang Meng Praises Wang Yibo's "Explosive" Dancing on "Street Dance of China 3" Can Make Her Cry
In the early morning hours of the following day, Wang Yibo posted a lengthy farewell tribute to "Street Dance of China 3" and his two final dancers, Bouboo and Keven Yang Kai. He wrote: "I am not an impressive dancer. Fourth place in the leaders' major performances, but Yibo Wang Zha Boom! is truly very impressive. I use my most excited heart to be proud of them and pay respects to them." Wang Yibo tags the 12 members on his team.
Wang Yibo was Touched by Female Dancer with Hearing Impairment on "Street Dance of China 3"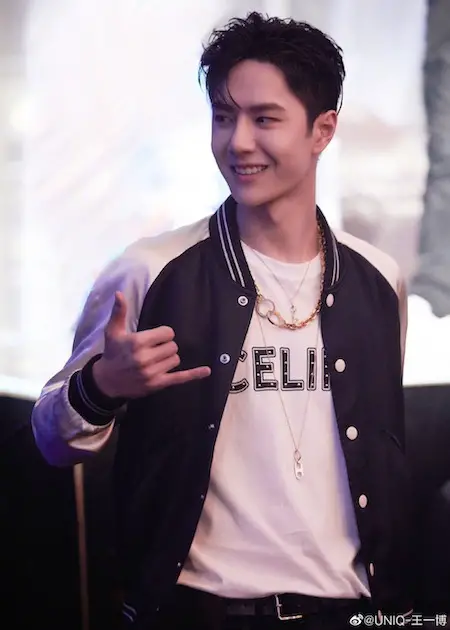 Wang Yibo Stops "Street Dance of China 3" Contestant for Copying Dance Moves in Audition
He then tags Bouboo and says, "Thank you for coming to China. Thank you for saying it's easy to me because I want to win. I'm very happy you fell in love with China's dancers. Thank you for all you have invested into passing on street dance!"
Zhang Meng was Too Embarrassed to Ask for a Picture with Wang Yibo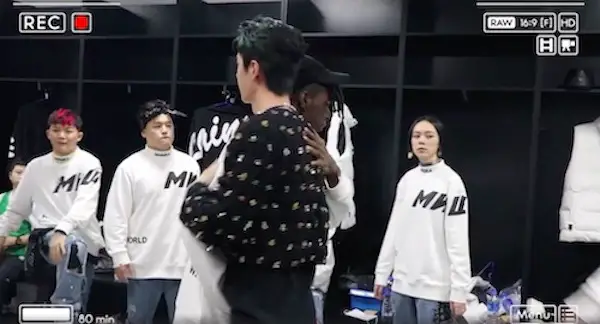 Eason Chan Convinces Daughter How He is Comparable to Idols like Wang Yibo and Jackson Yee
Next, he says to Keven Yang Kai, "Thank you for making me feel fulfilled. Congratulations to you for becoming this season's champion!!! Not tired at 30! An idol for a generation of dancers! Too boom!!!"
Wang Yibo Responds to Crashing Accident at the 2020 Zhuhai International Circuit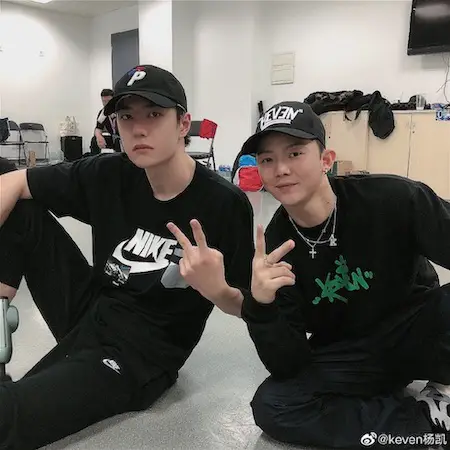 Zanilia Zhao Liying and Wang Yibo are the Viewers' Favorites at the 30th Golden Eagle Awards
Wang Yibo continues on with, "But I still want to say…When it first started, I really, really wanted to win. In my world, anything that deals with winning or losing and rules, no matter if it's big or small, if you participate, you should respect the rules of the game. I also want to win, but this is what street dance has changed in me. Everyone is hustling together for street dance, allowing everyone to see street dance, like street dance. It is so much more meaningful than winning or losing! I am proud of every staff member behind or in front of the scenes who were a part of this!!! Each time people, who passionately love street dance, dance together, it should be our carnival!!! Lastly, using the words Han-ge said to me yesterday to end this journey: Treat people sincerely, learn with humility, do everything with care. To be a person, you must be generous, to get things done, you must go to the depths."
How Wang Yibo "Versace-ing on the Floor" Disrupted E-Commerce Influencers Selling Their Products During Livestream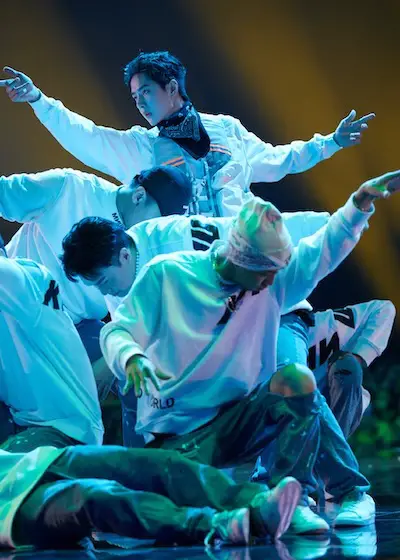 Wang Yibo Goes into Fanboy Mode Upon Receiving Gifts from His Idol, Valentino Rossi
Many fans also enjoyed the relationship between Wang Yibo and Bouboo that developed from Wang Yibo idolizing Bouboo to friendship. Bouboo also posted a thank you tribute to Wang Yibo the next day: "@UNIQ-王一博 Thank you for everything is was a great experience my first Tv show in china and im happy to share these moments with you  i really try my best to get champion for you but i didn't lose everything because i find a new friend ❤️ BOOM 💥 ​​"
Huang Xuan, Wang Yibo, and Victoria Song, Announced as Leads for Costume Drama, "Fengqi Luoyang"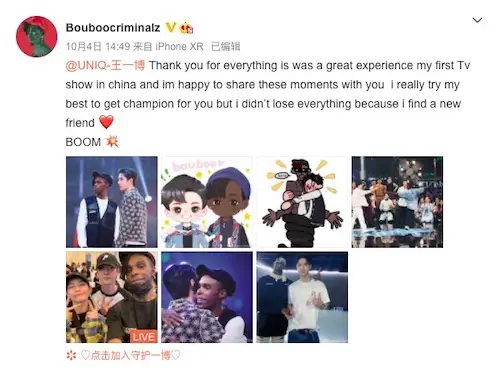 Wang Han Reacts to Jin Xing Saying She Wouldn't Know Wang Yibo Had it Not Been for "Day Day Up"