Wang Yibo (王一博) just celebrated his 23rd birthday on August 5. While it has been 10 days already, he still received gifts. On August 14, Wang Yibo expressed absolute excitement when he received a belated birthday present from his idol, Valentino Rossi. Wang Yibo posted three pictures, which included a signed motorcycle helmet and two pictures autographed by Valentino Rossi wishing Wang Yibo a happy birthday. His caption with the pictures were just a bunch of "Ahs!".
What Happened When Wang Yibo and Zanilia Zhao Liying Met for the First Time
Zhang Meng Praises Wang Yibo's "Explosive" Dancing on "Street Dance of China 3" Can Make Her Cry
Wang Yibo's admiration for Rossi started back in 2017. His first post dedicated to Rossi started on June 4, 2017. His post read, "Missing one picture to make six pictures, then I'll just make it up with one of Rossi's helmet from his press conference yesterday. Today is the Mugello Circuit in Italy, Rossi's home court race!!! From yesterday's ranking, he got the second spot. Home court, jiayou!!! I am on the plane, probably can't see the live stream…"
Wang Yibo Stops "Street Dance of China 3" Contestant for Copying Dance Moves in Audition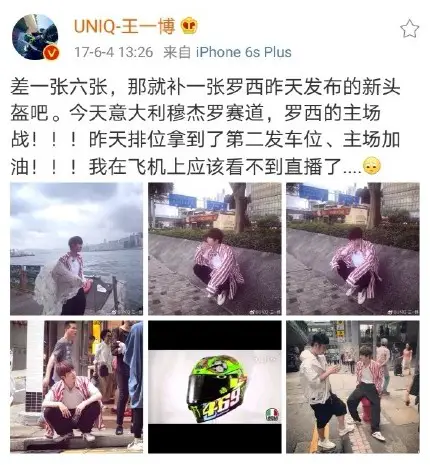 Wang Yibo was Touched by Female Dancer with Hearing Impairment on "Street Dance of China 3"
On June 25, 2017, Wang Yibo congratulated Rossi for winning the first race of the season in Holland. He also said, "The car hasn't even arrived, I already have three of your (formal) helmets. The far right helmet is the same one."
Wang Yibo Reveals the Good and the Bad about His Current Popularity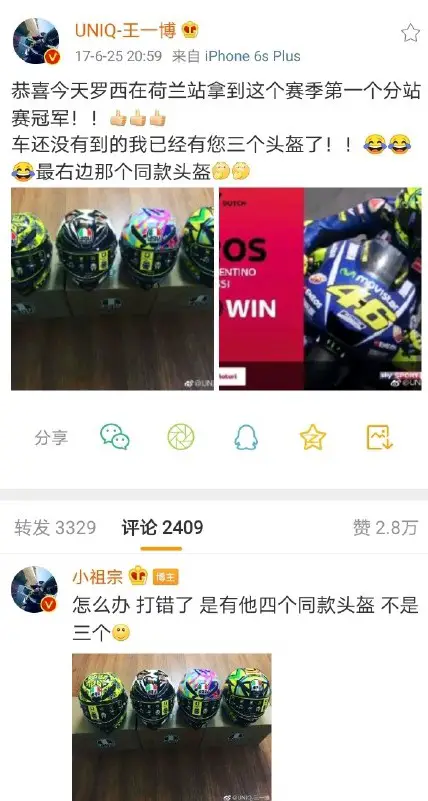 "Day Day Up Brothers" Share Their Thoughts on Wang Yibo Achieving Success at a Young Age
On September 24, 2017, Wang Yibo said, "Rossi was really awesome yesterday. His fractured leg hasn't even healed yet, he already placed third in the qualifying competition. I also want to ride the bike…(Please call me Ma Kui Bo!)".
Joe Chen Has Trouble Holding a Conversation with Wang Yibo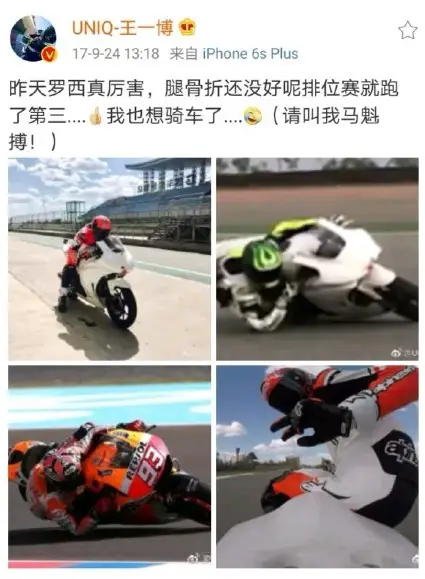 Japanese Dance Crew, TwiggzFam, Denies Wang Yibo Lost His Temper at "Street Dance of China" Director
On March 19, 2018, Wang Yibo praised Rossi, saying, "Rossi is still an OG!".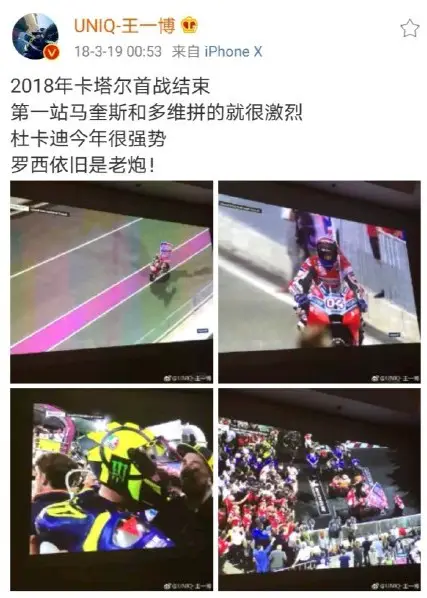 Wang Yibo Insisted on Doing His Own Stunts in "My Strange Friend"
On June 2, 2018, Wang Yibo said, "Ah ah ah ah ah ah ah ah ah!! 39 year old Rossi got the pole position at the Mugello Circuit, in Italy, his home turf! Also broke a new track record!!! Too excited!!!! Ah ah ah ah ah ah ah! The new helmet from the home competition looks so good!!!! ONE PICK!!!"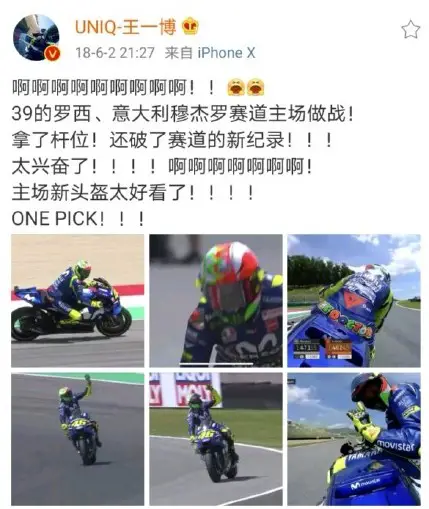 Zhang Meng was Too Embarrassed to Ask for a Picture with Wang Yibo
On Valentine's Day 2019, Wang Yibo said, "Forcibly spending Valentine's Day with my idol! You guys spending the holiday must also be happy ~~~. In the comments, good friend, Yin Zheng, comments, "Didi, please have some shame". Wang Yibo responded, "Gege, this is having face." with a photoshopped pic of him and Rossi.
Wang Yibo Celebrates 6th Year Debut Anniversary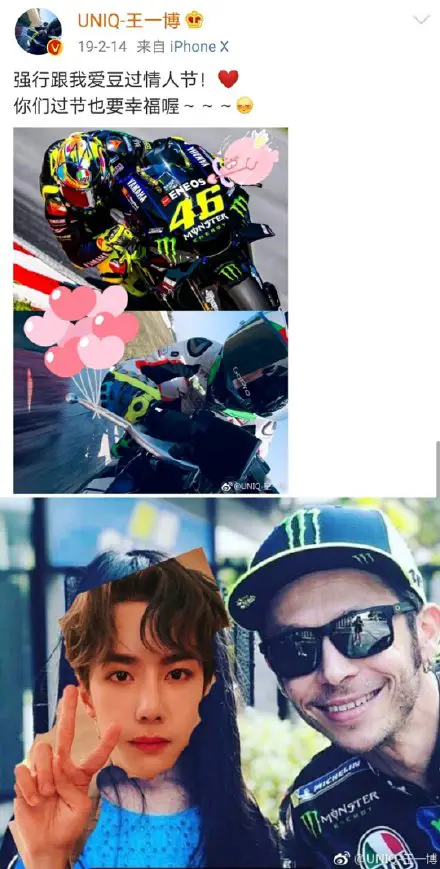 Wang Yibo Says He's Not an "Impressive Dancer" in Farewell Post to "Street Dance of China 3"
On April Fool's 2019, Wang Yibo said, "#MOTOGP! Rossi!!!! Not going to say much!!! Niubi (Awesome)!!!"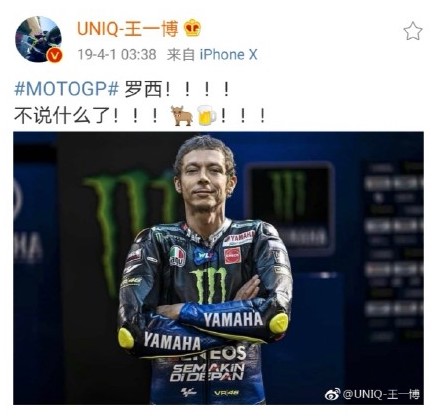 "Street Dance of China 3" Crowns New Champion, Keven Yang Kai, from Wang Yibo's Team "Yibo Wang Zha Boom!"
On July 26, 2020, Wang Yibo said, "Congratulations to Rossi once again for getting on the winner's podium!!!! 40 years old already and still competing with people 20 years younger than him!!! Niubi (Awesome)!!!"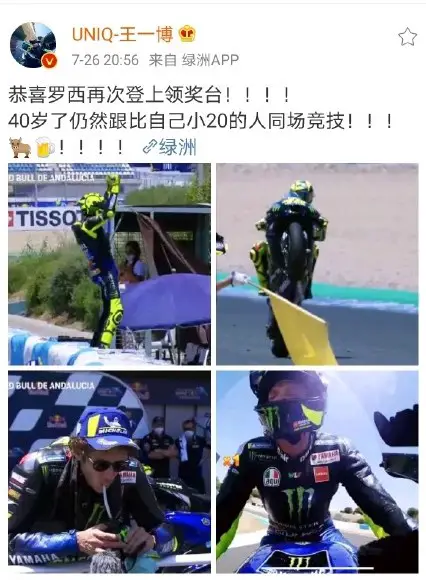 Wang Yibo Responds to Crashing Accident at the 2020 Zhuhai International Circuit
Wang Yibo competed professionally since getting his motorcycle license. He is signed to the YAMAHA Man Lee Tat racing team. In August 2019, he competed in the Zhuhai circuit of the ARRC and placed first in the rookie division and got third place in the mixed competition.
Driver, Hu Tongming, Who Caused the Crash with Wang Yibo, Says it was an Accident
Wang Yibo forgot to post on Valentino Rossi's birthday this year: