Zanilia Zhao Liying (赵丽颖) and her cast mates, sans Huang Xiaoming (黄晓明), from "Chinese Restaurant 4" (中餐厅4), were guests in the 12th year anniversary episode of "Day Day Up" (天天向上). The show celebrated the anniversary by having a food themed episode, which made sense why the cast of "Chinese Restaurant 4" were invited. The show introduced each cast member's role on "Chinese Restaurant 4". Zanilia Zhao Liying was in charge of the finances in the beginning, but lost the money after the first day as everyone asked her for the money. Sean Zhang explained Zanilia Zhao is stingy when they need to be, but also stingy when they can let loose a bit.
Sean Zhang Defends Zanilia Zhao Liying Over Her Use of Chopsticks in "Chinese Restaurant 4"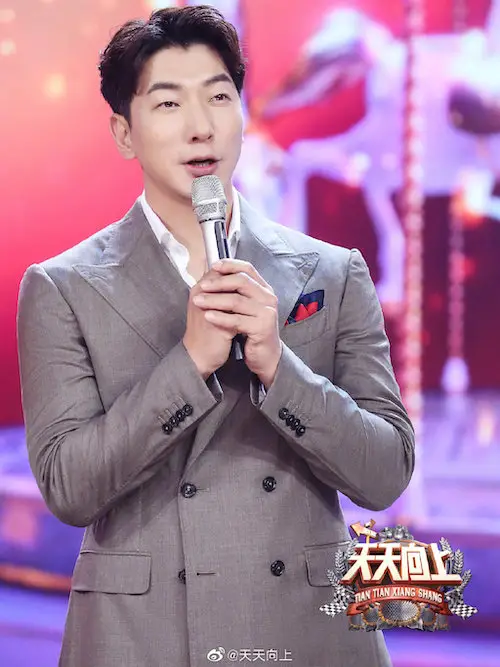 "Chinese Restaurant 4" Under Fire for Portraying Zanilia Zhao Liying in a Bad Light
New host, Jerry Yuan (袁成傑), mentioned the last time he encountered Zanilia Zhao was at a concert. He said she was very frugal as he saw her eating the same plate of food at the KTV after party that she doggy bagged from the concert. Wang Han (汪涵) then asked Wang Yibo (王一博) if Zanilia Zhao has ever treated him to meals on the set of their series, "Legend of Fei" (有翡). Wang Yibo first said, "We didn't really go out that much, eating too…". Oscar Qian (钱枫) said, "You see, this means she never treated." Zanilia Zhao immediately retorted, "I've treated before!" Wang Yibo pauses for a second and says, "Yes, yes, yes…".
Zanilia Zhao Liying and Wang Yibo are the Viewers' Favorites at the 30th Golden Eagle Awards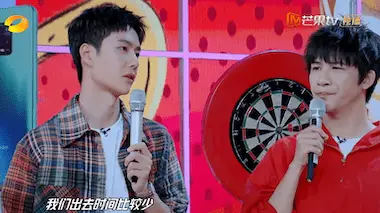 Wang Yibo Waited for Zanilia Zhao Liying to Help Her Walk Up the Stage
Oscar Qian followed up asking what types of food Zanilia Zhao treated before. Wang Yibo thought for a bit and mentioned a dish. Zanilia Zhao said there were other cuisines too. Wang Han asked Zanilia Zhao if Wang Yibo has ever treated meals. Zanilia Zhao said he was dieting. The hosts jokingly said that was a good excuse to reject meals.
Wang Yibo Said He Might Not Be Able to Be Friends with His Character, "Xie Yun" from "Legend of Fei"
Oscar Qian then brought up Zanilia Zhao didn't really like to talk during the initial interaction with "Chinese Restaurant 4" guest, Liu Yuning (刘宇宁). He followed up asking, "Then what to do about Zanilia Zhao and Wang Yibo's series, "Legend of Fei"?" Da Zhang Wei (大张伟) jokingly said the series should be called Jay Chou's (周杰倫) song, "Silence" (安靜). Oscar Qian asked Wang Yibo if he and Zanilia Zhao went over their lines when they met.
Wang Han Reacts to Jin Xing Saying She Wouldn't Know Wang Yibo Had it Not Been for "Day Day Up"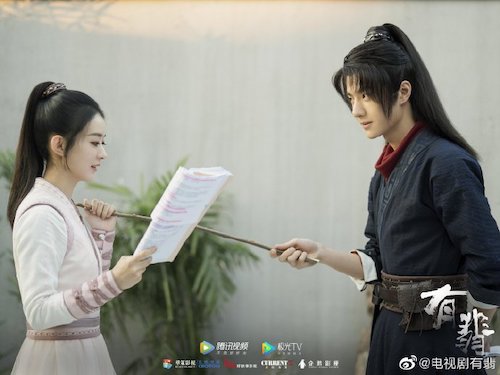 Huang Xiaoming Invites Zanilia Zhao Liying to Join "Sisters Who Make Waves" S2
Wang Yibo replied, "Yes, but I had more lines. They were mostly my lines." Wang Han asked if the two of them usually talked. Wang Yibo said, "We talked after getting more familiar later on." Zanilia Zhao then responded, "After we got more familiar, we spoke two sentences." As for what they talked about, the hosts all jumped in before Wang Yibo or Zanilia Zhao could share their answers.
"Legend of Fei" Team Denies Complaints about the Cast and Crew From Someone Claiming to be an Assistant Director on the Series