The 30th China TV Golden Eagle Awards (中国电视金鹰奖颁奖) was held on October 18. It was a star studded award ceremony that celebrates the success and achievements in the TV industry. On October 16, the 13th China TV Golden Eagle Art Festival was held. The show takes place every 2 years and is an opening ceremony to the award show. An actress is selected to be the "Golden Eagle Goddess" each time and Victoria Song (宋茜) was voted by the panel this year to hold that title.
Victoria Song Posts Swimsuit Pictures After Getting Criticisms for Her Ensemble at the 13th China Golden Eagle TV Art Festival
There were some changes to the award show this year, which was a separate category for Best Actor and Best Actress. Simon Yam (任達華) won Best Actor for his role in "One Dream One Home" (澳门人家) and was the first Hong Kong actor to get the award. He thanked the cast and crew of "One Dream One Home", his wife and daughter, and everyone who supports him. He said, "This award is an encouragement to me. I will continue to work hard to film more good works for everyone."
Eason Chan Convinces Daughter How He is Comparable to Idols like Wang Yibo and Jackson Yee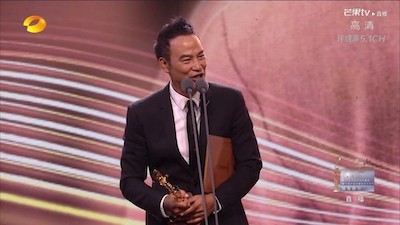 Simon Yam Stabbed Multiple Times by Mysterious Man on Stage
Tong Yao (童瑶) won Best Actress for her role in "Like a Flowering River" (大江大河). She expressed this was her first time attending the Golden Eagle Awards and was very nervous. She said, "Thank you to everyone for the hard work they invested. I didn't have much scenes. I wanted to act out each scene particularly well. We filmed this series in the village we built. This occupation of being an actor is particularly happy and there are a lot of beautiful memories."
Wang Han Reacts to Jin Xing Saying She Wouldn't Know Wang Yibo Had it Not Been for "Day Day Up"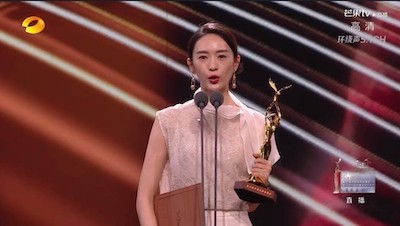 Li Bingbing, Zhu Yilong and Zhou Xun, Wang Yibo Pair Up in VOGUE Film's Autumn/Winter Issue and Micro Movie
As for the Viewers' Choice for Favorite Actress and Actor, it was awarded to Zanilia Zhao Liying (赵丽颖) and Wang Yibo (王一博), respectively after three rounds of voting by the public. Zanilia Zhao won for her role in "The Story of Minglan" (知否知否应是绿肥红瘦) with 938,701 votes, while Wang Yibo won for his role in "Gank Your Heart" (陪你到世界之巅) with 2,662,254 votes.
Zanilia Zhao Liying Gives Emotional Speech After "Legend of Fei" Wraps Up Filming
In usual Zanilia Zhao and Wang Yibo fashion, the two were going back and forth on who should give their acceptance speech first. In the end, it was Zanilia Zhao.
How Wang Yibo "Versace-ing on the Floor" Disrupted E-Commerce Influencers Selling Their Products During Livestream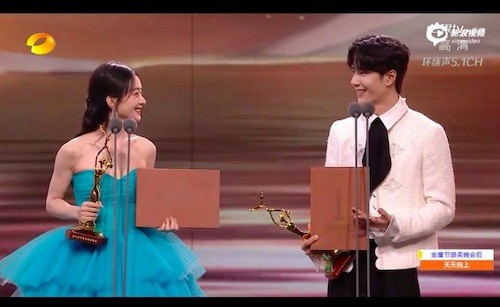 Wang Yibo Waited for Zanilia Zhao Liying to Help Her Walk Up the Stage
Zanilia Zhao's acceptance speech: "Very thankful to each fan and viewer for voting for me. Thank you to everyone for your support, recognition, and deep love. The last time I came to the Golden Eagle Awards was four years ago. Standing here this time, it still feels very familiar because this place has witnessed my growth. This fondness actually bears a lot of expectations. I also look forward to continue being liked by the audience and also hope even more outstanding actors will be liked by the audience. Thank you."
What Happened When Wang Yibo and Zanilia Zhao Liying Met for the First Time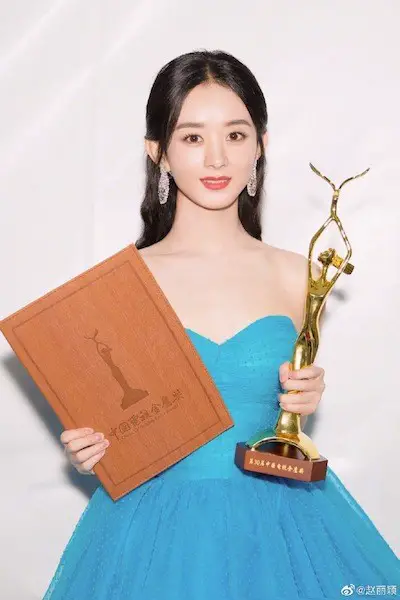 Wang Yibo Responds to Crashing Accident at the 2020 Zhuhai International Circuit
Wang Yibo's acceptance speech: "Hello everyone, I am a new friend of the Golden Eagle Awards, Wang Yibo. Very thankful for the Golden Eagle Awards for giving me this honor. The award I got is Viewers' Choice for Favorite Actor. I know right now it might be more of my supporters who are the audience members that like me. I will be working even harder in the future, using hard work and some luck to be even more worthy of this award."
Zanilia Zhao Liying's Post Got Netizens Speculating if She Was Voicing Out Displeasure with Production on "Legend of Fei" Set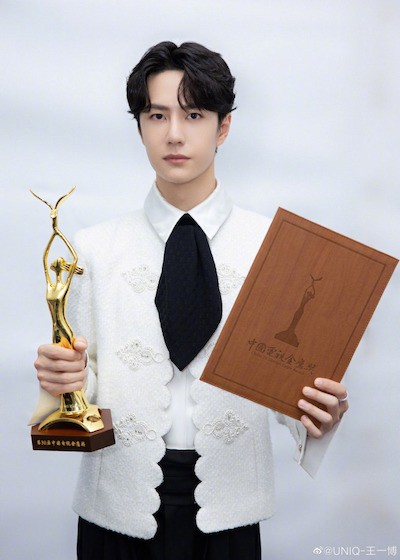 "Chinese Restaurant 4" Under Fire for Portraying Zanilia Zhao Liying in a Bad Light
The "Legend of Fei" (有翡) official Weibo also congratulated the actors. Zanilia Zhao, being the good senior, was also seen introducing a veteran actress, Zhao Yifang (赵依芳), to Wang Yibo.
Huang Xuan, Wang Yibo, and Victoria Song, Announced as Leads for Costume Drama, "Fengqi Luoyang"