Hong Kong actor, Simon Yam (任達華), was at an event in Zhongshan, China recently. While on stage, a mysterious man suddenly went up and started stabbing at Simon Yam's abdomen area with a knife. Simon Yam is seen trying to dodge his attacks, but he suffered a few knife attacks and was bleeding nonstop. The scene was chaotic as the security guards present didn't react immediately. In the video, someone is heard saying, "Stabbed once, stabbed once."
Simon Yam Returns to Work and Reunites with His "Son", Johnny Huang Jingyu, in "Feel The World"
Simon Yam Released from the Hospital
Simon Yam was still conscious and remained calm at the scene. He was escorted off the stage by security, but he was seen covering his wounds with his left hand while his right hand was full of blood. He is heard saying, "Go to the hospital, go to the hospital." Apple Daily HK tried to contact his wife, Qiqi, but was not able to reach her.
Simon Yam Had Follow Up Surgery on Injured Hand in Hong Kong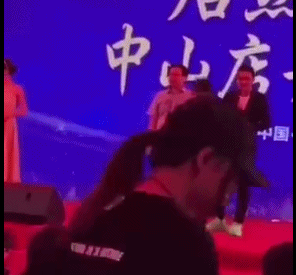 UPDATE 1: It is rumored this attack might have been a case of mistaken identity. The attacker was looking for the boss of a construction project as he owed backpay to his employees. The attacker mistakenly identified Simon Yam as the boss and started attacking him. Apple Daily HK was able to reach Simon Yam's management company, EEG, for an update: "Brother Wah was attacked earlier today at an event in Zhongshan. His abdomen and hand were both wounded. He is currently in the hospital getting treated. His condition is stable. Please don't worry and thank you for your concerns. If there are updates, we will let everyone know." (Will he be flying back to Hong Kong to get treated?) "Everything is dependent on the hospital confirming Brother Wah's condition first before we make any decisions."
Watch the video here: http://t.cn/AilJTrkk
Simon Yam remaining calm and saying "Go to the hospital, go to the hospital.": http://t.cn/AilJf0lS
UPDATE 2: Someone released Simon Yam's WeChat audio message asking for help. In the message, he is heard asking for help and which hospital he should go to. He explains he was stabbed by a crazy person on stage and is bleeding. Listen here: http://t.cn/AilJHjfM
The latest news on Simon Yam is that he's currently having surgery to treat his injuries. It's reported the stab wound is in the upper abdomen area. His injuries are not life threatening and didn't reach to his organs. In addition to his abdomen, four of his fingers were also slashed. There are a bunch of security guards and police officers guarding the operating room, not letting anyone in. Reporters are all surrounding the hospital, but aren't being allowed in by the authorities or the medical team. His wife, Qiqi, is currently en route from Beijing to Zhongshan.
Simon Yam was actually promoting his new movie "Little Q" (小Q) in Beijing the previous night. He was in Zhongshan to promote the movie, but he had some time in between events and decided to take the job where the attack happened.
The news of Simon Yam's attack made it to Korean headlines as he filmed a movie there in 2012 with Jeon Ji Hyun. Netizens left comments saying: "What use are the security guards if they couldn't prevent this from happening. It's so frightening."
A lot of celebrities also left well wishes to Simon Yam for a speedy recovery.
UPDATE 3: Simon Yam's surgery on his abdomen is over. The stab wound did reach a bit into his internal organs, but not any vital ones. The doctors are now operating on the injuries on the four fingers on his right hand sustained from the stabbing.
UPDATE 4: Simon Yam was transported back to Hong Kong around 10:30 pm Hong Kong standard time. He is currently in the ICU at a Hong Kong hospital. Mani Fok shares that the doctors need to evaluate Simon Yam's hand for the extent of the damages and determine if surgery is needed.
Credit: Apple Daily HK (1, 2), hk.on.cc (1, 2, 3, 4), Simon Yam IG, Weibo (1, 2, 3), hk01.com