Wang Yibo (王一博) is an avid fan of motorcycles and is a motorcycle racer himself. For the second year in a row, he has competed professionally at the Zhuhai International Circuit as part of the Yamaha Man Lee Tat Racing Team. During the practice rounds on October 6, Wang Yibo received second place in his group. On October 7, Wang Yibo got first place in the A1 group qualifying rounds. The actual race took place later that day, however, an accident occurred, which left Wang Yibo unable to complete the race.
Driver, Hu Tongming, Who Caused the Crash with Wang Yibo, Says it was an Accident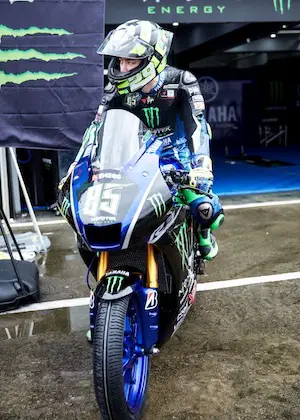 Wang Yibo Goes into Fanboy Mode Upon Receiving Gifts from His Idol, Valentino Rossi
In the last lap of the actual race, another racer, Hu Tongming (胡通明), was speeding while turning a corner in order to reduce the braking time. This led his tires to slip on the ground and resulted in him crashing his bike. Because of Hu Tongming's mistake, Wang Yibo crashed into Hu Tongming's bike as he was near him during the accident. Fortunately, no one got hurt. However, Wang Yibo couldn't finish the race as his bike was damaged from the crash. Wang Yibo was understandably frustrated.
"Street Dance of China 3" Crowns New Champion, Keven Yang Kai, from Wang Yibo's Team "Yibo Wang Zha Boom!"
Wang Yibo Says He's Not an "Impressive Dancer" in Farewell Post to "Street Dance of China 3"
Wang Yibo was first in his group and second in the whole group. In the first lap, he started in 7th place and eventually reached 2nd place. He also achieved his best lap speed of 1:56.764 beating out last year's 1:57.3. According to one of the commentators, Wang Yibo was highly likely to have achieved second place in today's race.
Wang Yibo Celebrates 6th Year Debut Anniversary
A clip is also circulating showing Wang Yibo rejoining his team after the race. Another racer is heard saying to Wang Yibo, "I was last. He (Hu Tongming) was completely unable to get through." Wang Yibo is reportedly heard saying: "Yes! F*ck! Is he crazy? Couldn't get through and [he] crashes into me?" Wang Yibo's teammates are seen pulling him away and consoling him. A majority of netizens are siding with Wang Yibo and felt he gave a normal reaction considering the circumstances.
Zhang Meng was Too Embarrassed to Ask for a Picture with Wang Yibo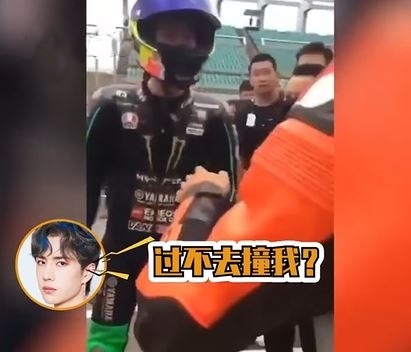 Wang Yibo Insisted on Doing His Own Stunts in "My Strange Friend"
Fans went to Weibo to express their frustrations at Hu Tongming for his actions. They were also mad because they discovered members of the Ducati China racing team were allegedly cheering happily when Wang Yibo crashed. Ducati China later issued a statement consoling Wang Yibo for his unfortunate accident at the race and wished to see him on the race circuit again. They later issued an apology for the workers who were cheering in the pit when Wang Yibo crashed his bike. They said that worker was an outsourced employee and didn't reflect their attitude. They are seriously handling the matter and fully support Wang Yibo.
Joe Chen Has Trouble Holding a Conversation with Wang Yibo
Wang Yibo was Touched by Female Dancer with Hearing Impairment on "Street Dance of China 3"
They also captured a shot of Hu Tongming allegedly fist bumping his teammate after he got back on the track. Hu Tongming had also crashed with two other racers last year at the ARRC and was discovered to have liked a Weibo post showing a video of someone who had crashed their bike at a competition.
Wang Yibo Stops "Street Dance of China 3" Contestant for Copying Dance Moves in Audition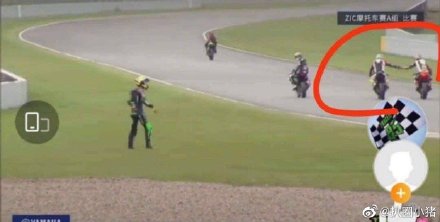 Zhang Meng Praises Wang Yibo's "Explosive" Dancing on "Street Dance of China 3" Can Make Her Cry
How Wang Yibo "Versace-ing on the Floor" Disrupted E-Commerce Influencers Selling Their Products During Livestream
Wang Yibo responded to the accident: "My fans don't need to help me scold. There are some things I will say myself. Crashing the bike is unfortunate, but it is something every athlete should face with a normal mentality. However, losing sportsmanship is not right!"
Huang Xuan, Wang Yibo, and Victoria Song, Announced as Leads for Costume Drama, "Fengqi Luoyang"
Wang Yibo's official account issued a statement after the race: "Thankful to everyone for their concern about TRACER-85 @UNIQ-王一博. Yibo's body is currently not in any serious condition. Please don't worry, everyone. We've already appealed the events that happened at the competition. We're waiting for the arbitration results from the racing organization committee before announcing again. Once again, thank you."
Emily Qi's Older Brother Seemingly Addresses New Dating Rumors with Wang Yibo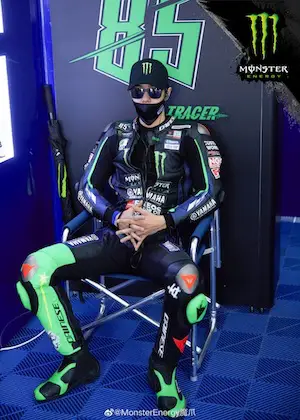 What Happened When Wang Yibo and Zanilia Zhao Liying Met for the First Time
Yin Zheng (尹正), Wang Yibo's good friend and fellow racer on the same team, had won in his group. He made a post saying, "What are you guys cheering for?!", seemingly in response to Ducati China allegedly cheering when Wang Yibo crashed. He also left a comment on his post, saying, "I don't wish to see any congratulations for me to appear in the comments. Those who posted congratulations, please delete it yourself. Thank you."
Eason Chan Convinces Daughter How He is Comparable to Idols like Wang Yibo and Jackson Yee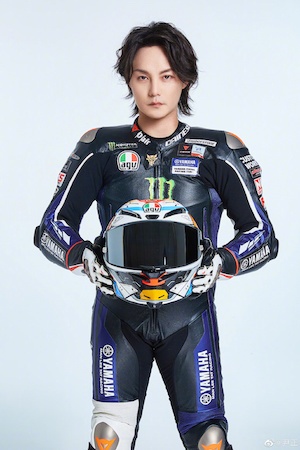 Wang Han Reacts to Jin Xing Saying She Wouldn't Know Wang Yibo Had it Not Been for "Day Day Up"
UPDATE: It's reported the racing committee ruled the crash to be an accident. There won't be any changes to the racing results. Wang Yibo has already flew back to Hunan to film "Day Day Up".