Motorcyclist, Hu Tongming (胡通明), became one of the most controversial person on Weibo these past few days after the crash accident with Wang Yibo (王一博) took place on October 7 at the Zhuhai International Circuit. Hu Tongming had increased his speed while turning a corner in order to reduce the time to brake. As a result, his tires became slippery, which caused him and Wang Yibo to crash. Wang Yibo couldn't complete the competition as his bike was damaged from the crash. One commentator said Wang Yibo was likely to have achieved second place in the race.
Wang Yibo Responds to Crashing Accident at the 2020 Zhuhai International Circuit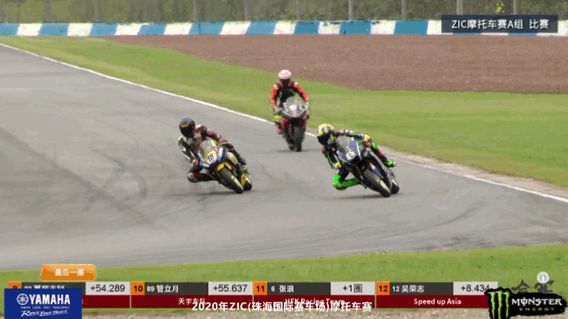 Wang Yibo Goes into Fanboy Mode Upon Receiving Gifts from His Idol, Valentino Rossi
Wang Yibo expressed his frustrations as he felt the crash from Hu Tongming was intentional. Fans quickly went to Weibo to reprimand Hu Tongming and started scolding him, which Wang Yibo advised against and said that there are some things he had to say himself. The issue blew up when netizens and fans alleged Hu Tongming had fist bumped his teammate when the former got back onto the track. As it turns out, Hu Tongming also had a crashing accident with two other racers at last year's race.
"Street Dance of China 3" Crowns New Champion, Keven Yang Kai, from Wang Yibo's Team "Yibo Wang Zha Boom!"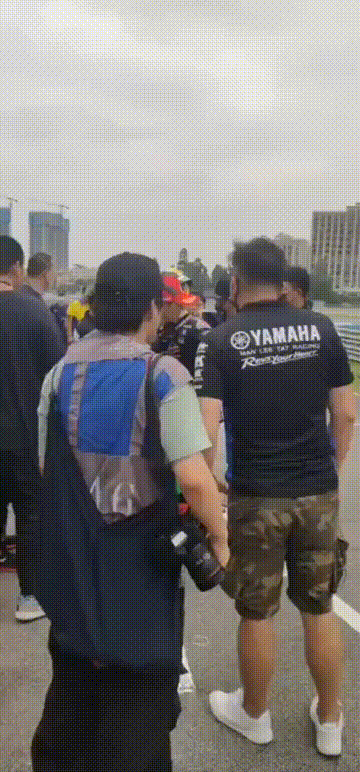 Wang Yibo Says He's Not an "Impressive Dancer" in Farewell Post to "Street Dance of China 3"
There was also a clip showing workers of the Ducati China racing team cheering when Wang Yibo crashed, which led to outrage at their poor sportsmanship. Ducati China later made a statement apologizing for the behavior of their workers and explained those involved were outsourced workers and not reflective of the company's attitude.
Wang Yibo's official Weibo stated they had already appealed with the organizing committee for an arbitration of the events that took place at the competition. On October 8, it was reported the committee ruled the crash as an accident. Therefore, the results of the competition would not be changed.
Wang Yibo Celebrates 6th Year Debut Anniversary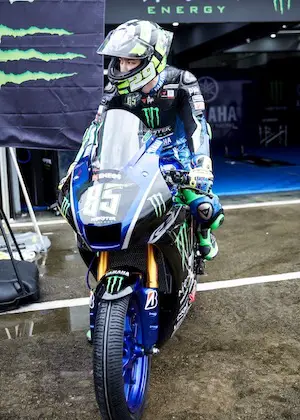 Chen Xiao and Wang Yibo Team Up to Infiltrate Drug Ring in Police Drama, "Being A Hero"
There were many rumors circulating that Hu Tongming crashing into Wang Yibo was allegedly premeditated and intentional. Due to the backlash, Hu Tongming addressed the accident in the early hours of October 9. He wrote:
"Hello everyone, I am HFK Racing Team's driver #18, Hu Tongming. All the public opinion's pressure and various statements directed at me from major media outlets and a certain celebrity's fans have brought me a lot of negative impact right now. I must restore the actual truth of what really happened right here.
I am a driver. I only want to finish each of the races in my life seriously. During the competition at the Zhuhai International Circuit on October 7, due to the lowside of the bike, it led to driver #85, Wang Yibo, to turn over during the race. After the race, both parties met. I already expressed my regards and regrets towards driver #85, Wang Yibo, face to face.
Competitive skills sports competitions are full of various uncertainties. Our accident was an accident. The arbitration committee also gave the final judgment. Our results are real and in effect. We believe the competition's arbitration committee is fair and just.
Wang Yibo Vents Frustration at Sasaeng Fans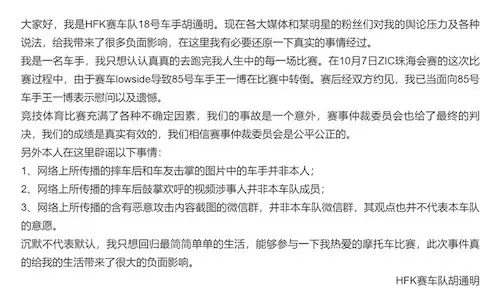 Cho Seungyoun Reveals Chat Dialogue with Fellow UNIQ Member, Wang Yibo
In addition, I am refuting the following:
The picture spreading online of a driver fist bumping his teammate after the crash is not me.
The video spreading online of the people clapping and cheering after the crash are not my team members.
The screenshots of the WeChat group chats with malicious and accusatory content are not my team's WeChat group. Those views don't represent the racing team's wishes either.
Silence doesn't represent tacit admission. I just want to return to the most simple life and be able to participate in my deepest loved motorcycle races. This incident has really brought great negative impact to my life.
HFK Racing Team Hu Tongming"
Yuehua Entertainment Condemns Sasaeng Fans for Installing Tracking Device to Follow Wang Yibo
"Day Day Up Brothers" Share Their Thoughts on Wang Yibo Achieving Success at a Young Age
Despite his clarification, many netizens were doubting the validity and sincerity of Hu Tongming's statement. The top comment on his post with over 115,000 likes, said, "Purely a passerby. Watching the video, I feel Wang Yibo was quite wronged. This "accident" obviously made him unable to complete the race. He should be mad. After reading your response, I feel you are owed a big scolding. Even "expressed your regards and regrets", if all accidents [are treated] with this type of attitude, then it's really a disaster. Commonly seen at the race course is not an excuse. In any case, there should be an apology. There are various types of accidents. Can you tell the victim this is common and then express your condolences and regrets?"
Another person said, "Accidents three years in a row? Hurry up and buy accidental insurance."
Wang Yibo Insisted on Doing His Own Stunts in "My Strange Friend"
Wang Yibo's racing team, Yamaha Man Lee Tat, made a statement later in the day addressing internet celebrities within the racing circles who were spreading rumors about Wang Yibo. They said, "Certain internet celebrities from the motorcycle circle shouldn't continue making up facts and try to gain popularity by spreading rumors. If the rumors don't stop, what you guys will be waiting for is a lawyer's letter from our racing team. Wait to be humiliated when the official statement comes out."