It was Wang Yibo's (王一博) 6th year debut anniversary on September 15. Wang Yibo debuted in the group, UNIQ, at the age of 17 on September 15, 2014. UNIQ's official Weibo account uploaded a gif of Wang Yibo celebrating his 6th anniversary.
Wang Yibo Goes into Fanboy Mode Upon Receiving Gifts from His Idol, Valentino Rossi
What Happened When Wang Yibo and Zanilia Zhao Liying Met for the First Time
Wang Yibo's official Weibo account uploaded a video chronicling all the events and his works since his debut up til now.
Wang Yibo Reveals the Good and the Bad about His Current Popularity
They also uploaded a picture of Wang Yibo's back and tied it in with his character from his upcoming series, "Being A Hero". The caption said, "Yu Ge is online calling Wang Yibo to clock in his 6 year debut anniversary."
How Wang Yibo "Versace-ing on the Floor" Disrupted E-Commerce Influencers Selling Their Products During Livestream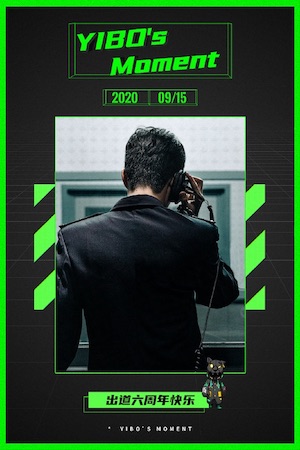 Huang Xuan, Wang Yibo, and Victoria Song, Announced as Leads for Costume Drama, "Fengqi Luoyang"
Wang Yibo also uploaded a picture on his personal Weibo celebrating his 6th year debut anniversary of 6 skateboards and 6 hearts.
Wang Yibo Responds to Crashing Accident at the 2020 Zhuhai International Circuit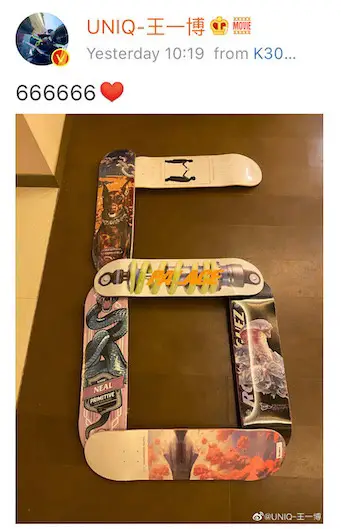 UNIQ Celebrates 6th Year Debut Anniversary Virtually
The reason why Wang Yibo's debut was only celebrated on September 15 out of all the members is because Yuehua Entertainment treated the day each UNIQ member's trailers were released to the public. Wang Yibo's trailer was released on September 15, Kim Sung-joo on September 17, Cho Seung-youn on September 19, Li Wenhan on September 22, and Zhou Yixuan on September 24. UNIQ's debut date is October 16, 2014.
Wang Yibo Says He's Not an "Impressive Dancer" in Farewell Post to "Street Dance of China 3"