It was Jennifer Shum's (岑杏賢) 32nd birthday on October 9. Good friends, Tracy Chu (朱千雪), Roxanne Tong (湯洛雯), Kaiyi Cheung (張嘉兒), and Angel Chiang (蔣家旻), threw her a surprise birthday party to celebrate the day. In addition to the birthday celebration, they also revealed Jennifer Shum was a bride-to-be!
Jennifer Shum Bids Adieu to Being Single for Four Years
Benjamin Yuen's Former and Current Girlfriends Celebrate Birthdays One Day Apart
All of four of them posted around the same time on the morning of her birthday. One of the pictures shows Jennifer Shum showing off her ring. In Tracy Chu's post, she wrote, "One year ago you caught my wedding bouquet. 💐One year later, we are throwing you a bridal shower👰🏻💍 Happy birthday beautiful bride-to-be @jenniferjshum ❤️❤️❤️"
Jennifer Shum Likes Post Wishing for Jacqueline Wong and Kenneth Ma to Break Up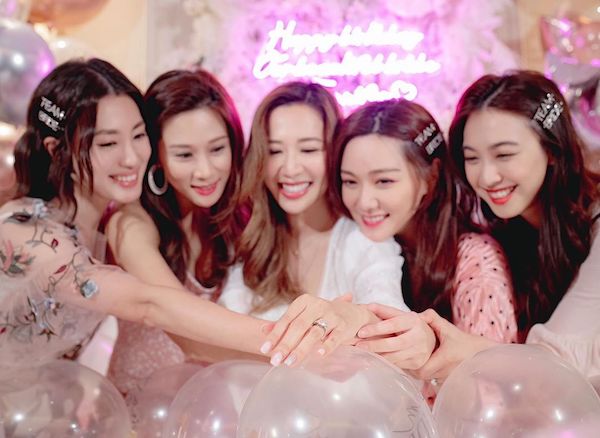 2012 Miss Hong Kong Second Runner Up, Tracy Chu, Marries Doctor Boyfriend in Bali
When hk01.com asked if she getting married soon, she responded, "Yes! Yesterday's birthday [party] was very touching, very unforgettable, very surprising, very happy. I didn't think with everyone so busy working that they would spend so much effort to present me with such blessings. Thankful for having such a great bunch of sisters who dote on me."
Ever since her break up with Benjamin Yuen in 2016, Jennifer Shum has been single. Benjamin Yuen had recently announced he was already engaged to Bowie Cheung, It wasn't until Valentine's Day this year that she revealed she was dating someone. She has never revealed his face on her social media accounts. However, she did reveal that his name is Kelvin and is 34 this year. He works in Finance and is originally from Canada. They met through a mutual friend at a wedding.
Jennifer Shum previously revealed to the media that her boyfriend always surprises her with presents on the anniversary they met each other every month. He would reserve a restaurant to dine together and look for places that are good for dates, a true romantic.
When asked when they are getting married, Jennifer Shum revealed, "We had already been engaged for some time, but we haven't revealed it to everyone because my fiancé is not in the industry. I want to respect him and handle it low key. I hope everyone doesn't mind and will understand. I won't reveal the other details too much. But I am really happy. So happy to receive so many people's blessings."
Credit: hk01, Kayi Cheung IG, TOPick