The first episode of Youku's "Street Dance of China 3" (这!就是街舞3) aired on July 18 with a lot of anticipation from fans around the world due to the star studded team leaders in Lay Zhang (张艺兴), Jackson Wang (王嘉尔), Wang Yibo (王一博), and Wallace Chung (鍾漢良). For those familiar with Wang Yibo, he gives off a persona of being very reserved and quiet, which has been a running joke among his "Day Day Up Brothers", group members, and co-stars. However, it seems Wang Yibo shows a different side to him when he feels passionate about things he enjoys.
Wang Yibo Responds to Crashing Accident at the 2020 Zhuhai International Circuit
Wang Yibo Says He's Not an "Impressive Dancer" in Farewell Post to "Street Dance of China 3"
In the first episode, one of the contestants who auditioned to be in Wang Yibo's team was in the midst of his routine until a few other contestants noticed he had copied a dance routine from a Japanese dance group. Wang Yibo noticed this gesture those contestants made and called a time out. He explained, "Okay, there's a problem. I see the contestants in the back doing this gesture." He explained that gesture is commonly used among the dance community to represent a dance move being copied.
Wang Yibo Celebrates 6th Year Debut Anniversary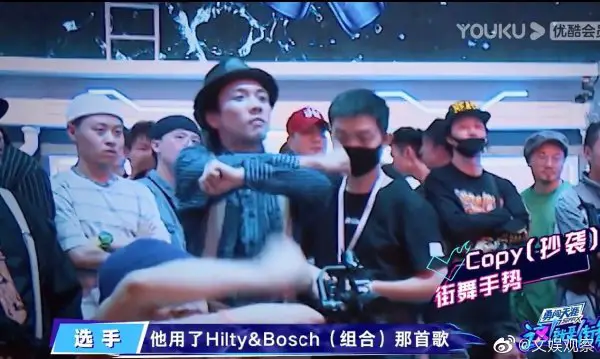 Zhang Meng was Too Embarrassed to Ask for a Picture with Wang Yibo
"Street Dance of China 3" Crowns New Champion, Keven Yang Kai, from Wang Yibo's Team "Yibo Wang Zha Boom!"
Wang Yibo was very firm and said the following to everyone on the dance floor, "I like originality, but if you take other people's things to dance, it's very disrespectful." He explained in the backroom interview, "I feel like you're here to compete. You're not here to film a video and you're not here to do a show. You have to show your strength. You have to show your own choreography. If you take other people's work to display your strength, I don't think this is okay." Needless to say, this contestant didn't make it to Wang Yibo's team.
Zhang Meng Praises Wang Yibo's "Explosive" Dancing on "Street Dance of China 3" Can Make Her Cry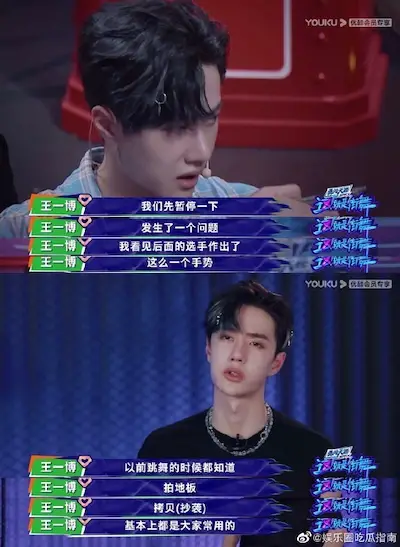 Wang Yibo was Touched by Female Dancer with Hearing Impairment on "Street Dance of China 3"
Watch full episode without subs: