It has been close to a month since Rocket Girls 101 (火箭少女101) disbanded on June 23. Since then, each member has been busy promoting on their own. A few of the members had trended on Weibo for various reasons since the disbandment. The group's leader, Yamy(郭颖), was trending at #1 on Weibo on July 21 as she released an audio clip of her management company's boss calling her ugly and other insults in front of his staff.
Huang Zitao and R1SE's Xia Zhiguang Show Support for Yamy, Boss Follows Up with Response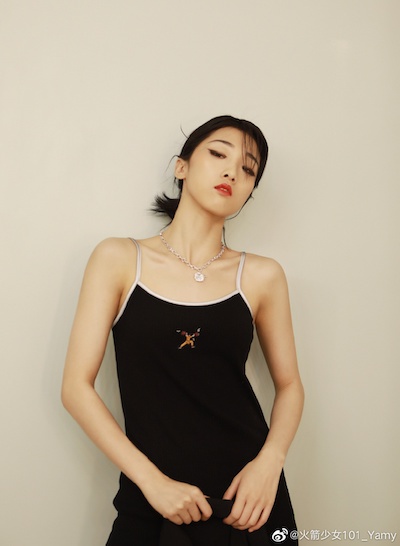 Yang Chaoyue and Wu Xuanyi Show Off Friendship After Rocket Girls 101 Disbandment
The 3+ minute clip consists of her boss, Xu Mingchao (徐明朝), having a staff meeting that took place in April without Yamy's presence. He insults her looks, abilities, and constantly encourages and eggs on the staff members to participate in his "roast". Yamy says she removed the names of the staff members from being heard to protect them.
Xu Mingchao is heard saying "Yamy is ugly, very ugly, super ugly. It's a fact…" several times. Other insults include saying "Yamy thinks she's fashionable. I don't think she's fashionable. I think she's pretending to be fashionable…Yamy thinks she has great sense of style. Every time she comes to the company with her clothes, I think she looks like a hedgehog." At one point, he asks the people present if they think Yamy can sing. Then insults her saying , "Became effeminate, you were originally a cool boy…cool girl…then you became so gay." He proceeds to call her a back up dancer only and says, "I've never said Yamy was ugly to her face, but I can't hold it anymore…A girl being ugly is an advantage, but Yamy doesn't even know she's ugly. Being ugly becomes an advantage only when you know it. You don't even know you're ugly. You think you're pretty, then that's not right."
Yang Chaoyue Apologizes After Being Accused of Slacking Off During Rocket Girls 101's Performance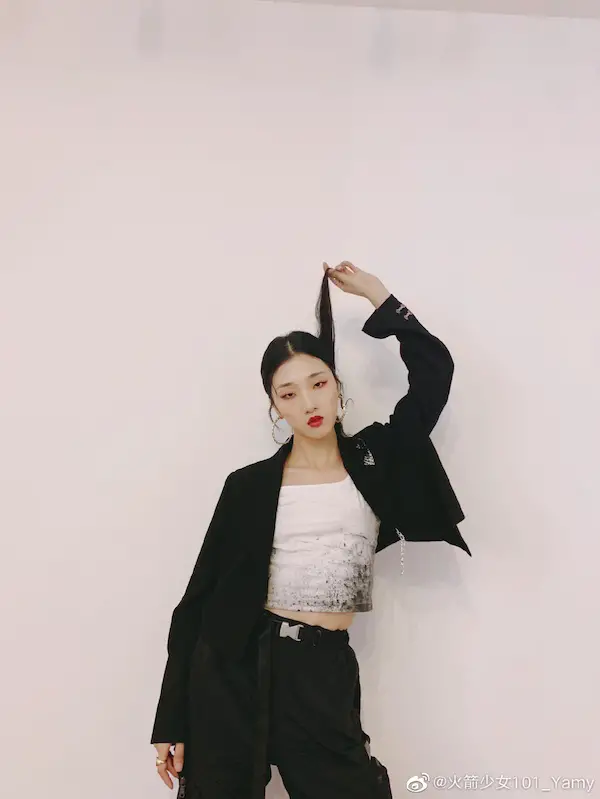 Sunnee Deletes Post Mentioning Rocket Girls 101 After Complaints from Her Fans
Listen to the audio clip here: https://weibo.com/tv/show/1034:4529063344144407?from=old_pc_videoshow
Yamy also said in her lengthy post that ever since she joined "Produce 101 China", her looks and her age were always a topic of debate. She expressed the confidence that took her so long to build up in the past two years was shattered three months ago with her boss's hurtful insults. Yamy mentioned Xu Mingchao would constantly give her contradicting messages like saying she has advantages and should be confident, then saying she's not worth it. Yamy also expressed that she started getting these symptoms like staying in her room and crying all day for no reason, her hand shaking reading messages, or wanting to escape when she heard a message.
When Yamy wanted to terminate her contract because of the mistreatment, Xu Mingchao responded back to her, "Understand the situation, don't cause any trouble". Lastly, Yamy told off Xu Mingchao and said she wouldn't let him insult her dignity anymore. She signed off saying, "It doesn't matter what I am. I am the most important."
After Yamy's post, her former Rocket Girls 101 members all left her encouraging messages to show their support.