It was full of excitement in Episode 2 of Youku's "Street Dance of China 3" (这!就是街舞3), which aired on July 25. There were many contestants from different walks of life trying out for a chance to join one of the four team leaders. Wang Yibo (王一博) was down to one towel left to be given out, but still had a lot of contestants to see. One particular contestant, Mendy (梦迪), received a lot of cheers from the audience.
Zhang Meng Praises Wang Yibo's "Explosive" Dancing on "Street Dance of China 3" Can Make Her Cry
Mendy hails from Beijing and is part of the PureSoul dance crew. During her introduction, she explained her pronunciation wasn't clear, so she asked if Wang Yibo could understand her. Mendy explained this was due to her having a hearing impairment from a fever that damaged her eardrum when she was younger. So she has a cochlear implant to help her hearing.
Wang Yibo Stops "Street Dance of China 3" Contestant for Copying Dance Moves in Audition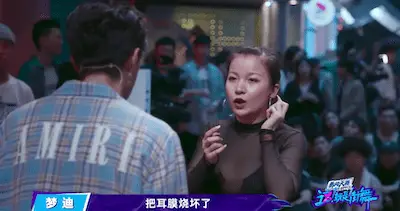 Wallace Chung Talks about Working with the Other Leaders on "Street Dance of China 3"
After her performance, Wang Yibo told Mendy, "Danced really well. I hope you can continue going on, using this passion." Due to the number of talented dancers, Wang Yibo politely told Mendy to stand by and wait for a decision. He then gathered four of his most liked dancers, including Mendy, to battle it out for the last towel. During Mendy's performance, the other contestants in the audience were also helping her count the beats by clapping their hands.
Zhang Meng was Too Embarrassed to Ask for a Picture with Wang Yibo
Wang Yibo Insisted on Doing His Own Stunts in "My Strange Friend"
Wang Yibo had difficulty choosing so he had Mendy and another contestant, Zi Dan (Bullet), battle again. He had to deliberate some more as it was the last towel and he wanted to give it to someone he liked. In the end, Wang Yibo gave the last towel to Mendy.
Wang Yibo Celebrates 6th Year Debut Anniversary
Wang Yibo Responds to Crashing Accident at the 2020 Zhuhai International Circuit
In the backstage interview, he explained why he chose Mendy, "Her spirit touched me. She's had issues with her ear since she was young, but she still persists to keep on dancing. In addition, she danced really well."
Wang Yibo Goes into Fanboy Mode Upon Receiving Gifts from His Idol, Valentino Rossi