It was Lay Zhang's (张艺兴) 29th birthday on October 7. He gifted fans with a video uploaded on Weibo at 10:07 am introducing the launch of his new entertainment company, Chromosome Entertainment Group (染色体娱乐集团). The company has already created official Weibo, Twitter, and Instagram accounts and translated their posts in English.
Lay Zhang: You Can Ridicule Me, But Don't Ridicule Hard Work
Lay Zhang Recounts Healthy Competition with Kai During EXO's Trainee Days
Lay Zhang is in the video introducing the launch of Chromosome's Entertainment Group's global trainee and recruitment program. Unfortunately, Lay Zhang's "lowest standard for idols is Lay Zhang". His only requirement is to "defeat him".
Jackson Yee and Lay Zhang Defend "We Are Young 2020" Trainees Being Called "Hui Guo Rou"
Lay Zhang Gives Savage Response on Why He Initially Refused to Join "We Are Young 2020"
The CEG training and recruitment program contains three steps: 1) online preliminary selection 2) offline audition 3) formal training system. Trainees who get accepted will be assigned to one of the four groups: rap, dance, vocal, and all-around.
Lay Zhang Proudly Shows Off EXO to Other Contestants on "CZR II"
Yang Di Apologizes to Lay Zhang and His Fans for "Three Missing One" Reference
DO NOT COPY OR RE-UPLOAD ELSEWHERE
As for the qualifying requirements, you have to be from the ages of 13-18, no gender limitations. You must include the following:
1. Registration form in attachment format.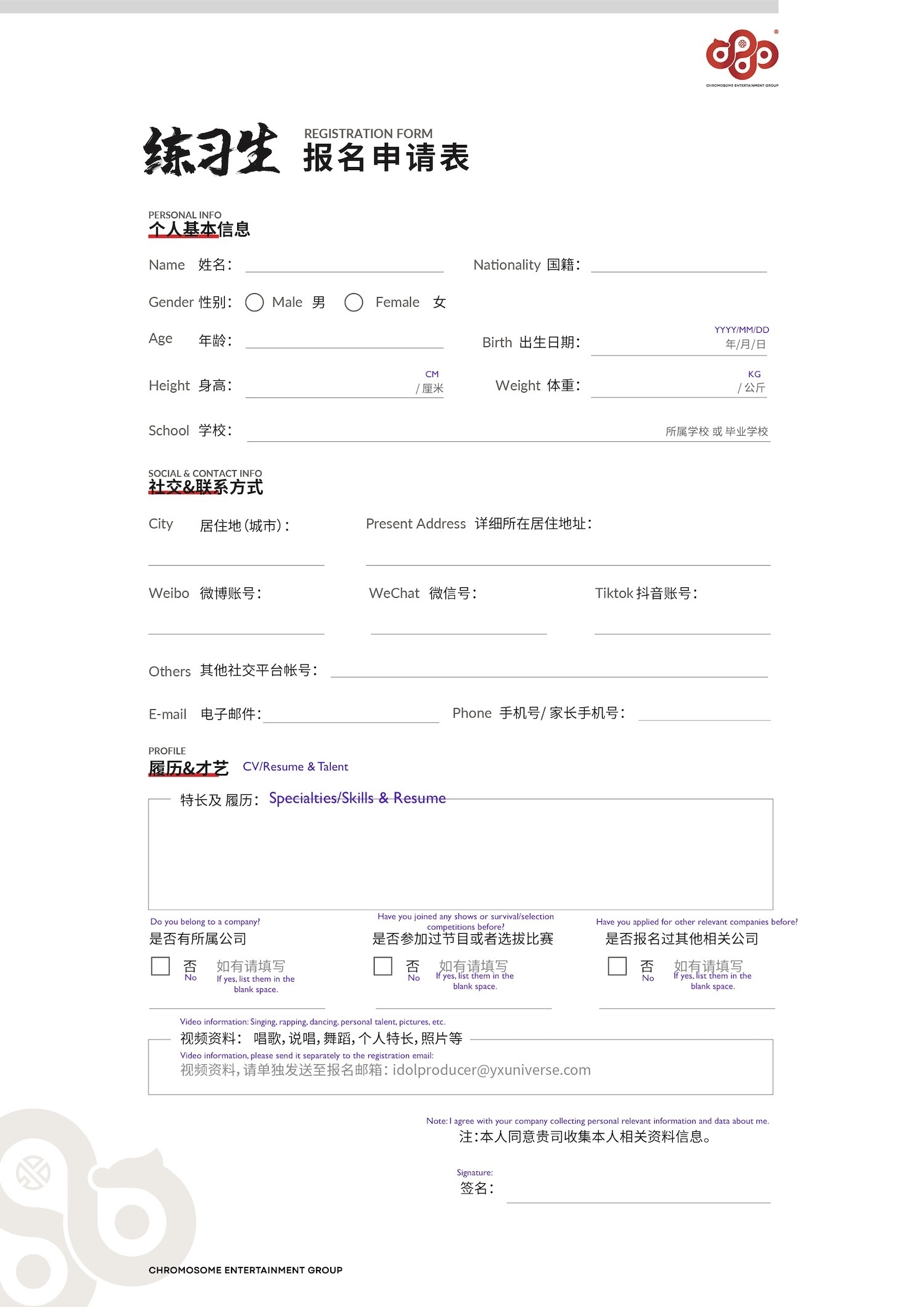 Lay Zhang Reveals There is One Thing He Doesn't Know How to Do
2. Audition video:
Singing/Rapping: 1 high-pitched love song/ballad, 1 song with a strong rhythm (no accompaniment / 1 minute or so), your best track (with accompaniment / 30 seconds or so)
Dance: hip-pop, kpop, free-style, street dance, and more for 1 minute or so, those without any basic dancing foundation can listen to music and dance freely.
Special Skills: anything you're good at or any unique skills (30 seconds)
Personal Dream: express your dreams for the future (30 seconds)
3. Avoid wearing revealing clothing or wearing heavy make up in your video, surroundings should be quiet, background should be clean.  (Do not use any image editing software, please use the original camera from your phone to take pictures.)
4. For singing videos, please make sure it's a close up shot (up to the chest, front side).  When choosing a song, please choose a song you are fully prepared to perform.  When performing, it's recommended to start singing from the chorus.  For dancing videos, please make sure it is in panoramic view with a full shot of your whole body.  
5. Include a one inch bare faced official photo showing your forehead with your registration form. Please keep in mind to not over edit the picture.  Use JPG format to upload it.  
6. If there are music or audio clips, please use MP3 format. 
Send your application and videos to: [email protected]
Registration start date: October 7, 2020
The finalists who get accepted in the first round of preliminary selections will be notified through email or text on December 7, 2020. The second round of auditions will take place in parallel starting from that day forward.