Zhao Lusi (赵露思) was at an event for Gucci on July 17 in Shanghai. She looked charming as usual showing off Gucci's products. She started trending on Weibo's hot search list with the hashtag "Zhao Lusi Raw Photos". Unfortunately, the hashtag was trending because some netizens were criticizing her looks from unedited photos. Some comments said her smile lines were really deep, that she lost her quirky "Chen Qianqian" charm from "The Romance of Tiger and Rose", and even said she didn't have any prominent facial features.
Zhao Lusi's Studio Debunks Rumors She Authored a Deleted Post Saying She Likes Xiao Zhan
Zhao Lusi Joins Netizens in Complaining about Her Character, "Gu Shengnan", from "Dating in the Kitchen"
The next day, Zhao Lusi addressed the debate about her unedited photos on Oasis with a witty clap back. The title of the post read, "Living in Photoshopped Pictures". Her post read, "Today is another day of photoshopping pictures. I saw the hot search yesterday, ha ha ha. That's right. I am a female celebrity who lives under the guise of filters. Today's filter is "oil paint colors". Convenient. Don't need to photoshop any highlights with oil paint colors."
Netizens Criticize Zhao Lusi with Derogatory Slang Term, "Green Tea", Stemming from Her Recent Posts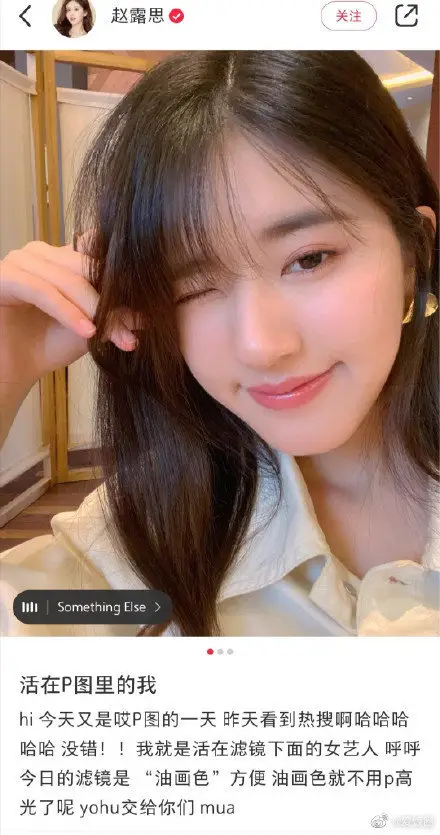 Yu Zheng Denies Referring to Zhao Lusi as a "Low EQ Actress Who Forgot Her Roots"
Luckily, most netizens were rational and used the same hashtag questioning which "bad" pictures they were talking about because they couldn't find any of them. These are the pictures from Zhao Lusi's studio.
Zhao Lusi Apologizes to Victoria Song for Accidentally Liking Post Complaining about Her Outfit