Since the long awaited series, "The Wolf" (狼殿下), aired on November 19, after a 3 year wait, it has constantly been trending on Weibo. The funniest trends were probably Li Qin's (李沁) kiss scenes with Xiao Zhan (肖战) and Talu Wang (王大陸). They were trending because of the awkwardness of the kisses.
Lead Director of "The Wolf", Frankie Chen, Reveals Why Talu Wang, Li Qin, and Xiao Zhan were Suitable for Their Roles
Exhibit A
Xiao Zhan's character, "Ji Chong", forced a kiss on Li Qin's "Zhai Xing" when he was drunk. According to netizens, this trended because Xiao Zhan's kiss had "rearranged" the shape of Li Qin's nose.
"The Wolf" Finally Airs Three Years Later with Much Excitement from Fans Around the World
Hong Kong Actress, Do Do Cheng, Praises Xiao Zhan's Performance in "The Untamed" and Reveals Her Affinity with Him
Exhibit B
The recent kiss scene of Talu Wang's character, "King Bo", also trended a few days ago when he forced a kiss on Li Qin while holding her captive. This kiss earned laughs as the awkward kiss "rearranged" the shape of Li Qin's mouth this time.
Netizens Got Excited Thinking Li Qin and Yang Yang "Got Back Together" After Studio Took Down Single Statement
Talu Wang Asks Cai Xukun to Help Send His Dance Video to Lisa
Talu Wang responded to the trending hashtag, saying, "You guys don't understand King Bo's love, but I understand it." He includes this picture of Li Qin hugging him and the caption says, "It's nothing. Don't worry."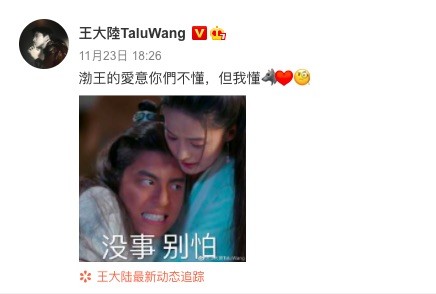 Talu Wang Wants to Find a Girlfriend like BLACKPINK's Lisa
Li Qin was previously asked to rate the new generation of male actors. When it came to Xiao Zhan, she said, "Xiao Zhan, the most serious." As for Talu Wang, she said, "Talu Wang, the biggest mouth." Li Qin says she feels bad for saying this every time as she always gets asked this question. She tells him to sacrifice a bit for the sake of "The Wolf". She had also once talked about her kiss scenes with Talu Wang, saying, "Other people doing kiss scenes, they receive the kiss. When he films kiss scenes, it's like a suction cup. I don't want to be a suction cup."
Xiao Zhan's Manager Denies Being Mastermind Behind AO3 Scandal