Youku released the first episode of their variety show, "Not A Loner" (看我的生活), on May 23. The show showcases the lifestyles of a few celebrities. Among the cast members include Taiwanese actor, Talu Wang (王大陸), and Justin Huang Minghao (黄明昊). In the first episode, Justin Huang stays with Talu Wang because he has nowhere to go after sasaeng fans were chasing him.
"Youth With You 3" Trainee, Liang Sen, Shocks Lisa After She Sees Him and Then Mesmerizes Her After He Performs
During their time together, Talu Wang starts telling Justin Huang, "Do you know BLACKPINK said they saw my film before?" Talu Wang is most likely referring to his breakout movie, "Our Times" (我的少女時代). Justin Huang doesn't really give him a response, so Talu Wang continues saying, "I've heard their songs before, but I haven't seriously tried getting to know how the four girls look like. But this program…wow. Lisa is really cute to "death"." The program he's referring to should be "Youth With You 2020".
Talu Wang Asks Cai Xukun to Help Send His Dance Video to Lisa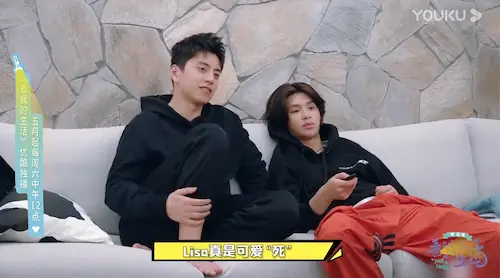 THE9's Esther Yu Apologizes for Unfollowing and Re-Following Lisa on Weibo
YG Entertainment Responds to Controversy over BLACKPINK's Close Contact with Pandas on "24/365 with BLACKPINK"
Justin Huang then asks him, "Really cute?", which Talu Wang responds "Cuteee". Talu Wang proceeds to ask Justin Huang, "Then what type of girlfriend do you want to date? I want to find someone like Lisa." Justin Huang responds, "Very hot, right?" Talu Wang then says, "Not hot…it's that…She's serious when she needs to be serious, cute…when cute, hot…and also hot." Justin responds, "Just less", to which Talu Wang agrees. This is interesting because Talu Wang has been rumored to be dating a Taiwanese make up artist, Ivy Hsieh, for some time now.
BLACKPINK's Lisa Explains Why She Chose Cai Xukun's "Lover" for Her Mentor's Performance on "Youth With You 3"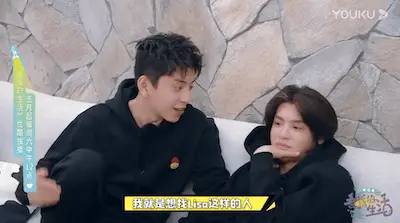 "Youth With You 2020" Trainee, Joey Chua, Most Afraid of Lisa, Changed Perceptions of Cai Xukun After Joining Show
Talu Wang then asks Justin Huang what type of girlfriend he wants to date. Justin Huang says he is looking for someone cute to be his girlfriend.
Talu Wang's Mother Suddenly Passes Away at 65
When the hosts, Da Zhang Wei (大张伟) and Li Weijia (李维嘉), questioned Talu Wang on whether Lisa knows about his confession and if he has passed along the message to each other's management company, he says, "I've wanted to do some things." His response surprises the hosts and they ask him what things he wanted to do. Talu Wang responds, "Want to hold some events in Korea." It sounds like Talu Wang wants to collaborate with Lisa and/or BLACKPINK.
"The Wolf" Finally Airs Three Years Later with Much Excitement from Fans Around the World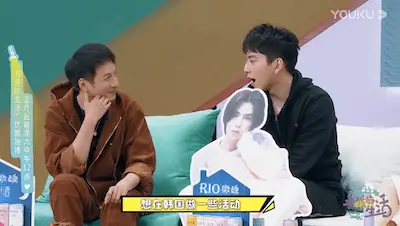 Link to clip: https://v.youku.com/v_show/id_XNDY3NDI2NjgzNg==.html