Rumors started circulating on December 21 that Johnny Huang Jingyu (黄景瑜) had visited Dilraba (迪丽热巴) on the set of her currently filming series, "You Are My Glory" (你是我的荣耀). A netizen claims Johny Huang's car was seen at the "You Are My Glory" film set due to the same license plate, "616". They claim the car was previously seen at Johnny Huang's film set, "Ace Troops" (王牌部队), which recently wrapped up filming. So therefore, they deduced that Johnny Huang was visiting Dilraba and spurring on dating rumors.
Dilraba Describes Working with Johnny Huang Jingyu and Reacts to Fans Shipping Her and Viann Zhang's Characters in "Love Designer"
Johnny Huang Jingyu's Ex-Girlfriend, Wang Yuxin, Reportedly Attempted Suicide and Still in a Coma
These rumors went viral and shot up to the #1 trending spot on Weibo with over 5.3 million mentions. Dilraba's fans immediately clarified the rumors and said:
The car is from the film crew. It has always been this car.
Aside from Zhang Lin, no one else came to visit.
Stop concocting these ludicrous rumors, you'll live a bit longer.
Wang Yuxin Released from the Hospital, Alleges She and Johnny Huang Jingyu Divorced Two Years Ago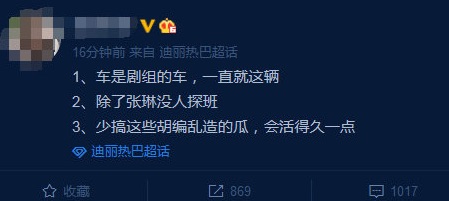 Dilraba Doesn't Think She is That Beautiful
Fans from both parties started pointing fingers at each other on who started the rumors. Johnny Huang's fans claim it's not them as the person who posted the rumor referred to Johnny Huang with a term that his anti fans use to call him. Some also felt Dilraba was being used for hype as she trended multiple times on December 20 for her appearance at the Tencent Video "All Star Night 2020" ceremony.
Dilraba Corrects Host After Complimenting Her Beauty in Pictures and Videos
Dilraba and Johnny Huang previously worked together on the series, "Love Designer" (幸福触手可及). There were once rumors in January that the two went from "reel" to "real" when iFeng Entertainment claimed they were getting close on the film set and alleged Dilraba got onto Johnny Huang's RV.
Dilraba and Johnny Huang Jingyu Went from Reel to Real?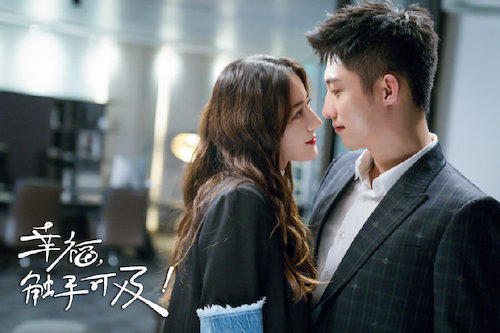 Yang Yang was Asked about Filming Kiss Scenes with Dilraba and Working with Her on "You Are My Glory"
Neither party addressed the rumors as it didn't get much traction, but fans and netizens weren't buying it either. A few weeks later, Dilraba's make up artist subtly hinted that Dilraba was single.
Make Up Artist Seemingly Helps Dilraba Clarify Dating Rumors