Due to the COVID-19 outbreak in China, iQiyi's long anticipated female idol competition, "Youth With You 2020" (青春有你2), has been postponed from airing. During the hiatus from filming, iQiyi has been showcasing the 109 trainees in short videos. One of the trainees, Snow Kong (孔雪儿), was already a hot favorite before the show aired due to her previous experience as a JYP trainee and member of the group, LadyBees. It seems one of the staff members managing the iQiyi Weibo account also is a zealous fan as this person made a dedicated post about Snow Kong, which got some of the fans of other contestants riled up.
"Youth With You 2020" Hot Favorite Trainee, Snow Kong, Involved in Dating Rumors with Victor Ma and UNINE's Jia Yi
Snow Kong, Kiki Xu, Frhanm Shangguan, An Qi, and Yvonne Wang Get Candid on Their Fears, Cutest Mentor, Scariest Mentor on "Youth With You 2020"
It's suspected this staff member might have forgotten to switch to their own personal account. The person posted twice on the official Weibo account of "Youth With You 2020" with Snow Kong's intro video. In the second post, the person wrote, "Snow Kong really fits my aesthetics! Let her debut! Mama is ready to buy milk!" The post was quickly deleted, but it was too late as the post started going viral. Other netizens started complaining about the favoritism.
Manager of "Youth With You 2020" Trainee, Liu Yuxin, Suspended for Making Negative Comments Seemingly about Snow Kong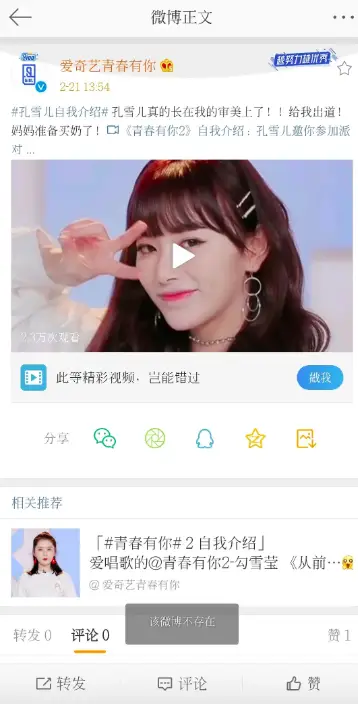 TRAINEE 18's Weibo Account Throws Shade at "Youth With You 2020" Trainee, Snow Kong
Shortly after, iQiyi issued an apology on the "Youth With You 2020" official Weibo account, saying: "After investigating, the editor of the official iQiyi "Youth With You" Weibo committed a serious mistake today while using the account. This behavior is a result of this person's own negligence. Because of this, we express our deepest apologies to each youth producer and trainee. At the moment, we have already imposed severe punishment on the editor and will immediately stop all "Youth With You 2" work and won't be reused. After today, the iQiyi "Youth With You" official Weibo will be even more rigorous with our own checks and will continue to accept everyone's supervision and criticism. We apologize once again to everyone who has been impacted. Once again, thank you to each youth producer for your support and supervision."
Esther Yu: Actress, "Youth With You 2020" Trainee…and Former Sasaeng Fan?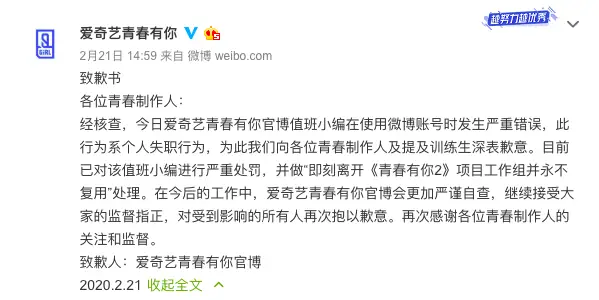 Snow Kong's Company Issues Statement Condemning Rumors She was Third Party in UNINE's Jia Yi and Ex-girlfriend's Relationship
Snow Kong's intro video: