iQiyi sparked a lot of interest and positive reactions when they announced BLACKPINK's Lisa would be joining as the dance mentor for the girls version of "Youth With You 2" or "Youth With You 2020", (previously known as "Qing Chun You Ni 2", 青春有你2). They finally announced Jony J as the rap mentor on December 23. However, his announcement was met with stark contrast from Lisa's and sparked backlash due to his previous comments about idols. The hate all dates back to his short lived stint on the 2018 show, "The Collaboration" (潮音战纪).
"Idol Producer" Boys Show Support for Cai Xukun as the PD of "Youth With You 2020"
Jony J is a rapper who came in fourth place on the first season of "The Rap of China" (中国有嘻哈). Afterwards, he gained a lot of commercial success. He was one of the contestants on the 2018 show, "The Collaboration", which partnered up different artists to produce music together. In the first episode, Jony J had already shaded the other contestants when he said, "After the first rehearsal, I thought I came to the wrong place. I thought it would be ten musicians with different music genres. I understand the meaning of being a musician, but I also understand what it means to be an idol."
Rumored Trainees from Three Major Entertainment Companies Joining "Qing Chun You Ni 2" Revealed
When it came to partnering up, he was picked by The8 (Xu Minghao) from K-Pop group, SEVENTEEN, the first time around. The8 explained he really liked Jony J and that he was his favorite rapper in the country. Jony J complimented The8 as being a very positive person with a lot of substance. He explained, "Back then, underground rappers used to hate mainstream rappers or trainees because they feel like they're fake, superficial." Jony J expressed he only wanted to partner up with Gong Ge (宫阁) instead because he felt he was more in tune with the music he wanted to produce. If he wasn't partnered with Gong Ge, it's the same with everyone else. The8 respected him and in the end chose Zhou Zhennan instead.
Jolin Tsai and SEVENTEEN's The8, Joining "Idol Producer 2" as Dance Mentors
C-Netz Ecstatic over BLACKPINK's Lisa Joining "Qing Chun You Ni 2" as a Mentor
The second time to choose partners, The8 chose Gong Ge to collaborate together. He summoned Jony J to get his blessing. He explained he wanted to work with Gong Ge, but he rejected The8 because he also wanted to work with Jony J. The8 explained this is the only time he can be free to choose who to collaborate with to produce the music he wants to put out because outside of the show, he is bound by his company. However, he also felt conflicted because he didn't want to force anyone or break up the Gong Ge/Jony J partnership. The8 apologized to Jony J, but Jony J told him no need to say sorry and seemed to be okay with The8 making his decision.
Rumored Mentor List for Female Version of "Qing Chun You Ni" / "Idol Producer 3" Being Circulated
In the end, The8 chose Gong Ge, while Jason Fu was left with Jony J. Just when they were about to finalize the pairings, Jony J wanted a time out and say a few words. He expressed, "I understand rules are rules, but in this show, I only want to make music with Gong Ge. If I can't make music with Gong Ge, then the show is nothing to me. I'm out."
"Youth With You 2020" Hot Favorite Trainee, Snow Kong, Involved in Dating Rumors with Victor Ma and UNINE's Jia Yi
Editor Under Fire for Showing Favoritism Towards "Youth With You 2020" Trainee, Snow Kong
Gong Ge took the mic to express his thoughts. He started out saying he meshed really well with Jony J and became good friends. Then he expressed, "Xu Minghao, I am willing to help you using one thousand ways, but I don't accept this type of forceful rules. If my didi, Jony J, must leave now, I can only leave with him." The8 looks dejected and even offered to let Jony J and Gong Ge pair up together, but they chose to quit the show.
Ella Chen Praises BLACKPINK's Lisa as a "Human Barbie"
Esther Yu: Actress, "Youth With You 2020" Trainee…and Former Sasaeng Fan?
Jony J received a lot of hate from netizens for the way he carried himself on "The Collaboration". He had once expressed his dislike for idols in a post from 2016 before his debut, saying, "I can only be touched by wise and high EQ music. Forgive me for looking down on these idols making these noises. Of course, you also have the right to look down on me too. It should be fair."
Snow Kong, Kiki Xu, Frhanm Shangguan, An Qi, and Yvonne Wang Get Candid on Their Fears, Cutest Mentor, Scariest Mentor on "Youth With You 2020"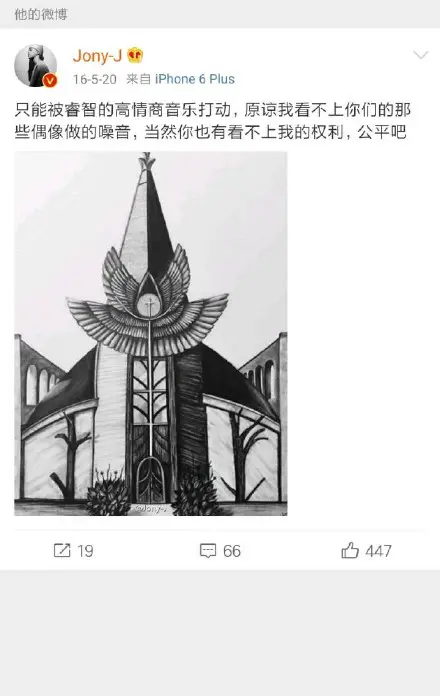 "Youth With You 2020" Trainee, Sharon Wang, Wants to Perform with Jony J
Netizens also dug up an old post or comment of his saying, "Whether you guys like it or not, I will continue bringing what I like, it has always been like this. Very happy we have a mutual understanding about this action. Thank you for coming to the show, but don't bring your type of Korean star chasing ways to my show. If you grab my hand crazily again, I will…" with a smiley face.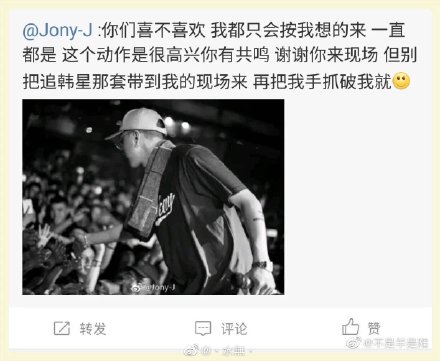 When it was announced he would be joining as the rap mentor on "Youth With You 2020", an idol survival competition, netizens weren't having it. They left comments saying, "Why would he join a show to mentor idols how to rap if he doesn't want to work with idols?", "Get lost. Didn't this person look down on idols? Is he here to make money or just to look at the pretty girls? Don't do the show and then quit midway.", "Are you sure the mentor won't quit in the middle of the show?", "Making RMB is really nice.".
Even Jony J thinks him joining the show is a shock. He commented on the official announcement saying, "That's correct. You didn't see wrong. I am coming." His wife also chimed in saying, "F*ck your mothers", in a deleted post, seemingly directed at the netizens voicing their opinions against Jony J. On Twitter, netizens are trying to get the hashtag #canceljonyj trending to bring awareness and get him off the show.