Vivian Yeo (楊秀惠) has been getting a lot of praise for her portrayal of "Tse Ka-sin" (謝家倩)", who is deaf, in TVB's "Brutally Young" (十八年後的終極告白). She had also announced the birth of her baby girl. However, it seems someone is taking advantage of her shining moments. Someone had reported outside the TVB studio at Tseung Kwan O had a big sign posted outside the door saying, "The Confession of the Swindler's Trap 18 Years Later", a play on the Chinese name of the series. The content of the poster was calling out Vivian Yeo.
Vivian Yeo Secretly Gave Birth in Malaysia
Vivian Yeo Secretly Married Non-Celebrity Boyfriend Earlier This Year
The poster had accused Vivian Yeo of being a swindler. This is actually not the first time Vivian Yeo had experienced something like this. Last year, there was a similar poster publicly shaming Vivian Yeo's younger sister and her brother in law for not paying their huge debts. Vivian Yeo at the time had stated she wasn't aware of her sister's lifestyle and said her own beauty business was only invested by herself.
Vivian Yeo Says Dicky Cheung Taught Her How to be Flirtatious
One of the flyers read: "Swindler family, Vivian Yeo, hurry up and disown your own family. Bring your brother in law, Gavin Chou, and return to Hong Kong and turn him in. Return the hard earned money to the creditor."
Vivian Yeo Leaves TVB After 16 Years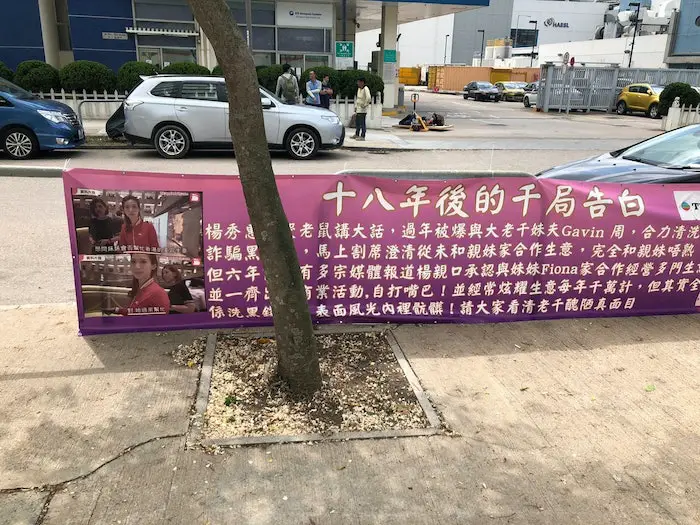 Vivian Yeo addressed the issue on Instagram on May 5, saying, "My sister and I are in different parts of the world. We both have our own careers and families. We're both adults and our finances are separate. May I ask you guys who have siblings, how many people can actually ask about your siblings' relationship matters or who they are dating? Please don't drag me down with you!
This is the second time this is happening. I don't know what type of financial or business problems you guys had before. Please don't drag me down with you. You doing this twice means the first time was no use, you didn't reach your goal. You do it 1,000 more times, it's no use. I am not even the person you're looking for. I didn't get one penny from this brother in law. Because I am a celebrity and have a little bit of popularity so you are morally kidnapping me. It's anonymous, no responsibility, not even a contact method. These are unsubstantiated charges without proof! Will this really achieve your goal? I am overseas right now. I will try to go through my colleague and file a police report because this is severe defamation! Please give me a way out. Find the person you need to find, don't bully women. Thank you."
Vivian Yeo uploaded a picture on May 6 of the police report her colleague filed on her behalf.
Credit: hk01, Vivian Yeo IG