Before signing with TVB in 2016, Shaun Tam (譚俊彥) had been developing his career in mainland China. He chose to return to Hong Kong to be with his family. Because Shaun Tam had starred in lead roles immediately after signing with TVB, this lead people to think he had a high salary. However, he clarified saying that it just so happened that when he first signed, he got the role in "Succession War" (天命). Shaun Tam said, "When I signed the contract, there were no terms whatsoever. The salary was extremely low. It's true. I thought it didn't matter at the time. At TVB, I can do other business or continue filming series in mainland China. I didn't think too much."
Shaun Tam Refused to Take Pictures with His Dad, Ti Lung, Because of This Incident
Shaun Tam wasn't too aware of how TVB operated at the time. He thought there would be a lot of freedom. However, TVB signed a management contract with him. He revealed, "Signing a management contract with TVB means I couldn't go back to the mainland to film series. I think it's a comparison. What I sacrificed then was exchanged for what I have now." He had previously mentioned that working in mainland China for a few months was enough for his lifestyle expenses for a year. He said the first two years were hard as he had to save for his children. Now he says his lifestyle is manageable where he can support his two kids to go to school.
Roxanne Tong is Giving Her "First Bed Scene" to Shaun Tam, Roger Kwok Regrets Not Having Kiss Scenes with Zoie Tam
Roger Kwok and Shaun Tam Get Mistaken as Gay Lovers in New TVB Series
After joining TVB, Shaun Tam said the first true friend he met was Dia Yiu Ming (戴耀明). Shaun Tam expressed, "Dia Yu Ming is a really sincere person. A lot of people will say you are the male lead and you will hang with the male lead. I wouldn't do such things. When we were filming "Success War" together, he played my eunuch. So even if he didn't have any lines, he would still be by my side." Shaun Tam explained they would chat a lot because they were on the same route going home. Dia Yiu Ming brought him to the TVB cafeteria because Shaun Tam didn't know where it was and introduced him to producers. Shaun Tam also said Dia Yiu Ming is constantly teaching him how to act.
Shaun Tam Uses "Forensic Heroes IV" Performance to Prove He Didn't Depend on His Father, Ti Lung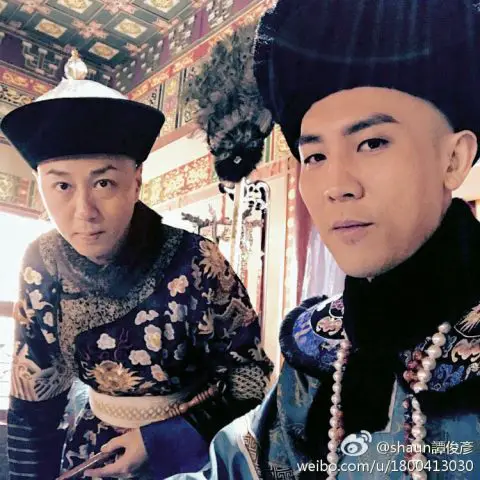 Gloria Tang Promoted to Female Lead in New Series with Shaun Tam
Shaun Tam once said working at TVB was like an elimination match. If you're too slow and don't improve yourself, you'll end up being eliminated next.