TVB actor, Mark Ma (馬貫東), gained a lot of recognition with the public after portraying a doctor with Asperger's in the series, "Life After Death" (那些我愛過的人). Because of his newfound popularity, paparazzi have started to follow his personal life closely. Mark Ma was recently in the news when the media dug up information about his new girlfriend, Christy, who reportedly comes from a well-off family. They were able to find out that she was the ex-girlfriend of fellow TVB actor, Brian Chu. Because of a picture Christy posted, reporters wrote about him living with her. Mark Ma clarified the rumors explaining they were helping a friend decorate their new home and that Christy isn't from a rich family.
Mark Ma Makes Breakthrough Portraying a Doctor with Asperger's in "Life After Death"
Mark Ma Announces Break Up with Girlfriend
However, an "insider" by the name of Mr. Chan revealed details to Apple Daily accusing Mark Ma of being a "soft rice king" (軟飯王), who tends to sponge off his rich girlfriends. According to this insider, Mark Ma's ex-girlfriend, Queenie Kwok, comes from a rich family in the wholesale seafood business. Like Christy, Queenie Kwok also studied in England. He claims Mark Ma was known as "soft rice king" among Queenie Kwok's friend circle.
Brian Chu Denies Girlfriend, Stitch Yu, was the Cause for Break Up with Mark Ma's Current Girlfriend
Mr. Chan claimed, "Queenie and him met three years ago through a friend's introduction. Queenie really likes him. When the male worked, she would drive him to and from. When they go on vacation together, they would fly in business and the female would pay for it all. They would live in expensive hotels and even the travel expenses were all covered by her." According to Mr. Chan, the two broke up last year because Queenie's parents objected to her dating.
In addition, Mr. Chan claims Mark Ma had vehemently told Queenie Kwok that they couldn't reveal their relationship. In order to protect him, Queenie Kwok had cut out Mark Ma from their pictures on social media. From Mark Ma's birthday celebration in 2018, Queenie Kwok posted a picture in which she was standing next to him, but in Mark Ma's picture, she was not there.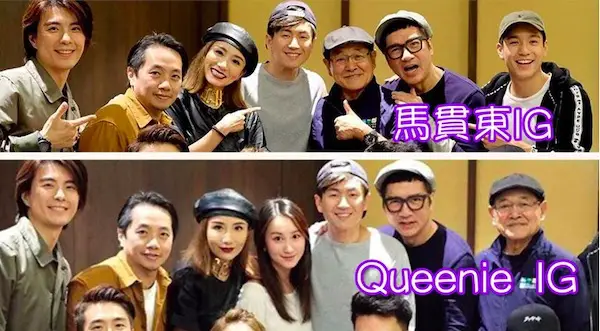 Mark Ma spoke to Oriental Daily News about the rumors and said, "All the reports from today are not true. I don't want to comment too much on false matters. I don't want to fester the issue even more. I've always been very low key in handling my relationship matters. I hope to protect my other half and she also understands. All that I possess right now is the result of my hard work in these 14 years. I hope these false news reports won't bury my 14 years of hard work. I only want to focus on my career right now and do my own work. I hope I can give even better things and a home to my other half in the future."
Credit: Apple Daily, hk.on.cc, Mark Ma IG