Mark Ma (馬貫東) has had a great year so far. Because of his portrayal as a doctor with Asperger's in TVB series, "Life After Death", he became known and mainstream to the viewers. Aside from his career, he has been lucky in his love life. He was also spotted with his new non-industry girlfriend. After some digging, it was discovered Mark Ma's girlfriend's name is Christy and she reportedly comes from a wealthy background as her family lives in the Mid-Levels. Christy is also said to be the owner of a beauty spa.
Mark Ma Makes Breakthrough Portraying a Doctor with Asperger's in "Life After Death"
Mark Ma Announces Break Up with Girlfriend
Christy had recently uploaded a picture showing her and Mark Ma facing her back at what seems to be their new abode as she wrote "home sweet home" and "recording the first time we washed the window together", and tagged him. It seems like the couple are already living together.
Mark Ma Abandons Jan Tse for Shiga Lin in New Series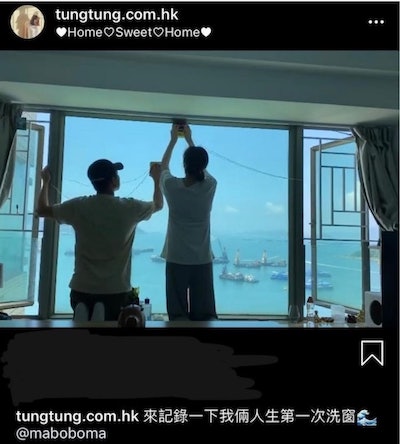 Stitch Yu Admires This Quality about Boyfriend, Brian Chu
There were rumors Christy used to date fellow TVB actor, Brian Chu (朱敏瀚). The two reportedly started dating around 2014 and Christy would post their pictures together on social media. At the time, there were rumors Brian Chu and Miss Chinese International 2017 winner, Stitch Yu (余思霆), had feelings for each other while they were filming the series, "As Days Go By" (好日子). It's rumored Brian Chu broke up with Christy because of this and started dating Stitch Yu officially.
Brian Chu is Shedding His Boy Next Door Image with New Muscular Body
Mark Ma Accused of Being a "Soft Rice King" and Sponging Off of Former Girlfriend
Oriental Daily News reached out to Mark Ma and asked him if he was living with his girlfriend and whether Christy is Brian Chu's ex-girlfriend. Mark Ma responded, "I won't respond too much on relationship matters. My girlfriend is a non-celebrity. I don't want to give her so much stress. Hope to give her some more space. Thank you for your concern!"
Stitch Yu Parts from Boyfriend, Brian Chu, Indefinitely As She Returns to Taiwan on One Way Ticket
Male Friend Seen Grinding on Brian Chu's Girlfriend, Stitch Yu, in Taiwan Nightclub
As for the rumors Brian Chu broke up with Christy because of Stitch Yu getting involved, Brian Chu responded, "I've denied this several times before. Not responding. Good wishes to everyone!" Stitch Yu also responded, "I've already denied these questions earlier on. Everyone being fortunate and happy is the most important."