Even though Lisa-Marie Tse (謝嘉怡) has only been crowned Miss Hong Kong 2020 (2020香港小姐競選) champion for two weeks, she is certainly one of the most popular winners in recent years. Lisa-Marie Tse has gained quite a following on Instagram, starting from low thousands of followers to now over 62,000. Many fans want to know more about her, which she obliged by doing a Q&A on IG story.
Miss Hong Kong 2020 Winner, Lisa-Marie Tse, Staying in Hong Kong to Develop Showbiz Career
Lisa-Marie Tse Denies Being Isolated by Other Miss Hong Kong 2020 Winners Because She Has More Jobs
Unfortunately, now that Lisa-Marie Tse is in the limelight, the gossip mill has started. Recently there was a photo of a topless woman circulating, which the uploader claims it was of Lisa-Marie Tse in Tai Po in 2017. Maria Cordero (肥媽), who nominated Lisa-Marie Tse to join the pageant, spoke with Oriental Daily News about the picture and immediately denied it was her.
Overseas Miss Hong Kong 2020 Contestants Meet the Press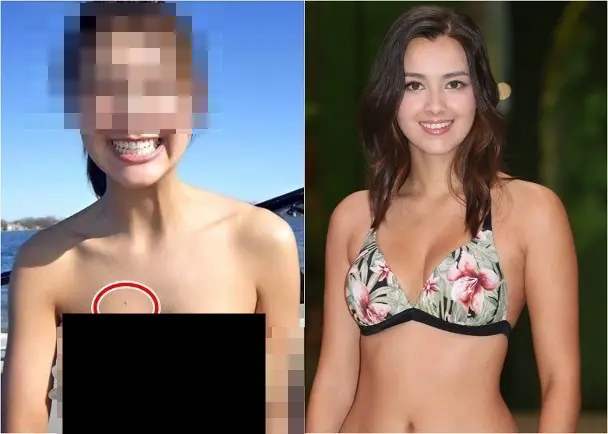 Miss Hong Kong 2020 Winner, Lisa-Marie Tse, Shares the Qualities She Looks for in a Boyfriend
Maria said she watched Lisa-Marie grow up and would definitely not recognize the wrong person. She expressed, "It's not even her face! Her nose is much sharper than the person in the picture and you can tell by her teeth it isn't her. So pointless! Actually now that Lisa-Marie Tse is popular, there will definitely be people who will mess with her. This industry is like that!"
Miss Hong Kong 2020: Why the Hot Favorites Didn't Win
Miss Hong Kong 2020 Hot Favorite, Celina Harto, Addresses Rumors about Her Dating Life and Family Background
When Lisa-Marie Tse was competing in the pageant, it was revealed Maria Cordero and her family were really close. As it turns out, Lisa-Marie Tse's father and Maria Cordero's son are friends. Maria Cordero has always been grateful to Lisa-Marie Tse's father for taking care of her son in England when he got into a car accident back then. After winning the crown, Lisa-Marie Tse and her father went on Maria Cordero's cooking show and Maria even cooked Lisa-Marie's favorite spare rib rice for her.
Miss Hong Kong 2020 Winner, Lisa-Marie Tse, Addresses Topless Photo Incident and Releasing Bare Face Pictures on IG
Miss Hong Kong 2020 Winner, Lisa-Marie Tse's Dad Becoming a Celebrity in His Own Right
As for TVB executive Sandy Yu Wing Shan (余詠珊), she said, "Whether it's the face or the body, it doesn't look like Lisa-Marie Tse. Hope everyone doesn't ruin the image of Miss Hong Kong from just one picture. A Miss Hong Kong's journey from the audition stage to being in the pageant is actually a very difficult process. Aside from her face, Lisa-Marie Tse winning first place is also due to her very good education. Studying Nursing at Edinburgh and becoming a nurse is definitely not an easy thing."
Credit: hk.on.cc, Lisa-Marie Tse IG