Ever since Lisa-Marie Tse (謝嘉怡) took home the crown at the Miss Hong Kong 2020 pageant, she has experienced a surge in popularity. Lisa-Marie Tse has been one of the most talked about winners in recent pageant history. Her popularity has also translated into many job opportunities. The media even pitted Lisa-Marie Tse against Miss Carmaney Wong (黃嘉雯), who has admitted in the past that she hasn't had as much work opportunities and envied fellow Miss Hong Kong 2019 contestant, Kayan Choi, who was immediately assigned hosting duties after signing with TVB.
2020 Miss Hong Kong Winners List
Miss Hong Kong 2020 Winner, Lisa-Marie Tse, Addresses Topless Photo Incident and Releasing Bare Face Pictures on IG
Oriental Daily News spoke with Carmaney Wong and when asked how she felt about Lisa-Marie Tse having more work than her, she responded, "I am also very happy to see my junior sisters having different types of jobs one after the other. There are different challenges in each period. I hope they enjoy the experience." On whether she is envious of Lisa-Marie Tse, she said, "The most important thing is to look forward, be the best version of yourself, and cherish each work opportunity. I was actually more envious of everyone joining the cast to film series. I finally got what I want. I will be filming a series in October, but I have to wait until the costume fitting to know more about the details. I have also took a drama class recently to enhance myself further. I also bought a lot of acting related material for prep work."
Miss Hong Kong 2019, Carmaney Wong Admits She's a Bit Envious of Kayan Choi
Miss Hong Kong 2019, Carmaney Wong's, Background and Boyfriend Revealed
Aside from Carmaney Wong, there were rumors Lisa-Marie Tse was being isolated by the other winners from her year because she was getting a lot more job opportunities. The rumors started when a picture was taken of Lisa-Marie Tse standing aside looking at her phone while the runner up winners, Celina Harto (陳楨怡) and Rosita Kwok (郭柏妍), were talking happily while buying drinks.
Miss Hong Kong 2020 Hot Favorite, Celina Harto, Addresses Rumors about Her Dating Life and Family Background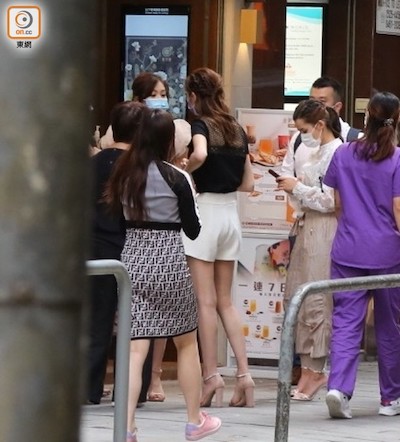 Miss Hong Kong 2020 Contestant, Celina Harto, is Dating Joey Thye's Ex-Boyfriend
Lisa-Marie Tse recently spoke with the media and clarified that she has a really good relationship with the other contestants. She explained, "We just finished working that day and I received a lot of WhatsApp messages. I was standing aside replying to them. I didn't think I would get filmed. I had already placed my order and it was their turn. We're all good friends. The picture is a bit exaggerated."
Miss Hong Kong 2020 Winner, Lisa-Marie Tse, Addresses Topless Photo Incident and Releasing Bare Face Pictures on IG
Maria Cordero and TVB Executive, Sandy Yu Wing San, Deny Topless Picture is of Miss Hong Kong 2020 Winner, Lisa-Marie Tse
In addition to that, the top four Miss Hong Kongs had recently gathered at Celina Harto's home for a celebratory meal. When the media tried to cause drama saying that Lisa-Marie Tse was relegated to standing to the side, she explained, "Rosita and Maisie had originally sat in the front when we were taking the pictures. So Celina and I stood in the back. My arms are fat, so I have to cover them. There is no discord among us." Lisa-Marie Tse also revealed she had met up with Celina Harto to buy furniture as she is preparing to move in two weeks. She explains she has only filmed one commercial and isn't sure if there are more jobs.
Miss Hong Kong 2020 Winner, Lisa-Marie Tse's Dad Becoming a Celebrity in His Own Right