It has been a rough couple of months for R1SE on the PR end. The group was plagued with scandals from Ren Hao's (任豪) cheating rumors, Xia Zhiguang's relationship being exposed, and Zhou Zhennan's (周震南) parents' debts and business dealings. Ren Hao and Zhou Zhennan's parents' scandals have led their management company, Wajijiwa Entertainment, to shield them from participating in group activities. Zhao Rang (赵让) is the latest R1SE member involved in a scandal. On November 4, a netizen claiming to be his ex-girlfriend made numerous accusations that he cheated on her with numerous women while they were dating.
SDT Entertainment Indirectly Denies Dating Rumors Between R1SE's Zhao Rang and Labelmate, Zeng Shuyan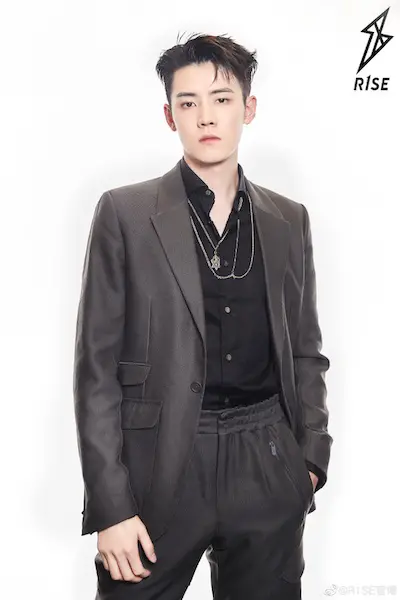 A netizen with the username "是米奇啊呀" (lit. It's Mickey) made a lengthy post on November 4, saying she is not a celebrity and claimed R1SE's Zhao Rang was her ex-boyfriend. "Mickey" alleges that she met him in 2018 by chance and started dating him before he got famous. She accused Zhao Rang of cheating on her with her good friend. They got back together a day after breaking up because she was "softhearted".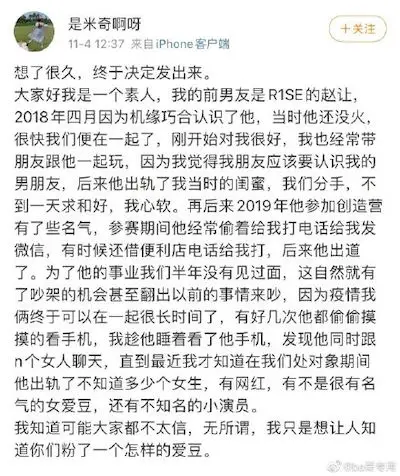 When Zhao Rang was competing on "CHUANG 2019", she said he would secretly call and send her a lot of messages and even calling her from the convenience store phone. After Zhao Rang debuted, she said they didn't see each other for half a year due to his career. They would often fight because of this and bring up the past. With the pandemic, "Mickey" claims she and Zhao Rang were together for a long time. She says she caught him secretly looking at his cell phone a few times. When he was asleep, she says she saw him chatting with "n" amount of girls. "Mickey" says, "It wasn't until recently that I found out during our time together, he was cheating on so many girls. There are internet celebrities, not so famous female idols, and also not so famous actors. I know everyone might not really believe this. That's fine. I just want everyone to know what type of idol you guys are stanning."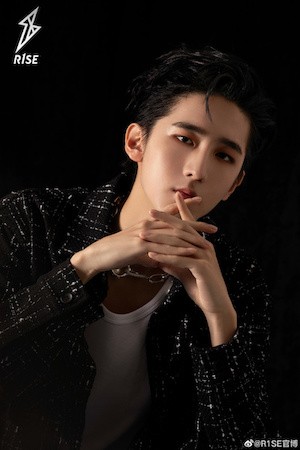 Wajijiwa Entertainment issued a legal statement denying all the accusations made from "Mickey" and all the rumors circulating from Weibo and Douban. The statement also asks "Mickey" and other users to stop spreading and to delete the fabricated rumors, pictures, and comments that are defaming Zhao Rang.
As for "Mickey", her Weibo account is no longer active. Some netizens are also skeptical about the claims as there were no pictures or other evidence included in her post to back up her claims.