It was Yang Zi's (杨紫) 28th birthday on November 6. Yang Zi posted a picture of herself with a birthday cake and the hashtag "Don't wish me a happy birthday." at midnight. Despite Yang Zi's plea for people not to wish her a happy birthday, Li Xian (李现) and other celebrities ignore her request. Like last year, her "Go Go Squid!" co-star, Li Xian, reciprocated Yang Zi's birthday wishes, a tradition the two have been doing since 2019.
Yang Zi Continues Tradition of Sending Birthday Greetings to Li Xian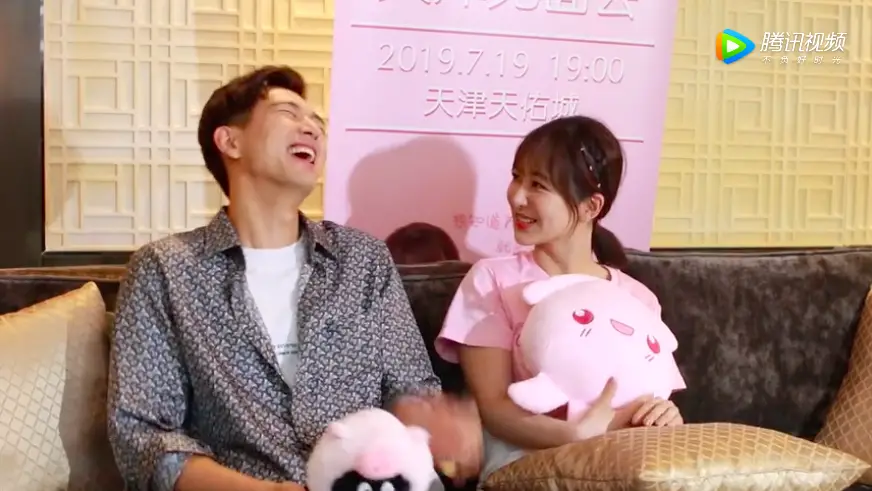 Lyric Lan Clarifies Dating Speculations with Li Xian
Li Xian reposted his birthday wish for Yang Zi from last year at 11:06 on the dot. His caption read, "Happy Birthday! Everything will go smoothly! Safety and joy!". Yang Zi left a comment saying, "Thank you, my Xian-ge. No need to ask me what present I want anymore. Just mail it to me directly." It looks like they need to take new pictures as the both of them reposted last year's posts for each other's birthdays this year.
What Does Wang Anyu Have in Common with Li Xian?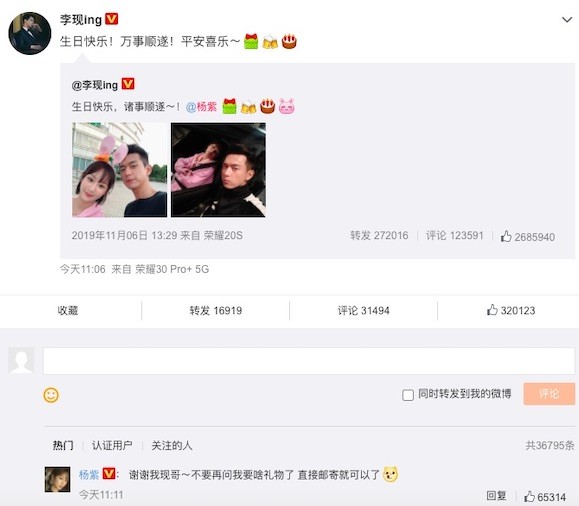 Top 15 Reasons Why Li Xian is Ideal Boyfriend Material
Aside from Li Xian, other celebrities also left birthday wishes for Yang Zi.
Huang Xiaoming (黄晓明), who worked with Yang Zi on "Chinese Restaurant 3", wrote: "Insisted on wishing you happy birthday." Yang Zi responded, "Hahaha, thank you my Xiaoming-ge. The first one to wish me a happy birthday, Xiaoming-ge. The first one to give me red packets, Xiaoming-ge."
Li Xian Responds with Wine Glass to Reports about Him Not Drinking or Smoking to Stay Fit
Yang Zi and Kris Wu Reflect on Wrapping Up Filming for "The Golden Hairpin"
Xuan Lu (宣璐) also left a comment saying, "Okay! Then I'll wish you'll be happy everyday and forever a youngster." Yang Zi responded, "Hehe, thank you, dear."
Li Xian Grilled By His Elders on Why He isn't Dating Yet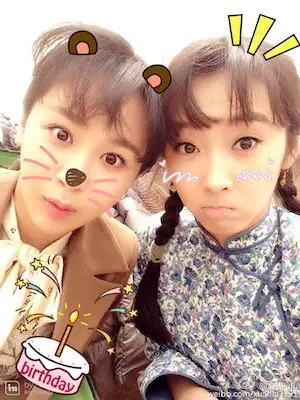 Kris Wu and Yang Zi Became Sworn Siblings After Filming "The Golden Hairpin"
Allen Ren (任嘉伦), who worked with Yang Zi in "The Destiny of White Snake" (天乩之白蛇传说), reposted her post at 11:06 and wrote, "I won't say much. Must give my blessings in each place. 11:06! Happy Birthday". Yang Zi responded, "Yang Ni'ao thanks Ren Guochao! Ah Chao must remember to treat me for a meal!". Yang Ni'ao and Ren Guochao are Yang Zi and Allen Ren's original names respectively.
Yang Zi's Fans are Demanding Her Stylist to Resign for Not Styling Her Properly
Yang Zi and Jing Boran Explore Mental Health in Drama Adaptation of "The Psychologist"
Good friend, Bridgette Qiao Xin, also reposted at 11:06 and wrote, "My favorite Little Zizi. Happy birthday. I will always be with you just like before." Yang Zi responded, "You didn't post it at midnight. Boohoo. You don't love me anymore. Forget it, you video chatted me at midnight. I forgive you." Then Yang Zi realized, "Wuwuwu, it turns out to be 11:06. You are so mindful. I love you again." Bridgette Qiao responded to Yang Zi saying, "Heh, the love of you women. It really comes and goes." Yang Zi responded to her with a bunch of ???.
Yang Zi Hopes to Get Married and Have Children By 35
Li Xian Admits He Likes Watching Videos of Pretty Girls
Zhang Yishan (张一山), who co-starred with Yang Zi in "Home With Kids" (家有儿女), exposed Yang Zi through their chat, showing that she asked him where her birthday wish was when she told everyone not to give her any. Yang Zi kept sending him pictures and Zhang Yishan said he would screenshot the chats and upload it online. Yang Zi dared him to do it, which he really did.
Li Xian and Yang Zi Make Cameos in "Go Go Squid" Spinoff Series, "Dt. Appledog's Time"