Up and coming Chinese actor, Huang Junjie (黄俊捷), has been in hits like "Eternal Love of Dream", "Reunion: The Sound of the Providence", and the upcoming "Novoland: Pearl Eclipse". It was a busy day for Huang Junjie when he started trending on December 2 for dating rumors. Youku released a video allegedly of Huang Junjie holding hands with a girl. However, another young woman, who is not the girl in the video, shared several voice recordings and screenshots allegedly between herself and Huang Junjie detailing their relationship and claims to be his girlfriend even when she knew he was dating someone else already.
Huang Junjie Apologizes and Suspends Work Activities Due to Mishandling of His Personal Life, Netizen Who Claimed to Have Relationship with Him Backtracks on Her Previous Statements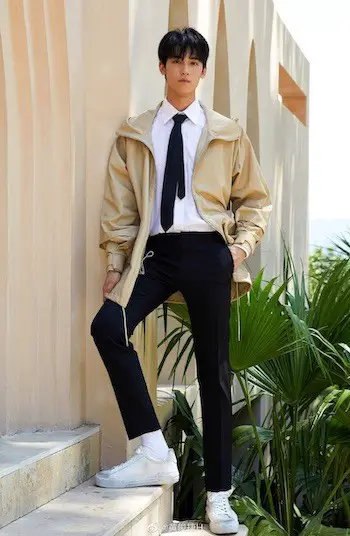 The young woman with the Weibo account, "花儿超级乖" (lit. "Flower is super good") said she wasn't a fan of his and didn't know who he was; it was he who approached her and added her on WeChat. She was waiting for him to break up with his girlfriend and alluded to losing her virginity to him and having unprotected sex. He allegedly asked her to take emergency contraceptive the next day.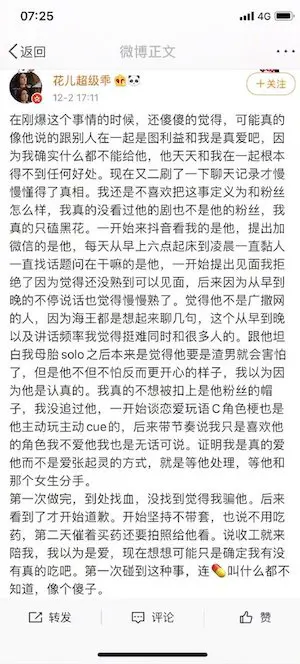 She also released a series of screenshots allegedly between her and Huang Junjie. Many were of her complaining about their relationship not being revealed to the public and him still dating his girlfriend. Some of the screenshots are allegedly of Huang Junjie saying he is with his current girlfriend because of the resources she can give him as her family is rich and powerful. He says he is tired and doesn't want to gamble on his career. There was also an audio recording allegedly of Huang Junjie saying he "especially hates" being followed by fans at the airport or similar behavior. When asked why he doesn't tell them, he says it wouldn't be good. She tells him that it seemed like he really likes his fans since he's always interacting with them. He says, "It's just on the surface to make money."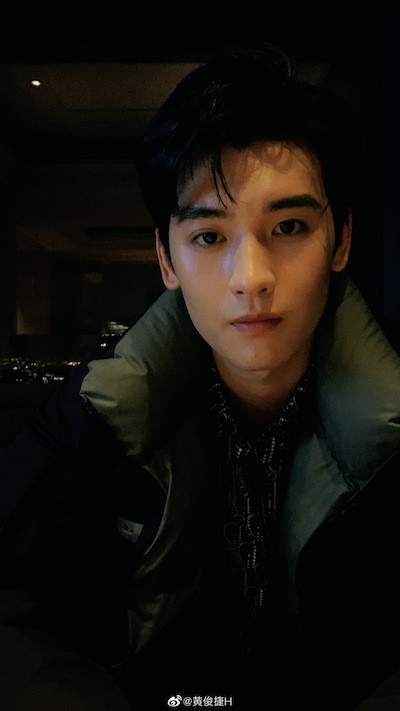 In a separate screenshot, someone believed to be Huang Junjie is reportedly saying, "They're weird, ok? They don't need to follow me and film. Let them take it and they still make comments. However bad of a mood I'm in, I still need to put on a good face for them. They think I actually should be doing that. I didn't force them. Long for them not to film me. I would actually be more free. Don't follow my schedules either. What difference is there between sasaengs?"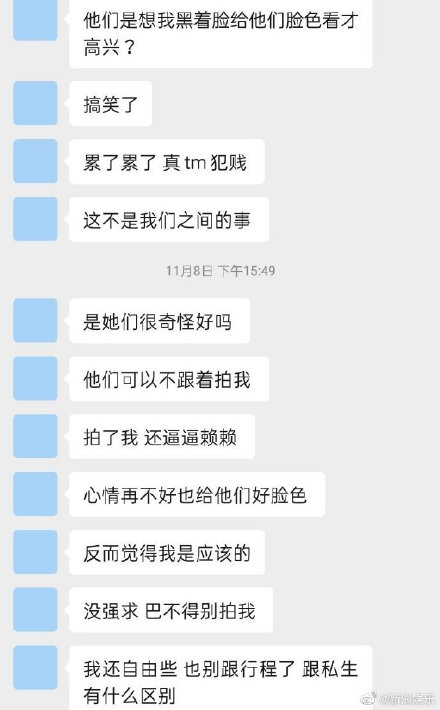 As the rumors started going viral, the young woman released a voice recording between her and someone claiming to be Huang Junjie's cousin, urging her "to release Huang Junjie, which would also be releasing yourself" and hoping she would cooperate with his PR team to settle the matter. The young woman said this is her first time liking someone and that she wouldn't have any other. She wanted to see Huang Junjie in person and talk it out. In a separate voice recording, she claims to be his girlfriend and she only released the things she did to declare that she is his girlfriend. This cousin tells her that Huang Junjie has never had any sexual relations with her and only "bumped into" her at the lobby a few times, which stunned the girl.
Huang Junjie addressed all the rumors in the wee hours of December 3. He wrote, "I was bombarded by notifications all day long. In the beginning, I was a bit panicked when I found out our relationship was exposed because she is not in the industry. So we had no plans to reveal it.
Regarding the WeChat screenshots from "花儿超级乖", they are all fake. I originally didn't plan on responding, but who would have thought the matter would keep getting more intense and rumors keep spreading crazily.
If I remember correctly, "花儿超级乖" is a young girl I encountered a few times at the hotel of my film crew. She said she is a student at Shanghai Theatre Academy. She previously shot scenes in "The Legend of Xiao Chuo and is now in another crew filming. Because we encountered each other a few times by the elevators, aisles, and lobby, that's why there are those recordings of the casual conversations. "花儿超级乖" initiated to talk to me about "sasaeng fans" and the inconveniences that come with those who follow to the airport. At the time, I was indeed suffering from those troubles so I used improper words. For this, I apologize to everyone who was offended."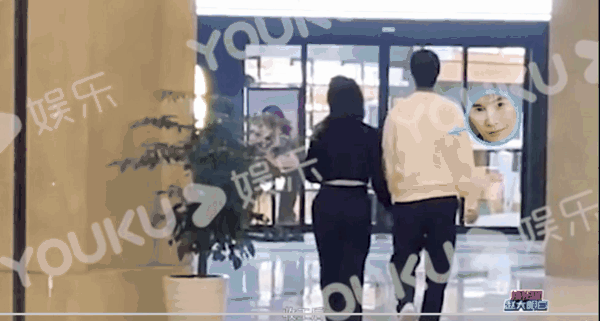 Huang Junjie also denied the validity of "花儿超级乖's" screenshots talking about dating each other. He said, "How to prove something fake is actually fake? Thought about it for a long time and can only believe in the law. At the moment, evidence has already been obtained according to the law and will be handled by the relevant departments."