More cast members of TVB series, "Beauty and The Boss" (愛美麗狂想曲), airing on myTV SUPER, were on "Tiger's Talk", a variety show hosted by Christine Ng (伍詠薇) and Bob Lam (林盛斌). This time, Ali Lee (李佳芯), Matthew Ho (何廣沛), Jeannie Chan (陳瀅), Zoie Tam (譚凱琪), and Hatou Yeung (楊詩敏 (蝦頭)) joined the two hosts to talk about being cheated on by their significant others.
Moses Chan Reveals His Assistant Once Fell in Love with Him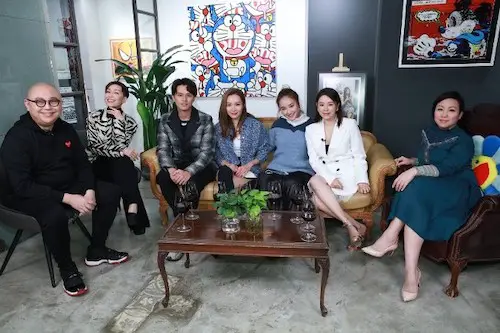 Matthew Ho and Ali Lee will have an "Older Sister-Younger Brother" Romance in "Amelia's Rhapsody"
However, Bob Lam revealed Hatou Yeung and Bosco Wong (黃宗澤) are actually very close. Hatou Yeung explained, "We're colleagues and friends who hang out together. I know Bosco really likes my type. Always mentioning me for no reason. He likes to eat 'shrimp head' (which is her nickname). Those who know how to eat will definitely eat 'shrimp head'."
This prompted Jeannie Chan to immediately call Bosco Wong. Bob Lam then asked Bosco Wong if he was interested in Hatou Yeung. He said, "I have been obsessed with her for 10 years already. Her move is to use her eyes to electrify me. The saddest part is when she electrifies me, she is never wearing a low-cut top. Hatou is known for her nice body. Whenever I am filming at TVB, I always see her outside the studio. She is always dressed so conservatively. So mad! If Hatou can wear a bikini in my living room, I really won't be able to hold it in. Hatou, I love you!" Hatou Yeung jokingly said Bosco Wong is unlucky as all her sexy outfits are always with Bob Lam.
With Matthew Ho being the only male guest present, Bob Lam asked him who he would choose for a girlfriend out of the four guests and Christine Ng. Matthew Ho chose Christine Ng and said, "I've been in a few relationships. If I had to choose, I'd choose a type I've never tried before. There's a big enough contrast!" Christine Ng gives her hand to Matthew Ho, which he kisses. Christine Ng then leans in closer to him asking for a kiss, which Matthew Ho obliges by putting his head closer to hers. Christine Ng said, "Wow, you are really gutsy. Punk!" When asked for him to choose between Hatou Yeung and Christine Ng, Matthew Ho said, "Why not both?"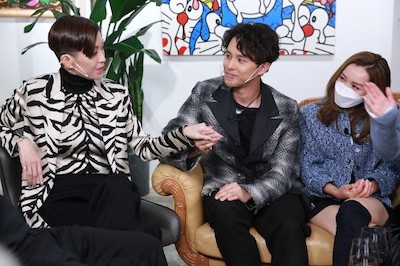 As for Hatou Yeung she said she is okay with "little fresh meat" (小鮮肉), saying, "A lot of these young hotties like jeh jehs like me. That's why there is a market for everyone."