Jiro Wang (汪東城) was a guest on the fifth episode of Chinese variety show, "ROAST S5" (吐槽大会 S5), where celebrities go on stage giving a monologue roasting themselves with punchlines that are widely known by the public. Before Jiro Wang, his former Fahrenheit members, Aaron Yan (炎亞綸) and Calvin Chen (辰亦儒), had already gone on before. Naturally, Jiro Wang had to mention Fahrenheit and the years long unrequited love rumors between him and Aaron Yan that led to their falling out.
Aaron Yan Tells CP Fans to Stop Fantasizing about Him and Jiro Wang
Jiro Wang started off his monologue about him being the self-appointed member of Fahrenheit. He continued saying, "I know too well that for a team to last, as the leader, you must get along very well with your members. The relationship between your members has to be very good so that the temperature is cohesive. It's the best to make your members fall in love with you."
Aaron Yan Sometimes Felt Hatred Towards Fahrenheit Members and Why They're Not in Contact
Wu Zun Says Everyone is Overthinking into the Rumors of Aaron Yan Being in Love with Jiro Wang
This part was led to a lot of applause from the audience as they know Jiro Wang was referring to the rumors between him and Aaron Yan. Jiro Wang continued saying, "I just couldn't do it. So…". Once again, the audience reacted with a lot of excitement. Jiro Wang completed this segment by saying, "That's why our group disbanded. Look, Wu Zun (吳尊) still loves his wife the most!"
Jiro Wang Ships "KrisHanTao" and Reveals His Choice to Film a Double Male Lead Series with Him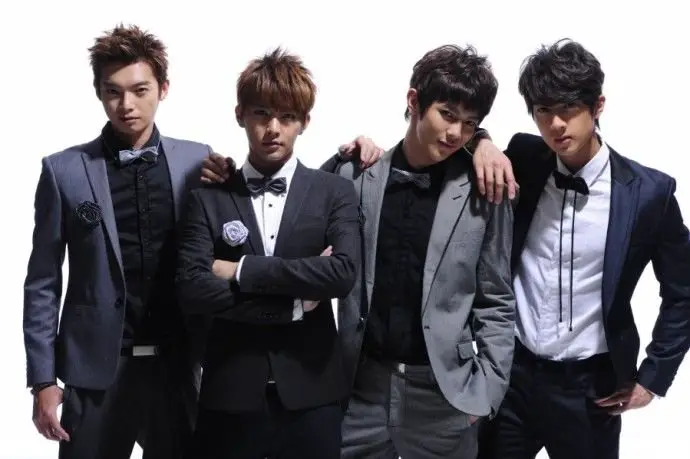 After this episode came out, a netizen showed a screenshot of her alleged Instagram DM conversation with Aaron Yan. The message shows her asking him, "Why don't you respond to Jiro Wang's speech on ROAST?" Aaron Yan responded back, "You respond to it. Senseless." The netizen responds back, "Yes, I am that senseless that's why I want to watch you guys. The master's ending is what's awesome." Aaron Yan responded back saying, "What does that mean? I don't understand." The person responded back, "Hahaha, why are you still responding to me? Is it really that senseless? I just want to watch the main characters talking to each other. It won't do. I take back what I just said. If you're not bored, do you want to talk to me about the things between you and Jiro Wang?"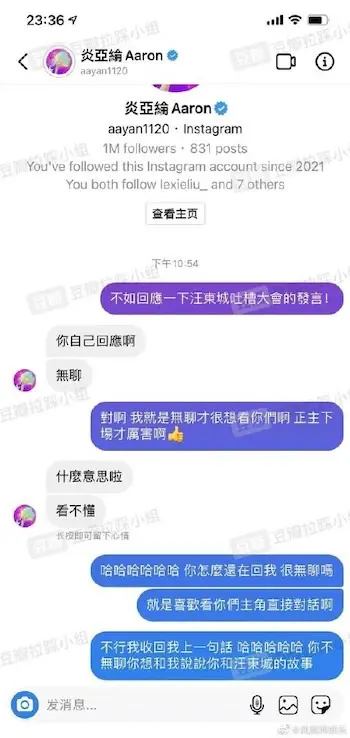 For years, it was rumored Aaron Yan had unrequited love for Jiro Wang. Because the feelings weren't returned, that was rumored to be the reason why the two had a falling out. Yoga Lin's song, "Unrequited" (浪費), was even said to be about Aaron Yan's previous relationship for 6 years, which led to the rumors the song was about Jiro Wang. However, Aaron Yan was on the show 2 years ago and told CP fans to stop fantasizing about him and Jiro Wang.