Content Warning: The following content may contain references to date rape, drugging, rape, and/or sexual assault.
On July 31, Kris Wu was criminally detained by the Beijing Chaoyang District Police for their ongoing investigation into the allegations that he "lured multiple young women into having sexual relations". This all started back in June when Kris Wu was spotted by paparazzi reportedly renting out a movie theater for a date with an 18 year old internet celebrity. His studio denied the allegations saying the movie theater infringed on his privacy by releasing pictures and videos of him without his consent and manipulated the clips to not show him and other friends entering and exiting the venue.
The Beginning
These rumors set off a soon to be 19 year old college student, Du Meizhu, to accuse him of cheating on her and ghosting her. What ensued the following month was Du Meizhu declaring full on war accusing Kris Wu and his manager of conspiring under the guise of casting her to be the female lead of a music video, which led her to being allegedly drug raped by him. Du Meizhu also accused Kris Wu of doing the same thing to other underaged girls, including drug rape and gang rape accusations. During this time, other girls came forward with their interactions and experiences with Kris Wu, which sparked the popular "girls help girls" hot trend on Weibo at the time. Kris Wu denied the allegations and threatened to take legal action. He boldly said he would go to prison himself if he was found guilty of the accusations against him.
On July 22, the Beijing Chaoyang District Police released their initial investigation results into the allegations brought forth by Du Meizhu. They confirmed most of Du Meizhu's story, which she had previously revealed to the public. They also revealed Du Meizhu had the help of a ghostwriter to write a few of her blog posts and that they were both conned by a third party trying to cheat money out of them.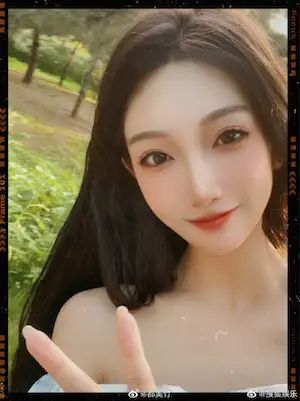 The Downfall
At this point, all of Kris Wu's brand partnerships, including Tencent and Louis Vuitton, had either distanced themselves or terminated their partnership with him. A fan site issued a farewell post to Kris Wu and revealed two incidents she wished to forget. She witnessed his manager adding the contact information of two girls while recording "The Rap of China". As for the other incident, she claims Kris Wu's cousin was secretly filming her while hiding behind a tree. Things stayed quiet until the Beijing Chaoyang Police reported that Kris Wu was in their custody for criminal detention and was investigating into the other claims against him involving underaged girls.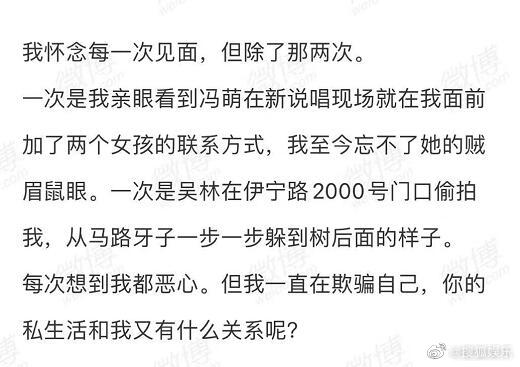 The irony of it all is that while Du Meizhu accused Kris Wu of drug raping her and luring other underaged girls, it was his mother who reported Du Meizhu to the police for blackmail and extortion, which set off the chain reaction leading to Kris Wu being wiped off from the Chinese internet. The police said neither Du Meizhu nor any other alleged victim had filed a police report with them at the time.
Different media outlets had reached out to lawyers to inquire about Kris Wu's case. One lawyer said that if Kris Wu is found guilty of rape, he could face up to 3-10 years in jail. If he had raped a girl under 14 years of age or was involved in multiple rapes, gang raping or drug raping, he could face over 10 years in prison, life imprisonment, or even the death penalty. As for carrying out his sentence, if convicted, one lawyer said Kris Wu could be serving his sentence in China and could face deportation back to Canada after he finishes serving.
The Aftermath
The news of Kris Wu's detention sent shockwaves throughout the Chinese internet. The situation was serious as different factions of the government condemned Kris Wu's behavior and sent a message loud and clear that his Canadian nationality wouldn't shield him against the law of China. The Weibo account for his first series with Yang Zi, "The Golden Hairpin", had deleted all the posts related to Kris Wu. His super topic on Weibo had been shut down. By this time, public opinion was largely skewing in favor of Du Meizhu, while some of his fans still stuck by to support him.
On August 1, screenwriter, Liu Liu, and host, Mai Weiwei, issued apologies for their 2016 comments supporting and defending Kris Wu. Back in 2016, Liu Liu had written, "I originally didn't think much of Kris Wu, but now I actually like him. He's so good looking and still needs to coax people. After sleeping together and still gets betrayed. The girl is also cheap. She's obviously a hook up buddy…" Ma Weiwei had written, "What better fan benefit is there than a celebrity X (f*cking) a fan?"
In 2016, a netizen by the name of Xiao Gina admitted to being Kris Wu's girlfriend and revealed their chats. She also mentioned a lot of negative things Kris Wu reportedly said about Li Yifeng and his former EXO members, Luhan, Huang Zitao, and Zhang Yixing. Xiao Gina had also said Kris Wu once told her that Li Xiaolu had sent him flirty text messages before, which she has denied. She revealed she would travel to different cities for him. However, he started ghosting her. A netizen said she believed her because she had hooked up with Kris Wu before. She shared pictures claiming it was Kris Wu in bed. Shortly after, rumors about Kris Wu having numerous random hook ups were circulating. Kris Wu's studio denied all the allegations and sued the rumor mongers about him being a "hook up king" and other related reports and won the lawsuits.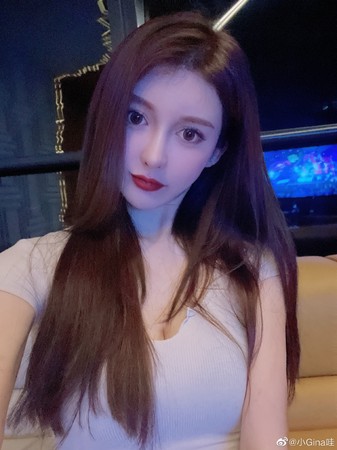 Despite their apologies, their accounts were already blocked by Weibo from posting. Su Mang, the former editor-in-chief of Harper's BAZAAR China magazine and tv personality who had also defended Kris Wu in 2016, was blocked from posting on Weibo. Li En, who claimed to be Du Meizhu's cousin, but was later clarified by Du Meizhu that she was just a friend, also had her account blocked from posting. Shortly after, it was discovered Kris Wu and his studio's Weibo accounts and other Chinese social media accounts were shut down.
Weibo had also reported 990 Weibo accounts were either permanently banned or blocked from posting for using the news of Kris Wu's detainment to attack the government, maliciously market to gain popularity, and more. In addition, 108 super topics said to be "error-oriented" were shut down and 789 groups dissolved for violating Weibo's policies. It's reported some of Kris Wu's fans were still rallying to visit him at the detention center and were willing to offer their bodies in exchange for Kris Wu being "rescued from prison". CCTV issued a statement saying this case should wake up "possessed" fans and condemned fandom culture becoming extreme in recent years.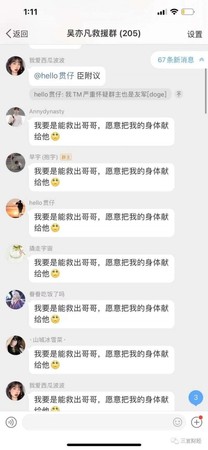 During this chaos, there were also rumors circulating about Kris Wu's detention and his case. Rumors started circulating Kris Wu was going to "snitch" on Wilber Pan and JJ Lin for their involvement with drugs and staying at a brothel together. Both parties denied any involvement in the online rumors and issued legal statements saying they will take legal action to protect their rights to the fullest.
On August 2, it was discovered Kris Wu's accounts on all Chinese social media platforms, such as Tencent, Baidu, iQIYI, Douban, QQ Music, NetEase Music, and more had been taken down. His name was also removed from the cast list of many of his works. Liu Liu and Ma Weiwei's Weibo accounts were no longer available following their previous ban a day earlier. In addition to these accounts, Weibo accounts for Kris Wu's official fan club, its related accounts, and one of their biggest fan site, Kris Wu Bar, were also shut down. Du Meizhu had also cleaned out all her posts related to Kris Wu.
Four of China's major creative associations, CAPA, CFA, CTAA, and CMA, all issued statements on August 2 about Kris Wu's case. They effectively condemned the unethical behavior and actions that cross moral lines. The CAPA called for those who commit these actions to be blacklisted.
The Cyberspace Administration of China also did a clean up of the Chinese internet. Their clean up exercise consisted of wiping out illegal and improper information circulating among fan groups. This included clearing over 150,000 posts or messages containing negative or harmful information, handling over illegal 4,000 accounts, closed over 1,300 problematic groups, and dissolved 814 improper topics. The Cyberspace Administration of China also urged each social media platform to strengthen their management in rankings and fan group support by canceling product features that would encourage fans to use various methods to support their idols on ranking lists.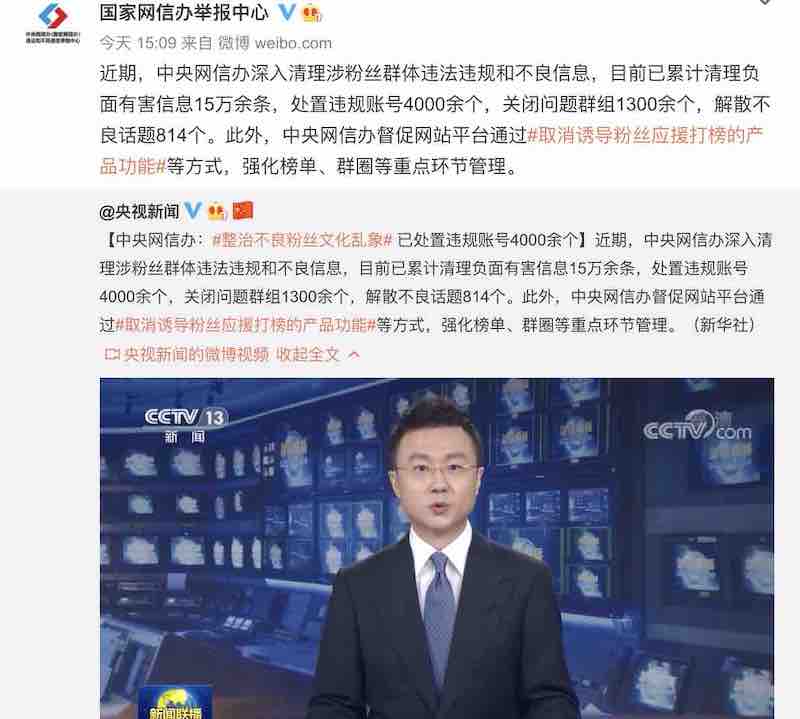 On the same day, there were rumors that Arthur Chen Feiyu was replacing Kris Wu in "The Golden Hairpin" through AI technology. Zhou Hao, the founder of Arthur Chen Feiyu's management company, Tian Hao Entertainment, denied the rumors, saying, "It's fake."
As each day progresses, new rumors get circulated, like this one of Kris Wu's wax statue at the Madame Tussaud's Wax Museum in Shanghai being dressed in a prison uniform. Reporters reached out to the wax museum and they said Kris Wu's statue was already removed earlier and that the photo of his wax figurine in the prison outfit is fake.