Chinese drama, "The Oath of Love" (余生请多指教), will be airing on September 8, 2021 through Tencent and HunanTV simultaneously. Fans can finally rejoice as they have been waiting almost two years for the series to air ever since it wrapped up filming in November 2019. "The Oath of Love" stars Yang Zi (杨紫) and Xiao Zhan (肖战) and was Xiao Zhan's first drama he filmed after the success of "The Untamed".
Xiao Zhan's character ,"Gu Wei" (顾魏), is a 31 year old gastroenterologist who is supposed to be mature, wise, and lonely. He is said to be cold on the outside, but is actually a really warm and kind person. Yang Zi's character, "Lin Zhixiao" (林之校), is a 21 year old cellist studying music in her third year of university. She is lively, cheerful, passionate and doesn't give up easily. The 10 year age gap between the leads is the same as Yang Zi and Li Xian's characters in "Go Go Squid!".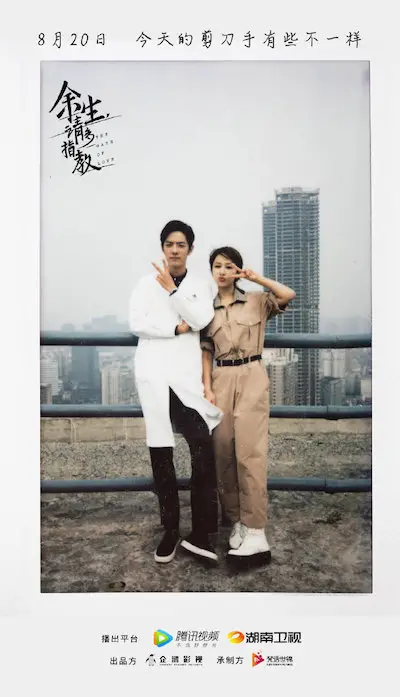 There have been countless rumors about the air date in the past two years. At the end of July, there were rumors that the series was airing in early August after HunanTV started dropping hints and promoting the series. However, Xiao Zhan's studio refuted the rumors as they haven't received news of an air date yet and told people to stay patient.
Since "The Untamed", Xiao Zhan's other series, such as "The Wolf" and "Duoluo Continent", have finally aired after long waits. "The Wolf" was filmed in 2017 and "Duoluo Continent" wrapped up filming in July 2019. Yang Zi's last series that aired was "My Mowgli Boy" in 2019. Aside from a cameo in "Dt.Appledog's Time", Yang Zi hasn't had any of her own series air in 2021.
Even though the air date is set, fans have been scorned one too many times and stay reserved about the series actually airing: