On August 6, rumors started going viral that Yang Yang (杨洋) was the A-List celebrity who dated a fan and then ghosted her after dating for two years. This rumor stemmed from a viral comic strip written by a yxh account (marketing account), "吃瓜少女张小寒" (lit. Melon eating girl, Zhang Xiaohan).
In this comic strip, Zhang Xiaohan detailed a story she reportedly received from a netizen claiming to have had a relationship with a popular male celebrity. The fan's name is Xiao Wei and she said she became a fan of this celebrity in 2017. They got to know each other because she constantly took pictures of him. The male celebrity and the rich starlet's relationship was exposed in early 2019.
A-List male celebrity was very disappointed with the team of a rich female celebrity for intentionally releasing their pictures and exposing their relationship. He broke up with her as he felt it was too bothersome to date a female celebrity. He started dating Xiao Wei after the breakup with the rich female celebrity. After two years of interactions, he fully trusted her. In March 2019, the fan flew to Dubai where the male celebrity was filming.

The fan said she spent 60,000 RMB on roundtrip tickets to Dubai just to see this male celebrity. She also spent tens of thousands of RMB worth of gifts for the celebrity, which he often posted on Weibo. Xiao Wei claims she comes from a well-off family so no one questions her spending habits. In September 2019, Xiao Wei and the male celebrity went to Xishuangbanna for a date and took a lot of pictures of themselves for memes/emojis.
This male celebrity held a birthday fan meeting and played a song on the piano that Xiao Wei really liked. Xiao Wei says she normally helps this male celebrity with certain matters. Xiao Wei showed a picture of her and the male celebrity sitting together in first class and their WeChat conversations to Zhang Xiaohan.
Xiao Wei let Zhang Xiaohan listen to one of the audio notes in which this male celebrity reminds her to go home and take birth control pills after they "finish their business". Zhang Xiaohan asked her why she is so foolish? She responded, "I really like him." In July 2021, the male celebrity suddenly stopped contacting Xiao Wei.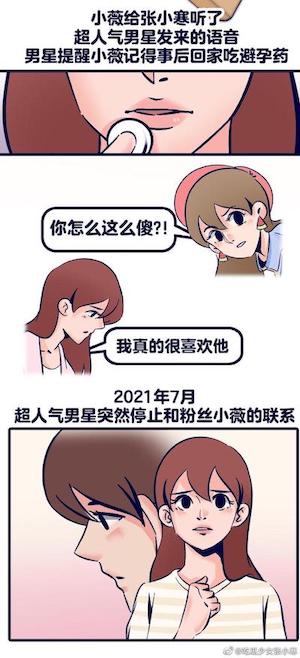 Zhang Xiaohan asked why he stopped contacting her. Xiao Wei responded, "He probably got bored with me."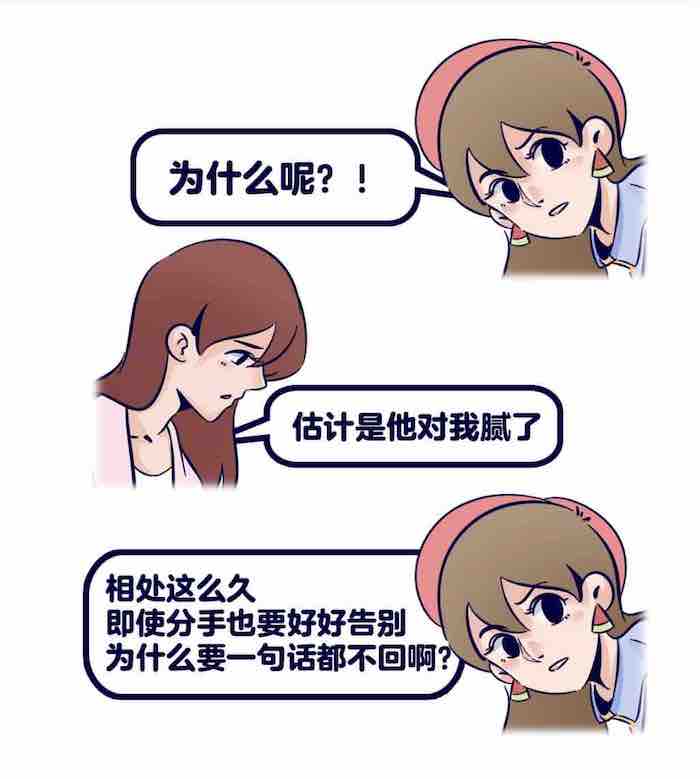 After the comic strip went viral, many people started speculating the A-List male celebrity was Yang Yang based on some of the clues, such as the male celebrity and a rich starlet being exposed in early 2019. Yang Yang and Bridgette Qiao Xin (乔欣) were rumored to be dating back in Valentine's Day 2019 when they were allegedly spotted in London together. Bridgette Qiao was also revealed to come from a wealthy family. Both parties denied the rumors. Yang Yang also filmed in Dubai for the movie "Vanguard" back in March 2019.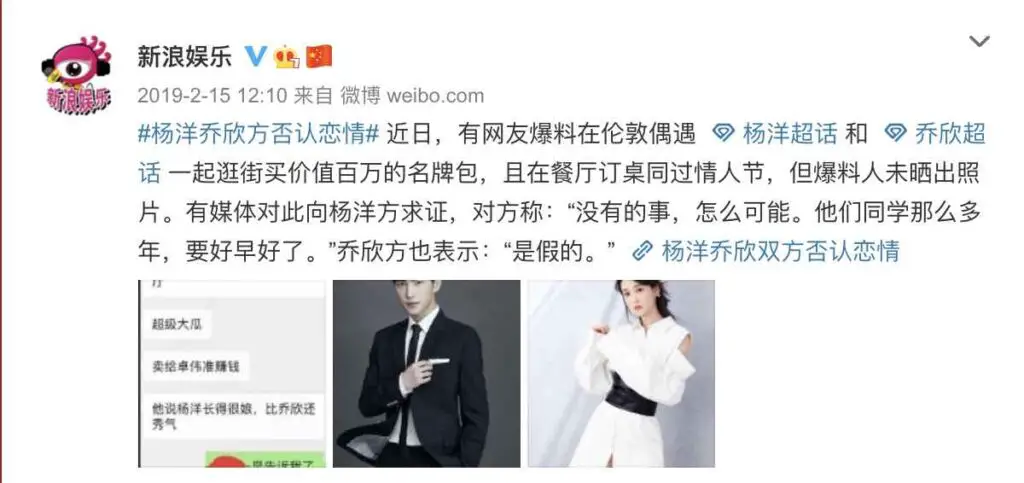 The rumors started again in May 2019 when a netizen said they spotted Yang Yang and Bridgette Qiao linking arms while shopping at a supermarket. Neither party ever responded to these rumors.
Fans were quick to dispel the rumors saying Yang Yang played the piano at his birthday fan meeting in 2018. He didn't have any birthday fan meetings in 2019 or 2020. They also mentioned there were never any pictures of Yang Yang and Bridgette Qiao Xin together. A fan also shared a picture under Zhang Xiaohan's post, which supposedly showed Yang Yang and Bridgette Qiao Xin linking arms at a supermarket, and stated it was actually not them. The caption of the picture says, "How did my picture from my friend's circle get leaked out? This is not Yang Yang."
A few hours later, Yang Yang's manager, Jia Shikai (贾士凯), shut down the rumors and said, "Just got off the plane and arrived at the company, finished reading these unwarranted rumor style breaking news, relying on not "naming names" to talk nonsense and smear. Already entrusted a lawyer to collect evidence. Yang Maos and the audience can just peacefully watch the show unfold."