WayV's Lucas (黃旭熙) issued an apology on August 25 after three fans accused him of cheating on them around the same time and other questionable behavior. SM Entertainment remained quiet and responded, "No comment.", to the rumors looming for two days.
On August 24, one of Lucas's major Chinese fan sites, LUCASCNFC, announced the management team have resigned and extended the offer for someone to take over the site. They had already closed off the birthday event they had planned for Lucas and would be refunding all the money back to fans within 48 hours.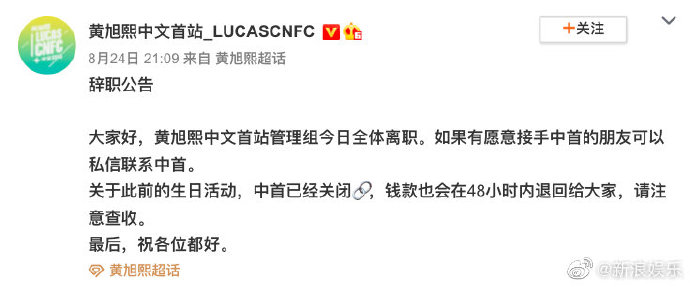 On August 25, Lucas posted a handwritten apology note in Chinese on Instagram and Weibo.
The apology letter reads:
"I am Lucas, Wong Yuk-hei.
I sincerely apologize to everyone who got hurt because of my wrong behavior. I beg for the opportunity to apologize, I'm really very sorry.

At the same time, I also want to sincerely say sorry to my fans who have always supported and cared about me all along. Sorry for disappointing you guys.

During the past few days, I have already deeply reflected on all my past behavior. I clearly realized my mistakes and my irresponsible behavior have let down my fans who have supported me all along.
Once again, I sincerely apologize to all the people who felt disappointed because of my behavior.
I promise something like this won't happen again. At the same time, I will suspend all upcoming work activities during this period and carry out deep self-reflection.

Lastly, I want to say sorry to my members, company staff members, multiple business partners, and program staff members. Because of my personal behavior, it has badly affected everyone.

I am really very sorry."
Following Lucas's apology letter, SM Entertainment and WayV issued the same statement apologizing for his personal life taking up public resources.
Lucas and fellow WayV member, Hendery were set to start promoting their debut single, "Jalapeño", on August 25. The company announced the song's release and their promotional events have been suspended following Lucas's scandal.
They also said, "At the moment, Lucas is already deeply aware of the mistakes in his past behavior and words that have caused great pain to everyone. He is currently in the process of deep self-reflection. The company is also fully aware of the shortcomings in management of the artists. Regarding this, we bear responsibility that cannot be shifted. Lastly, we sincerely apologize once again to everyone including fans who were harmed caused by Lucas's issues from his personal life."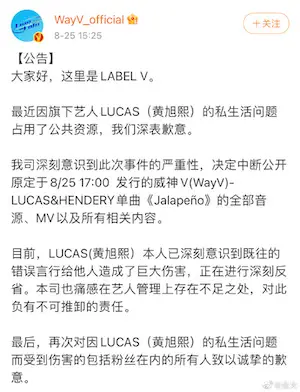 The comments on Lucas and WayV's posts were largely calling for Lucas to withdraw from the group and to allow Hendery promote by himself: "What's wrong with you? What did Wong Kun-hang (Hendery) do?", "Get the f*ck out, leave the group!", "Can Wong Kun-hang [promote] by himself?", "Withdraw from the group, withdraw from the group, withdraw from the group", "If he doesn't withdraw from the group, I won't spend any more money.", "What to do about Wong Kun-hang? Are you letting him [promote] solo?", "Withdraw from the group, withdraw from the team, get the f*ck out of the dorms.", "You are really, really sorry to WayV members, do you know that?", " Withdraw from the group, I beg you."