iQIYI's "Stage Boom" (爆裂舞台)entered into its first round of eliminations on the fifth episode that aired on September 3. The show features 10 female musical artists with different backgrounds: Lexie Liu, Shan Yichun, (G)I-DLE's Song Yuqi, THE9's Anqi, THE9's Lu Keran, VaVa, Wu Xuanyi, Yamy, BonBonGirls 303's Chen Zhuoxuan, and Zhou Jieqiong. THE9's Yu Yan was originally part of the line up, but she was missing from filming the later episodes.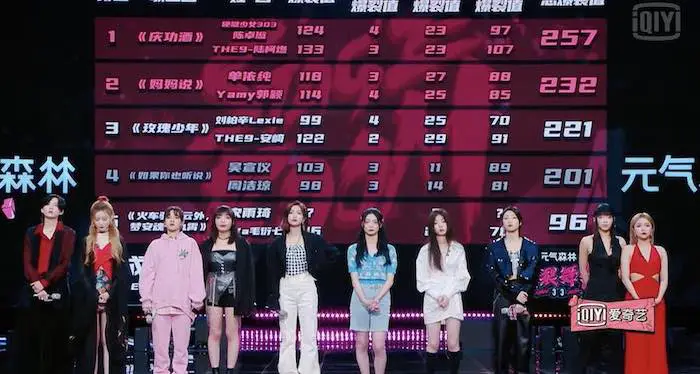 In the fifth episode, the girls had their second performance in pairs. The two lowest ranked groups which consisted of VaVa and Song Yuqi and Wu Xuanyi and Zhou Jieqiong, were eliminated.
However, a clip is shown of Han Hong with the three producers talking about a special rule that wasn't made aware to the girls. The contestant with the highest points out of the two eliminated teams will move onto the next round. This person was Song Yuqi.
Han Hong explained she didn't want to announce it until after the performances were over so as not to distract them. Upon learning that she was the one who was saved, Song Yuqi got emotional and teared.
In next week's episode, the remaining 7 girls will be collaborating with THE9's Snow Kong, IXFORM's Luo Yizhou, Cai Guoqing, and Bibi Zhou.