With everything going on with Wang Leehom (王力宏) and Lee Jinglei's (李靚蕾) divorce that has now turned into a possible defamation case, the media and netizens continue digging up their old rumors. At this juncture, Lee Jinglei is not holding back on what she has to say, including very intimate details about her sex life with Wang Leehom when they first started dating.
All eyes are still on Wang Leehom for him to make any statement as Lee Jinglei imposed a 3pm deadline for him to publicly apologize or else she would sue him and his father for defamation stemming from his father's letter.
In the meantime, a curious netizen asked Lee Jinglei under the post of her latest statement about an old rumor: "By the way, can you clarify what happened with Darwin back then?" Lee Jinglei responded, "The engagement news is slander."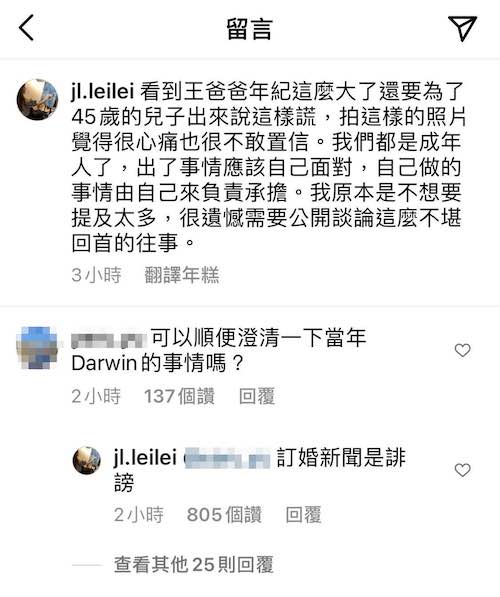 Back when Wang Leehom and Lee Jinglei announced they got married, there were rumors looming that she had dumped her fiancée, Darwin Huang, in order to be with Wang Leehom. Prior to getting married, it was reported Lee Jinglei was dating Darwin Huang, a lawyer, for more than four years. It's said that their relationship was stable and they got engaged in February 2013. However, nine months later, Lee Jinglei and Wang Leehom were already married.
Credit: Apple Daily TW