On December 25, a Joey Chua (蔡卓宜) fan made a statement that Joey Chua had amicably broke up with her previous partner after confirming it with her management company. Joey Chua and Talu Wang (王大陸) were rumored to be dating when they were spotted kissing in public back in May. While the two never officially admitted to dating, they were spotted together on several occasions since then and haven't hid their relationship.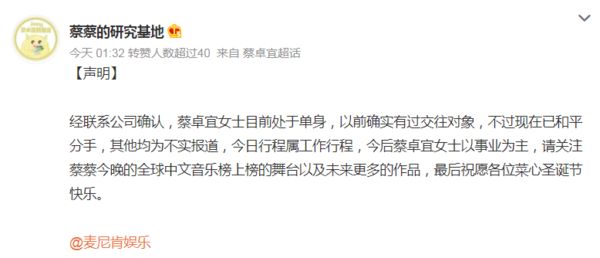 The fan's break up post led to speculation that Talu Wang and Joey Chua had broke up even though they were spotted at the airport earlier that day. However, on December 28, Talu Wang was seen picking up Joey Chua after she was finished with an event. Then on December 30, Talu Wang and Joey Chua were seen dining together and then walking out of the restaurant holding hands and hugging each other.


This led to some netizens question whether it was a fake break up or they got back together. The breakup post from Joey Chua's fansite has since been deleted.