Content Warning: The following content may contain verbal and/or visual references to suicide and/or self harm. If you or someone you know is suicidal, please seek assistance with your local suicide intervention group:
https://www.opencounseling.com/suicide-hotlines
NEXT member, Ding Zeren (丁泽仁), has been trending lately because his fansite that exposed him for his personal life and talking badly about his fellow members and Wang Yibo. He became a meme after a netizen released a clip of him pleading with a fan to believe him and saying she was his "only jie (older sister)". On August 9, Ding Zeren finally responded to the claims with an apology post:
"Sorry, for disappointing everyone. After deep reflection, I have already seriously recognized my own mistakes and shortcomings. I shouldn't talk behind people's backs and say a lot of ignorant, arrogant, low EQ, and hurtful things, and caused harm to my company, seniors, colleagues, and friends who have helped me in the past. I would like to sincerely apologize here to all the friends who have been hurt: I am really, really sorry to everyone. I also have to apologize to Quanzhe for making him bear groundless accusations."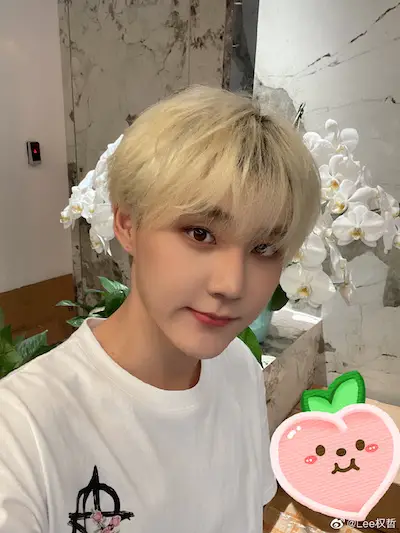 Ding Zeren then addresses his former fansite that exposed him, "Mirror1119·丁泽仁". He wrote, "In these past 4 years, I once treated her as a jiejie. I once felt she was my life coach. A lot of things I can say, can't say, I would share it with her, completely didn't shy away from [anything]. However, I never thought what followed was a nightmare. Not only did she demand me to, 'report every tiny detail of my itinerary for 10 years', frequent cursing at me, she also tried to use mind control to restrict my freedom, and even instigated and threatened me to commit suicide, self-harm, and often harassed my family. She'd make over 100 calls in a day. As long as she's not satisfied, what followed was constant abuse and belittling and long term threats of exposing information on Weibo. Under long term mental stress and suffering, I was unbearably tormented and even committed suicide a few times. Through persuasion from family and friends and a psychiatrist, I was determined to cut off all communication with her and no longer be coerced by her. After careful consideration and to not have anyone else get hurt because of me, I have already filed a police report and let the police handle everything! I hope this matter ends here and also hope to everyone can return to their normal lifestyle."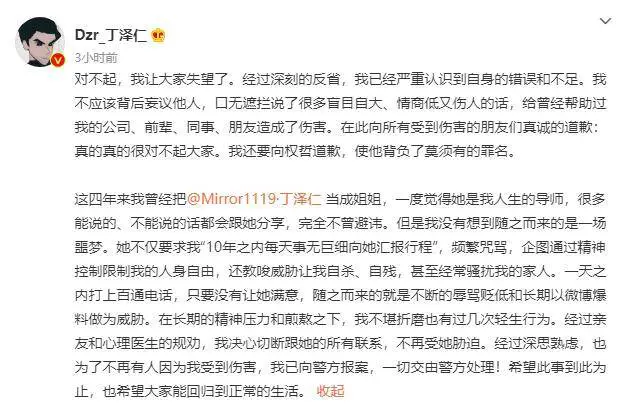 Shortly afterwards, an entertainment account obtained clips of an alleged conversation between Ding Zeren and the fansite owner. In the clips, the fan is heard telling Ding Zeren, "Don't provoke me. I've given you enough chances already." She also kept insisting on talking to Ding Zeren's mother and that if she didn't let her talk, she would expose new and old information. In one of the clips, she is heard demanding Ding Zeren to report his daily whereabouts to her for the next 10 years with visual proof of his location if he is leaving his house. She said, "It's no different than reporting to your boss…Have you thought about if you want to get married?" At one point she mentions telling Ding Zeren to get a vasectomy and become a eunuch.