Actress, Julia Xiang Hanzhi (向涵之), was trending recently because of her dating rumors with Leo Wu Lei, which have been denied by his fan club. Their dating rumors escalated again when netizens claimed the profile picture of Leo Wu's pinned chat dialogue in WeChat is of Julia Han Xiangzhi. While neither parties have commented on it, some netizens said the picture looks more like Leo Wu's dog, "Xiao Bei". Julia Xiang's friend also indirectly denied the rumors by showing her WeChat profile picture is of a cat.
On August 11, Julia Xiang's friend posted a lengthy post in her defense. She wrote, "Since Lao Xiang's debut at 16 in 2016 until now, she auditioned for each role, from each tiny role for many series, to now filming low budget web dramas, hit family dramas, I've seen it all. She also recounted the time when Julia Xiang was 17 and was filming "Honey, Don't run away (公子,我娶定你了)", and got heat stroke. She'd work 20 hours everyday and still accompanied her female assistant, who was harassed, to the police station to provide testimony.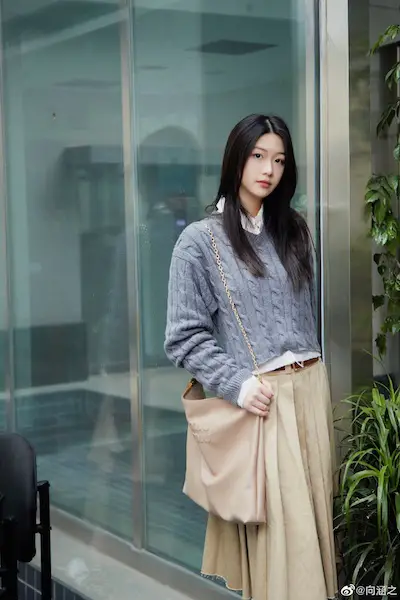 At one point, the friend alludes to the Leo Wu dating rumors, saying, "Nothing was definitively confirmed, isn't it outrageous? I indirectly posted Lao Xiang's WeChat profile picture. You guys don't believe it. Please be rational." She also listed Julia Xiang's related hot searches for her works totaled to less than 30 for her characters in 3 dramas. She also denied Julia Xiang twas trying to gain clout by promoting CP as her company never does that and they don't have the resources. As for her profile pictures on certain apps, she has never changed it. The "so-called claims" about her changing profile pictures were photoshopped to create rumors.
In regards to the many "rumored boyfriends", Xiang Hanzhi doesn't know any of them. "Xiang Hanzhi doesn't know Wang Hedi; Xiang Hanzhi doesn't know Chengyi; Xiang Hanzhi doesn't know Hu Yitian; Xiang Hanzhi doesn't know Zhang Xincheng. Xiang Hanzhi and Guo Qilin were previous colleagues from the series, 'The Road to Ordinary' (平凡之路). When the show airs, shipping CP is welcomed, reject real life CP."