On the night of August 26, Zhang Mingen's (张铭恩) studio posted a series of chat screenshots he claims were with his ex-girlfriend, Lulu Xu (徐璐), and Hu Bingqing (胡冰卿), with the captions, "No cheating" and "No third party", respectively.
Back in June 6, 2020, paparazzi exposed Zhang Mingen kissing and behaving intimately with Hu Bingqing at a hotel parking lot. Zhang Mingen was believed to be dating Lulu Xu at the time, which led to allegations he cheated on Lulu Xu with Hu Bingqing, painting her as the third party. On the same day, Zhang Mingen responded that he was already single at the end of December. Zhang Mingen and Hu Bingqing, who were filming at the time, said it was a film crew gathering and denied they were dating.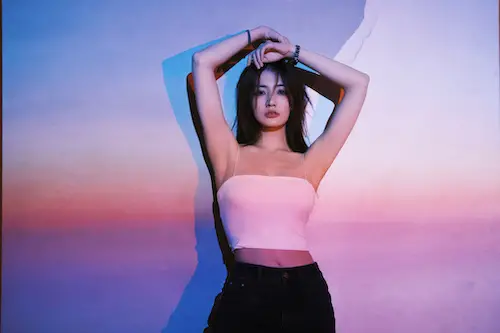 However, things got ugly a few weeks later when paparazzi caught Zhang Mingen visiting Hu Bingqing's residential area, giving life to their rumors again. When Sina Entertainment reached out to Hu Bingqing, she denied the intimate behavior and kissing Zhang Mingen. Hu Bingqing ended up exposing how Zhang Mingen instructed her to accuse Lulu Xu of bullying her and quarrel with her so that the situation could go away and have the blame put on Lulu Xu. She also clarified she broke up with Chen Xingxu around March, denying she cheated on him with Zhang Mingen.
Two years later, Zhang Mingen finally spoke up and brought up the issue again seemingly triggered by netizens mentioning his name in light of the similarities to Xu Kaicheng's cheating scandal with Crystal Zhang Tianai and Gulinazha. Zhang Mingen didn't respond to Hu Bingqing's exposé on him from 2020 and is now debunking the rumors from two years ago that he cheated on Lulu Xu with Hu Bingqing, who was labeled as the third party at the time.
"No cheating"
In the first screenshot with Lulu Xu, she is telling Zhang Mingen not to contact each other anymore. Then it goes to February 2020, in which Zhang Mingen is talking about their relationship from the start.
In the second screenshot, it starts off with Lulu Xu saying, "In fact, we've already broke up". The next message is dated from March 2020, in which Lulu Xu is telling Zhang Mingen not to give her anything as they've broke up already.
In the last screenshot dated April 2020, Lulu Xu tells Zhang Mingen, "I don't want it to be like this. If it's like this, then publicly announce the break up." Zhang Mingen asks if it must be like this, which Lulu Xu says yes. There is no context behind this exchange.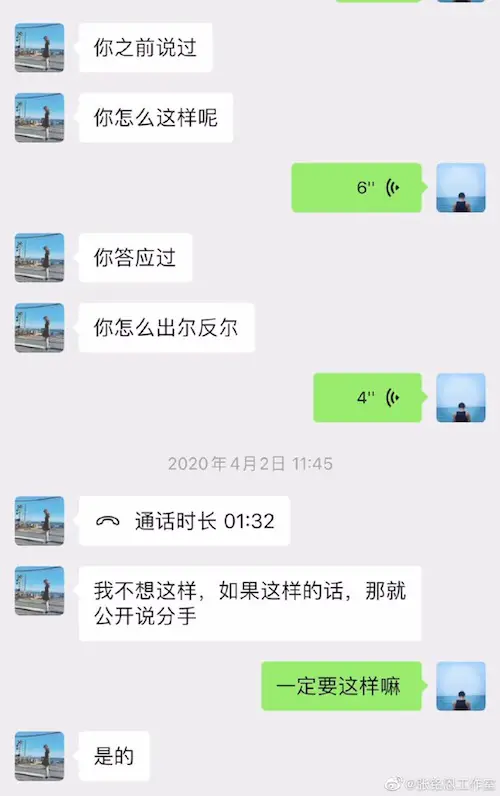 "No third party"
In Zhang Mingen's screenshots with Hu Bingqing, there are no definitive dates. The first chat starts off with him telling Hu Bingqing, "If I tell everyone I broke up with Lulu Xu on March 19, what can I prove? Can I prove I'm not? No". Then Zhang Mingen tells Hu Bingqing that if he goes and tells everyone about the break up, it would prove she wasn't a third party. Hu Bingqing then asks how long she has to wait for them to prove "something" because Sina Entertainment mentioned something about the "fight situation".
There is a lot of ambiguity in the their chat dialogue as they mention a lot about "doing something" to prove "something" without context. Zhang Mingen then suggests to have his and Hu Bingqing's teams to discuss how they should resolve this situation. His team would tell the public that Zhang Mingen has already resolved the situation and then it would allow Hu Bingqing to say that she didn't come into their relationship or cheat.
Hu Bingqing responds to Zhang Mingen that he told her previously he would only make a move the next time that person messes with him again. However, Hu Bingqing explains that person is messing with her, not Zhang Mingen and asks what this has to do with him. The pronoun Hu Bingqing used for that person is ambiguous, but it's inferred they're referring to Lulu Xu.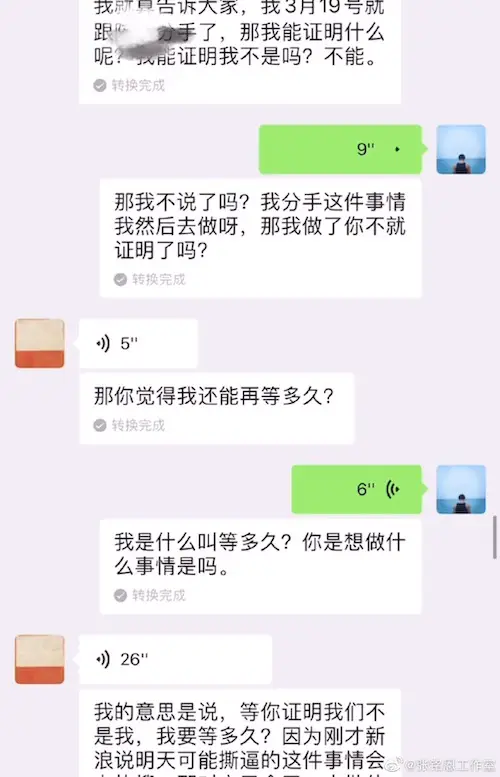 Zhang Mingen's studio posted a third post from June 2020 that showed Hu Bingqing saying Zhang Mingen taught her how to fight Lulu Xu by accusing her of using accounts to cyberbully and hate on her. The studio also said everything they posted today is factual and they are willing to take all legal responsibility for their words.