Content Warning: The following content may contain references to date rape, drugging, rape, and/or sexual assault.
On January 14, Malaysian singer, Namewee (黃明志), who is based in Taiwan, uploaded an IG story, calling out a male artist, who is known for expressing his "love for the motherland", for forcing himself on his friend, refusing to wear a condom, and ej*culating inside of her. Namewee described his friend is a young female fan of this male artist's "who just wanted to see him from a close distance and somehow this male artist ended up taking off her pants". He said, "She didn't have much feelings and protection wasn't even prepared and in the end, you finished inside her in 2 minutes. Then you immediately zipped up your pants and ran inside the room saying you're afraid someone will see. What the f*ck is that?"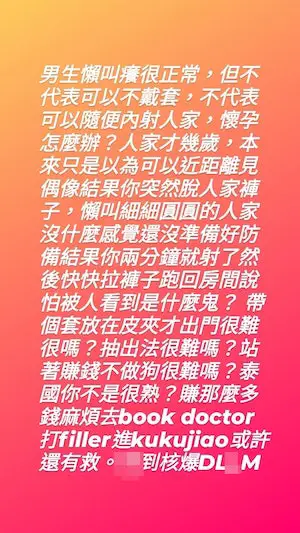 Namewee continued to say, "If this matter of yours was caught by your motherland, prepare to be roommates with "Toothpick". Let's see if you still love the motherland then." While he didn't name who this "Toothpick" is, this was a nickname tied to the now incarcerated, Kris Wu, stemming from his whistleblower's confession, Du Meizhu. He went on to say this male artist was willing to sell out his place of birth for money and is always making "On9" comments, including the Cantonese curse, "DLLM".
He also included the hashtag, "It's not that it won't be reported, it's not time yet."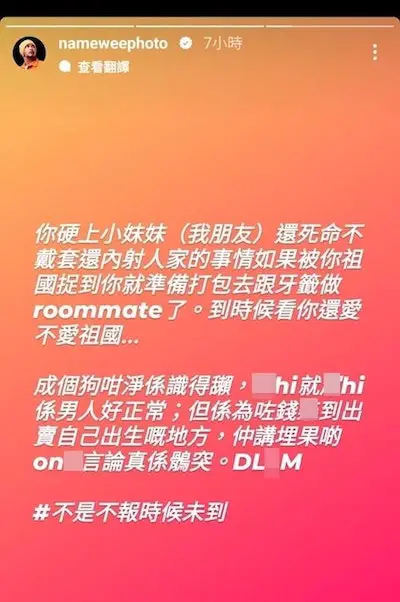 Credit: hk01, Namewee IG