Chinese actresses Tiffany Tang Yan (唐嫣) and Yang Mi (楊冪) were at the same fashion event for VogueFilm in Beijing yesterday.  This is news because Tang Yan got married in Vienna almost two weeks ago and everyone was expecting Yang Mi to be her bridesmaid since Tiffany Tang Yan was hers at her wedding with Hawick Lau (劉愷威).  However, Yang Mi didn't attend, fueling their discord rumors even more.   
Tiffany Tang Yan Debunks Rumors She Had Twins, Reveals Sex of Baby
The lifetime event we've all been waiting for has happened.  In a short clip shared online, Tiffany Tang Yan and Yang Mi had no interactions whatsoever, seeming to avoid any contact with each other.  Aside from a group picture, where the two were standing apart, the two didn't talk either.  Angelababy and her husband, Huang Xiaoming (黃曉明), were also at the event.  Luckily, Angelababy was standing near the two backstage, making it less awkward for each other.  Yang Mi was chatting it up with Angelababy, while Tiffany Tang Yan was slowly walking away from the other two.  
Tiffany Tang Yan and Luo Jin Announce They're Married + Wedding Pictorial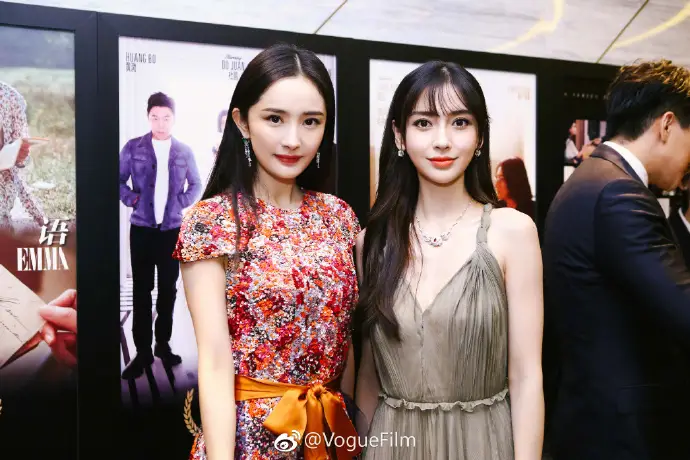 Watch the clip on Weibo: http://t.cn/EAPODpu
Yang Mi Reportedly Not Attending Tiffany Tang Yan's Wedding in Vienna
How did their rift start? 
It all started three years ago when the two were vying for a role in the international movie "Bounty Hunters" with Korean actor, Lee Min Ho.  In the end, Tiffany Tang Yan won the role.  Later on, the two were fighting for another role in the movie "Chronicles of the Ghostly Tribe."  The director ultimately selected Tiffany Tang Yan for the role.  
Tiffany Tang Yan Gearing Up to Officially Return to Work
Starting from last year, it was rumored that Yang Mi's favorability with the public was decreasing.  It was rumored both actresses' teams were fighting  for them to climb to the first spot of the Hot Topic List on Weibo.  It was said Yang Mi's work studio was upset at some anti-fans badmouthing their boss.  Yang Mi's fans were sure it was Tiffany Tang Yan who was bothering their idol.   
Luo Jin Denies Cheating Allegations with Assistant
Later on, a staff member from Tiffany Tang Yan's work studio reposted an essay on Weibo that was criticizing Yang Mi's acting.  This staff member claims his/her account was hacked, but no one really believed it.  From then on, it was said Tiffany Tang Yan and Yang Mi's relationship started to crumble and they no longer contacted each other.  
Credit: Apple Daily (1, 2), Angelica Cheung Weibo, 佩佩晴天的blog, VogueFilm Weibo