TVB actor, Hugo Wong (黃子恆), who gained some popularity through the series "OMG, Your Honour" (是咁的,法官閣下), is in the news again for another scandal.  Hugo Wong's previous scandal happened two years ago when it was alleged he was the third party in singer, Hiromi Wada's (和田裕美) marriage.  Luckily, TVB still gave him work despite the rumors.  This time, it has been reported the 36 year-old actor was in a relationship with a fan of his from China.  It is said the two had an intimate relationship and once the fan found out she was pregnant, he went missing.  The female fan has incriminating evidence of Hugo Wong allegedly crying and claiming he was wrong in a voice recording and message chats.  Hugo Wong admitted yesterday that he did have a relationship with this fan, but insists they only had intercourse once.  He denies being the father of her baby and doesn't mind getting a DNA test to confirm paternity! 
Hugo Wong Practiced Abstinence for 16 Months Since Sex Scandal with Fan
Michelle, who is 28 years old this year, claims she is Hugo Wong's super fan.  She first met him at his Guangzhou fan meeting on April 30, 2017.  The two had kept in contact with each other through private messaging on Weibo.  Michelle had quickly told Hugo Wong she had a present for him a week after meeting.  The two planned to meet at a service apartment in Shenzhen under the excuse of giving him the present.  Michelle claims, "At first, we were just watching tv.  Then, he told me to take a shower.  Later on, he came in too.  Though he wasn't very direct in saying to have sex, but in the end we ended up doing it."  When asked if she refused it, she said, "No, because I am young.  He is my idol, the person I like."  After the encounter, Hugo Wong didn't look for her in six months.  They would have short conversations from time to time, but didn't mention the status of their relationship.  
Hugo Wong Hopes to Cleanse Image as a Businessman in "Amelia's Rhapsody"
Since their relationship status was not defined, Michelle was really heartbroken.  She said she wouldn't leave the house for three months or eat properly.  News about Michelle quickly circulated to the fans group.  The reactions were mixed with half of the group supporting her.  Michelle says Hugo Wong is just trying to protect himself.  He came out to diffuse the situation by admitting they're good friends, but claims they had some misunderstandings along the way.  He even asked another fan to say good things about him, hoping Michelle would give him another chance.  Michelle says Hugo Wong told her he felt regret and wanted to commit suicide. 
Hugo Wong Says He Will Take Responsibility for His Actions, Voice Recording with Fan Revealed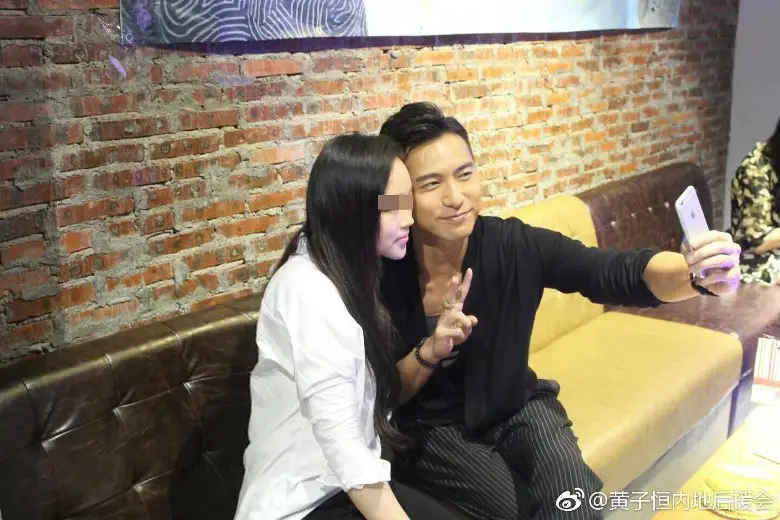 Hugo Wong's Alleged Baby Mama is Pissed at TVB for Not Reprimanding Him
Michelle says the two became friends again in January.  They maintained that relationship until July.  The both of them met up again in Shenzhen and she alleges the two had intercourse again.  Hugo Wong disappeared once again after the encounter.  Shortly afterwards, Michelle discovered she was pregnant.  She says every time she looks for Hugo Wong, he doesn't respond.  Michelle says, "He is a scumbag!  My goal right now is to destroy his career.  I am four months pregnant.  It's a bit uncomfortable right now and I have decided not to keep the baby."  When asked if she is getting an abortion, Michelle says, "Of course.  How old am I?  This is my first pregnancy.  Even though it's dangerous, but it's better to get it done quickly."  As to Hugo Wong claiming they only had intercourse once, Michelle says, "He can say whatever he wants.  It doesn't matter.  Nothing he says is true."  
Singer, TikChi, Reveals Texts from Hugo Wong Trying to Solicit Sex on Multiple Occasions
The following is the conversation between Oriental Daily News and Hugo Wong: 
Reporter: How many times did you two have intercourse? 
Hugo Wong: It was only once.  The first time we met was last April at the fan meeting.  After that, we both went our separate ways.  A week after the fan meeting, she said she had a present for me.  That day was our second time meeting.  
Reporter: The second meeting, did you receive the present in your hotel room? 
Hugo Wong: No, it was where she lived.  It was a service apartment in Shenzhen.  Before the fan meeting, we actually knew each other.  We interacted on Weibo.  I thought the first time meeting each other at the fan meeting would be a good setting so it's not just the two of us alone. 
Reporter: Michelle says she's pregnant with your baby.  Did you guys have protection during intercourse?  
Hugo Wong: Yes, we took all the precautionary measures.  I wore a condom. We actually haven't seen each other for year and a half.  
Reporter: Will you report it to the police? 
Hugo Wong: I did seek out legal advice.  This is more of a civil matter.  After all, we were friends  I once gave her hope.  We've tried it, but it didn't work out.  I can't do anything about it.  
Reporter: Are you afraid she'll do something crazy, like commit suicide? 
Hugo Wong:  I can't control how she thinks.  I just hope these rumors don't continue spreading.  I actually have ways of proving myself.  
Reporter: You're even willing to get a paternity test? 
Hugo Wong:  Yes.  I am willing to do it anytime.  
Credit: hk.on.cc, Hugo Wong IG