Back in September, rumors of Taiwanese actor, Baron Chen (陳楚河), in a secret four year relationship with a busty pipa player, Qiu Han (丘涵), sent many of his fans and the "DuPi" shippers in a frenzy.  The two never commented on the rumors, but the coincidence in the pictures they posted on social media was enough for some to believe they were dating.  The news died down without any closure from either party, but it turns out Qiu Han had actually addressed her dating status through an Instagram story a month after the dating rumors were circulated. 
An Introduction to the Men of "Eternal Love of Dream"
Baron Chen has always been a very private person.  This was the first time he was involved in dating rumors.  As for Qiu Han, she used to be in a girl group called, "Musou Band," where the members played Chinese musical instruments.  She has almost 600,000 followers on Instagram and isn't shy about showing off her busty figure.  Back in October 19th, she had posted an Instagram Story showing a private message from a netizen telling her, "Tell your man to have more of a backbone.  It's not wrong to have a boyfriend, but indulging him to hit on other girls is also your responsibility."
Baron Chen Advertises Qualities He's Looking for in a "Boyfriend"
Qiu Han posted a response saying, "Seeing these messages flood in, I feel helpless.  There is no need for anyone to be responsible for anyone else.  In fact, these things have never been my business.  I don't have to explain whatever happened in the past to anyone, but since it has already past, there is no need to take the past to bother me.  I am single.  Thank you.  I only want to live my life.  Leave me alone."
Baron Chen Rumored to be in Four Year Relationship
It sounds like Qiu Han is hinting her relationship with Baron Chen was in the past and are no longer dating.  Once again, no word from Baron Chen.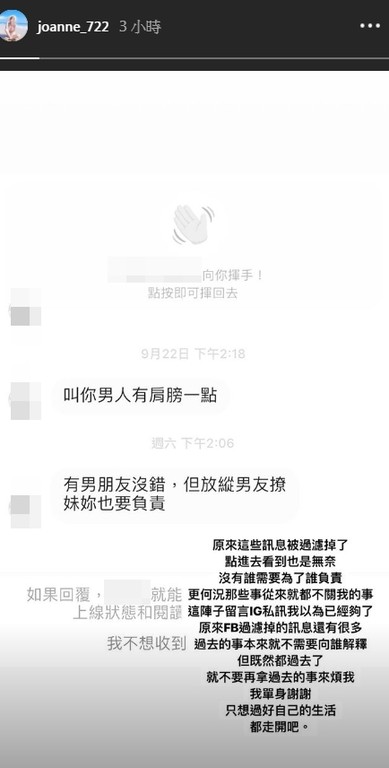 Credit: ETtoday.net, Qiu Han IG, Baron Chen Fan Page IG