The long awaited sequel, "Eternal Love of Dream" (三生三世枕上书), to the 2017 series, "Eternal Love", finally aired on January 22 in China. International fans were waiting in anticipation for English subs that finally aired on Youtube on January 24. Thankfully, C-dramas air multiple episodes at once or else we would never get through the wait!
"Eternal Love of Dream" Actress, Liu Yuefei, Pens Long Post Hinting at Suicide
Aside from the storyline, the visuals of the cast are also quite stimulating. Dilraba's (迪丽热巴) beauty is a no brainer and is the most popular member of the cast. So let's take a closer look at the men of "Eternal Love of Dream".
"Eternal Love" Sequel, "Eternal Love of Dream", Finally Gets Air Date
Vengo Gao as "Donghua Dijun", the Emperor of Heaven
Vengo Gao (高伟光) or Gao Weiguang started out as a model before he made the jump to acting. Despite his very defined features, he is said to be full Han Chinese. He is signed to Yang Mi's company, "Jaywalk Studio". He is known as the leader of "Jaywalk's 4 Crazies", which includes, Zhang Yunlong (张云龙), Vin Zhang Binbin (张彬彬), and Wayne Liu (刘芮麟).
Rocket Girls 101's Wu Xuanyi's Mother Likes Vengo Gao More Than Her Daughter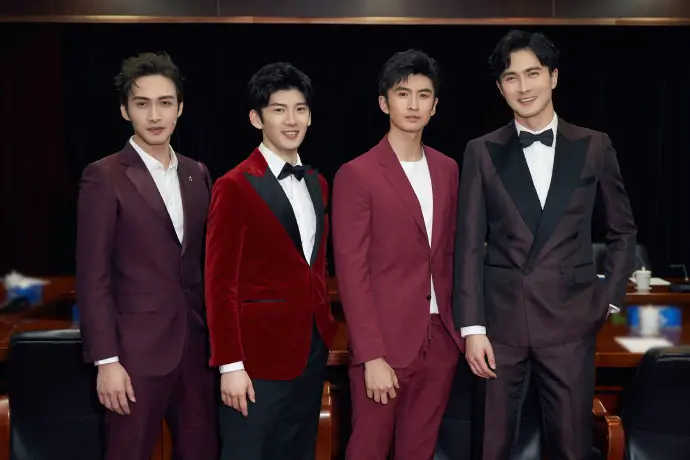 Dilraba Doesn't Dare Watch Her Intimate Scenes from "Eternal Love of Dream" with Her Parents
Baron Chen as "Zhe Yan", a phoenix God, has ambiguous relationship with "Bai Zhen"
Taiwanese actor, Baron Chen (陳楚河), got really popular after the 2015 series, "Bromance". Many fans ship him with his "Bromance" co-star, Megan Lai. While the two always gave a lot of fan service during their promotions, Baron Chen was rumored to be dating a singer, Qiu Han, for four years back in 2018. However, Qiu Han had later declared she was single. Baron Chen is also a very private person. He doesn't update his social media accounts often. His father was the leader of a Taiwanese triad.
Baron Chen's Rumored Girlfriend, Qiu Han, Declared She Was Single
Dilraba Gets Vulnerable and Reveals Her Insecurities
Huang Junjie as "Bai Zhen", fourth son of the fox king, has ambiguous relationship with "Zhe Yan"
Huang Junjie (黄俊捷) is a rookie actor. He is 22 years old this year and currently studying at the Beijing Film Academy. His character, "Bai Zhen", and Baron Chen's,"Zhe Yan", are actually lovers in the novel. However, in "Eternal Love", when they were first introduced, their relationship is downplayed to only have ambiguous feelings for each other. Huang Junjie's first lead role is in the currently airing series, "Dr. Cutie".
"Eternal Love of Dream" Director Resented Vengo Gao and Dilraba's Kisses for Being "Too Civilized"
Dylan Kuo as "Su Moye", "Aranya's" master and later falls in love with her
Taiwanese actor, Dylan Kuo (郭品超), has spent recent years developing his career in China. He got his breakthrough in the 2004 series, "The Outsiders". He is good friends with fellow Taiwanese actors, Peter Ho, and Jiro Wang. He is known for his tall height, 188 cm (~6'2″).
Taiwanese Actor Dylan Kuo Caught Holding Hands with Mystery Female
Dylan Kuo Mesmerized by Dilraba's Beauty while Filming "Eternal Love of Dream"
Wayne Liu as "Yan Chiwu", King of the Demon Clan
Wayne Liu (刘芮麟) is also signed under Yang Mi's company, "Jaywalk Studio". He is one of the members of "Jaywalk's 4 Crazies". He was involved in a bit of a scandal last year when a girl had released text messages of him trying to hook up with her. It was a scandal as he was thought to be dating his Jaywalk colleague, Daisy. However, he revealed they had already broken up.
Wayne Liu Apologizes After Fan Reveals His Messages Asking Her to Hook Up
Wang Xiao as "Si Ming", Matchmaker for "Fengjiu" and "Donghua"
Wang Xiao's (王骁) parents work in the industry. He mostly had supporting roles throughout his career. He is also part of Jaywalk Studio. He previously worked with Dilraba in "Pretty Li Hui Zhen".
Li Dongheng as "Lian Song", third prince of the Heavenly Emperor
Li Dongheng (李东恒) debuted in 2007 after joining an acting competition. He is multilingual. Aside from Chinese, he speaks English and French. His biggest break to date is "Eternal Love" and "Eternal Love of Dream".
Which actor is your favorite so far?