Even though the end has come for "Eternal Love of Dream" (三生三世枕上书), many fans are still not ready to let go. Fans have fallen hard for "Donghua Dijun" and "Fengjiu's" romance, thanks to the chemistry between Vengo Gao (高伟光) and Dilraba (迪丽热巴). Even though the two have worked together so many times, they don't need much discussion beforehand on filming intimate scenes. However, Dilraba revealed that she still gets shy filming these scenes and doesn't dare to watch those scenes with her parents.
"Eternal Love of Dream" Director Resented Vengo Gao and Dilraba's Kisses for Being "Too Civilized"
An Introduction to the Men of "Eternal Love of Dream"
In the series, "Fengjiu" is very stubborn and what's always troubling her is why "Donghua" doesn't pay attention to her. Dilraba admits she is also a very stubborn person, "If I was Fengjiu, I would also be like this. If both people are together, they need to get use to each other, but I am willing to make some changes for the other person."
Rocket Girls 101's Wu Xuanyi's Mother Likes Vengo Gao More Than Her Daughter
As for "Donghua", once he meets "Fengjiu", he starts to act all kinds of cute and gets jealous. He revealed, "However powerful Donghua Dijun gets, he also has his weak side. Once he finds love, he becomes different." Dilraba reveals that outside of filming, Vengo Gao is just like "Donghua" when he doesn't smile, but once he starts talking, he is like a silly big brother who likes to tell corny jokes.
Yang Yang and Dilraba Fall in Love Through Online Gaming in Drama Adaptation of "You Are My Glory"
Dylan Kuo Mesmerized by Dilraba's Beauty while Filming "Eternal Love of Dream"
There are a lot of sweet and romantic scenes between "Donghua" and "Fengjiu", but then there are also the bed and bath scenes that even has Dilraba blushing. Dilraba shared in a recent interview that she can't watch her series with her parents. She expressed, "After all, it's my series. I know when there will be kiss scenes. When it's almost there, I either change the channel or get up and leave. It's a bit cheesy and I don't dare watch it. Watching it with my parents doesn't really feel right."
"Eternal Love of Dream" Actress, Liu Yuefei, Pens Long Post Hinting at Suicide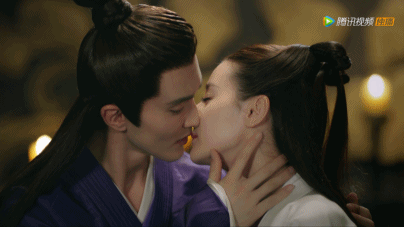 Dilraba Reveals Her Outlook on Love and Starting a Family After 30
Even though Dilraba is all sorts of cute as a fox in the series, she reveals she doesn't really know how to act coquettishly in person. When she was 20 and tried to act coquettishly towards her mother, she was pushed away and revealed her mother acts more coquettishly towards her.
Vengo Gao Reveals First Kiss Scene with Dilraba was Most Memorable
Dilraba Crossdresses Alongside Leo Wu Lei in New Series, "The Long Ballad"
When asked what she would do if she didn't like the person confessing their love to her, she said, "In my mind I would be thinking to myself, 'God! I really don't like him. What am I going to do?' and then find a way for the other person to retreat." When it comes to the qualities she likes in men, Dilraba revealed, "Kind, filial, and motivated."