Content Warning: The following content may contain verbal and/or visual references to suicide and/or self harm. If you or someone you know is suicidal, please seek assistance with your local suicide intervention group:
https://www.opencounseling.com/suicide-hotlines
Fans were ecstatic when "Eternal Love of Dream" (三生三世枕上书) finally aired. Chinese actress, Liu Yuefei (刘玥霏), who plays "Ji Heng" (姬蘅), in the drama, was actually the one who bought the licensing rights to the series long before its predecessor, "Eternal Love" (三生三世十里桃花), reached international success. She had initially intended to star as the female lead, "Feng Jiu", but because of the unprecedented popularity of "Eternal Love", fans protested and wanted the original cast (Dilraba and Vengo Gao) to act in the sequel. Netizens said she was "stealing the licensing rights" and "not suitable" for the role. In the end, she gave up the role and took on the hated second female lead, "Ji Heng". Even though she gave in to public pressure, people continued to attack her.
An Introduction to the Men of "Eternal Love of Dream"
"Eternal Love" Sequel, "Eternal Love of Dream", Finally Gets Air Date
On August 28, 2018, she uploaded pictures of herself at the hospital. It was revealed she attempted to commit suicide by swallowing pills, but was rescued. Fans left encouraging comments on the post and told her to be strong for her child. It was never revealed what she was going through that led her to make that decision.
Dylan Kuo Mesmerized by Dilraba's Beauty while Filming "Eternal Love of Dream"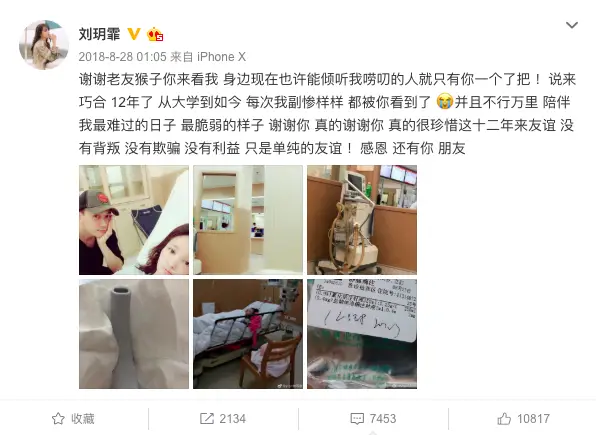 Dilraba Gets Vulnerable and Reveals Her Insecurities
Fast forward to January 28, 2020, Liu Yuefei posts a long essay on Weibo about a young woman. Here is an excerpt from the post:
"She has always had a dream of buying a dress for herself when she was young. After working hard to save enough money, she bought an ordinary dress. She extremely liked it. Who expected the designer would suddenly become popular. Her dress became luxurious and limited edition. The whole city yelled at the young woman saying she wasn't worthy of the dress. They yelled at her until she cried and collapsed. In the end, she lost the courage to wear it, decided to give this dress to a princess to wear."
"Eternal Love of Dream" Director Resented Vengo Gao and Dilraba's Kisses for Being "Too Civilized"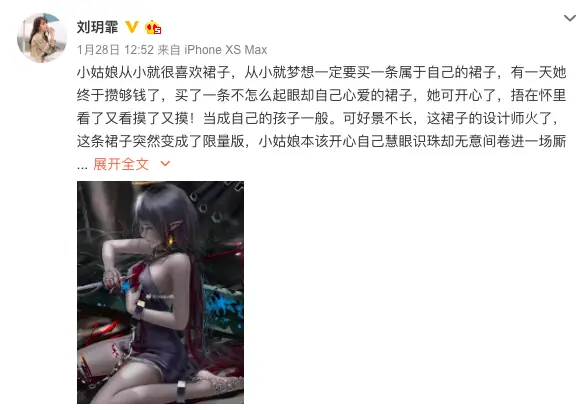 Dilraba Doesn't Dare Watch Her Intimate Scenes from "Eternal Love of Dream" with Her Parents
In the story, she detailed the hurtful comments people hurled at this young woman. She explained the young woman thought the nightmare would end like this, but people still laughed at her endlessly. Bearing so much pain, she decided to end her life, but was rescued. When she woke up, she saw her family's heartbroken looks. She felt she needed to be strong and keep on living. Because of this, she changed her name and environment. This time, she thought she could really live peacefully. But after the skirt was modified and displayed, people came back and painfully yelled, "You dirtied the princess' dress." Because of this, it ripped open the wound again. Her inner mind once again dove into darkness.
Zhang Meng Apologizes to "Eternal Love of Dream" Actress, Liu Yuefei, Again for Being Third Party in Her Marriage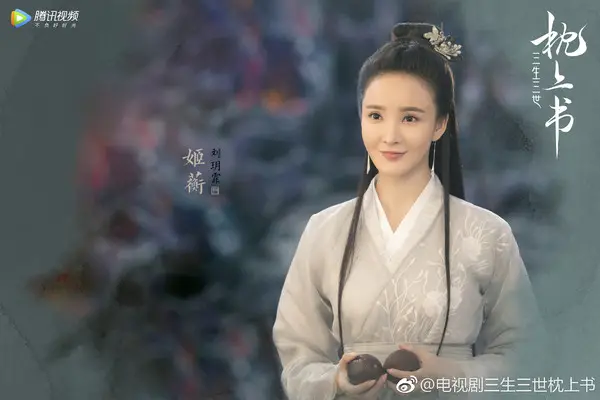 At the end of the story, she wrote, "She wants to live stream her death! What should she do? Who will write the ending?" Fans were alarmed by her post as it seemed the "young woman" was eerily similar to Liu Yuefei's life and what she endeavored when she bought the rights to the series. A clue as to why she might be talking about herself is the name change. Liu Yuefei's original name is actually Liu Yuxin (刘雨欣). They left comments saying, "Because of your gesture to give up this dress, people who really admire this dress will understand.", "Really thankful you allowed this dress to have the opportunity to develop.", "You are actually the princess."