Hunky Taiwanese actor, Bruce Hung (禾浩辰), who shot to fame in the Taiwanese movie, "Café·Waiting·Love", shows off his sculpted body while filming speedboat surfing scenes for his new series, "Hello Again!" His female lead co-star, Amber An (安心亞) was watching from the sidelines and bursts out to him, "So handsome and charming." Bruce Hung made sure to take off his wetsuit to show off his muscular chest and six pack abs.
Gui Gui Talks about Her Relationship with Rumored Boyfriend, Bruce Hung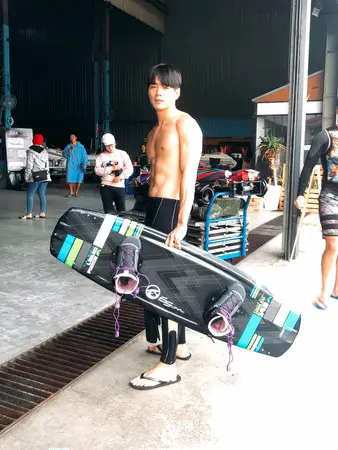 Yao Yao and Bruce Hung Have Bed Scenes from the Bedroom to the Dining Table in "Mother To Be"
One of the producers revealed the original plan was to film Bruce Hung playing golf while discussing business. However, in order to avoid being too cheesy and try to attract younger viewers, they decided to change the setting to speedboat surfing. Bruce Hung and the second male lead hottie, Sean Lee (邵翔), both surfed together to film the scene. It turns out Bruce Hung didn't know how to speedboat surf originally, but he had experience surfing and snowboarding, so it was easier for him to adjust and eventually fell in love with it. As for Sean Lee, he was able to get the hang of it after a few tries. He jokes that it might be because he has experience surfing, which is why it was a bit easier.
Are Gemma "Gui Gui" Wu and Bruce Hung More than Just Friends?
Credit: ETtoday.net, SETTV